With Support for 'Black Lives Matter' China Crosses a Thin Line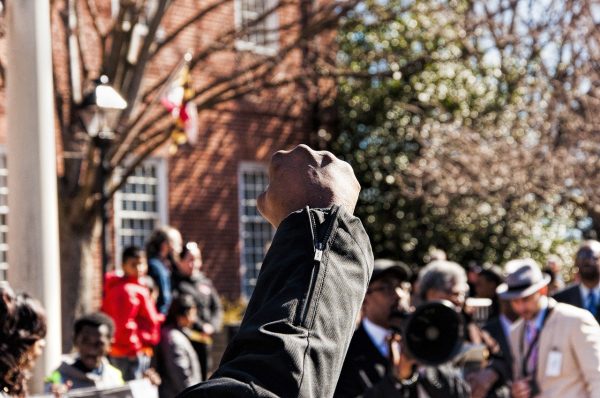 While it is ques­tion­able whether the Chinese gov­ern­ment gen­uine­ly cares about uni­ver­sal human rights and racial equal­i­ty, its pro­pa­gan­da appa­ra­tus has seem­ing­ly become an active "sup­port­er" of the global Black Lives Matter (BLM) move­ment – mostly in the form of lam­bast­ing the U.S. gov­ern­ment and system. As Foreign Ministry spokesper­son Zhao Lijian remarked, "Racism against ethnic minori­ties in the U.S. is a chron­ic dis­ease of American soci­ety." In a tweet, anoth­er Chinese Foreign Ministry spokesper­son, Hua Chunying, replied "I can't breathe," which has become a ral­ly­ing cry for BLM, to U.S. State Department Spokesperson Morgan Ortagus' crit­i­cism of Beijing's Hong Kong poli­cies.
By invok­ing BLM, Beijing's recent pro­pa­gan­da cam­paign hopes to send two mes­sages. First, the United States' hypocrisy in crit­i­ciz­ing China's human rights con­di­tions. Aiming at both domes­tic and inter­na­tion­al audi­ences, state media such as Xinhua and People's Daily accused the United States of not facing up to its own issues: "While crit­i­ciz­ing China for ending chaos, some U.S. politi­cians label them­selves as bea­cons of democ­ra­cy and human rights. Such double stan­dards reveal their hypocrisy driven by ulte­ri­or polit­i­cal motives." Second, Beijing empha­sizes the fail­ure of the lib­er­al demo­c­ra­t­ic system as rep­re­sent­ed by the United States, through which the Chinese polit­i­cal system is por­trayed in a more pos­i­tive light. As remarked by China expert Susan Shirk, the protests will cause fewer Chinese to "voice sup­port for American ideals, such as free mar­kets and civil lib­er­ties."
The BLM move­ment, along with the out­break of COVID-19 in the United States, offered Beijing a long-needed break­through in its fail­ing nar­ra­tive war­fare with Washington. Global crit­i­cism over the human rights sit­u­a­tion in Xinjiang and Hong Kong has esca­lat­ed since last year and China's polit­i­cal system was blamed for the inabil­i­ty to pre­vent and con­tain the ini­tial out­break of the pan­dem­ic. China's nation­al­ist sen­ti­ments also played a role in the recent counter-nar­ra­tive. Global Times editor, Hu Xijin, com­ment­ed that the attack on the United States reflects "a kind of venge­ful feel­ing, which I think is human nature."
However, Beijing is cross­ing a thin line by build­ing nar­ra­tives on an issue it is inex­pe­ri­enced in deal­ing with, espe­cial­ly when inter­na­tion­al pro­pa­gan­da hasn't been its strong suit in gen­er­al. In one tweet, Hua Chunying, likely by mis­take, wrote "all lives matter" — a slogan com­mon­ly used to under­mine the BLM move­ment. Previous unaware­ness of racial sen­si­tiv­i­ties has gen­er­at­ed back­lash for China in cases such as CCTV's 2018 New Year's Gala show in 2018, which praised China's build­ing of rail­ways in Africa in a skit fea­tur­ing actress­es wear­ing black­face and hold­ing fruit bas­kets.
More impor­tant­ly, China's vocal crit­i­cism of minor­i­ty rights vio­la­tions in the United States increas­es the atten­tion drawn to its own ethnic issues and poses the risk of being tar­get­ed by the BLM for its own racial dis­crim­i­na­tion against Blacks. While the People's Republic of China can right­ly say it has never enslaved Black people (although Black slav­ery was record­ed in Imperial China), yet con­sid­er­able cases of xeno­pho­bia direct­ed at people of African descent pro­vide fer­tile ground for accu­sa­tions of China being a racist coun­try.
Enjoying this arti­cle? Click here to sub­scribe for full access. Just $5 a month.
In 1988, thou­sands of Chinese chant­ed racist slo­gans after two African stu­dents at Hehai University brought Chinese girls into their dorms. As recent­ly as 2017, Pan Qinglin of China's Political Consultative Conference urged the gov­ern­ment to "strict­ly con­trol the African people living in Guangdong and other places," argu­ing that "Africans bring many secu­ri­ty risks." Discrimination against Black people in China more com­mon­ly made global news head­lines as the pan­dem­ic has pushed fear and xeno­pho­bia to a new height, with many crit­i­cisms of "force­ful test­ing, quar­an­tine and other inhu­man treat­ments meted out to Africans." China's Foreign Ministry stated that it has "zero tol­er­ance for dis­crim­i­na­tion," and China's state media Xinhua has called accu­sa­tions of coro­n­avirus-relat­ed dis­crim­i­na­tion against Africans "ground­less rumors." Yet a number of African nations have sum­moned their Chinese ambas­sadors to address the issue of dis­crim­i­na­tion in China, which the African Union has stated caused "grief, pain and humil­i­a­tion to all Africans." The U.S. con­sulate, iron­i­cal­ly, warned about the dis­crim­i­na­tion against African-Americans in Guangzhou on its web­site.
There is an addi­tion­al risk for China to pro­pa­gan­dize on BLM given Hong Kong's pro-democ­ra­cy pro­test­ers' calls for greater sup­port of the BLM move­ment in Hong Kong. The move­ment has a strong focus on police account­abil­i­ty, and thus may dele­git­imize Hong Kong's police tac­tics during the protests. While the BLM movement's aims differ from those of the Hong Kong protests, both move­ments draw sup­port from values of human rights and fun­da­men­tal free­doms. Beijing's sup­port for BLM may obfus­cate its posi­tion on quelling civil dis­obe­di­ence and arguably impede its efforts in pre­vent­ing a pos­si­ble con­ver­gence of human rights move­ments.
The Chinese Constitution stip­u­lates that "dis­crim­i­na­tion and oppres­sion of any ethnic group is pro­hib­it­ed. It is for­bid­den to under­mine ethnic unity and create ethnic divi­sions." Yet China's enforce­ment of racial and ethnic equal­i­ty has been lack­ing, which has dam­aged its global image and capac­i­ty to form con­vinc­ing pro­pa­gan­dist nar­ra­tives against the United States. As its soci­ety con­tin­ues to reveal racial dis­crim­i­na­tion and as racial ten­sions rise along­side its grow­ing invest­ment in Africa, China may risk becom­ing a target of anoth­er BLM. A Chinese boss shot and injured two Zimbabwean employ­ees on June 21. As the death of George Floyd has rip­pled from the United States to the world, it wouldn't be unimag­in­able if the same anger would fall on China over racial issues in the future.