Why Working Out Too Much Can Make You Really Sick
Key point Rest and patience are as impor­tant as hit­ting the gym in the first place.
Every 365.25 days, when the Earth com­pletes a full orbit around the Sun, we humans have the oppor­tu­ni­ty to hit the reset button and become fitter, finer ver­sions of our­selves. As usual for January, social media is hum­ming with advice on how to eat better, exer­cise reg­u­lar­ly, lose weight and remain healthy. We feel par­tic­u­lar­ly invin­ci­ble at this time of year, armed with renewed vigor and moti­va­tion to purge our­selves from pre­vi­ous indul­gences and our couch-potato ways.
The New Year is also the time when our overzeal­ous, instant-grat­i­fi­ca­tion selves emerge, and we do too much exer­cise too soon to make up for lost time. Exhaustive mus­cu­lar work, espe­cial­ly fol­low­ing a period of inac­tiv­i­ty, can cause mechan­i­cal and chem­i­cal dis­rup­tions to muscle cell mem­branes which trig­ger the muscle cells to burst.
I am an exer­cise phys­i­ol­o­gist and sports med­i­cine spe­cial­ist who stud­ies exer­cise-asso­ci­at­ed col­lapse. I am seeing and hear­ing of more inci­dents of skele­tal muscle rup­tures that are caus­ing harm in other parts of the body.
This infor­ma­tion is not designed to scare people back onto the couch. The key take-away from high­light­ing these cases is to remind ath­letes, coach­es and mere mor­tals that the desired phys­i­o­log­i­cal response to a train­ing stim­u­lus requires both a grad­ual buildup period and period of recov­ery in between train­ing ses­sions.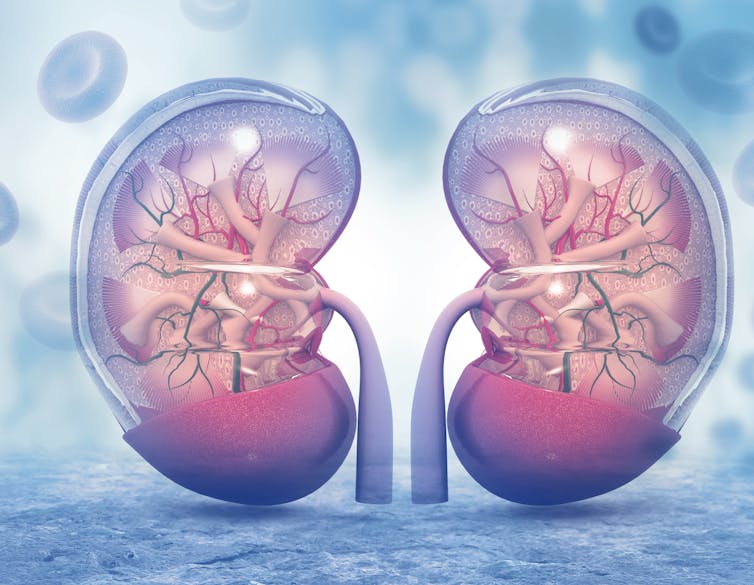 A cross-sec­tion of the human kid­neys, which can be injured when muscle cells rup­ture and send toxic chem­i­cals into the blood­stream. crys­tal light/Shutterstock.com
More than muscle injury
The med­ical term for skele­tal muscle cell rup­ture is "rhab­domy­ol­y­sis," or "rhabdo" for short. When muscle cells rup­ture or explode, the intra­cel­lu­lar con­tents are released into the blood­stream. These cel­lu­lar con­tents include enzymes, such as cre­a­tine kinase; elec­trolytes, such as potas­si­um; and pro­teins, such as myo­glo­bin.
Myoglobin, in par­tic­u­lar, is a big, red pro­tein that can block the kidney fil­tra­tion system, or renal tubules, that serve as kidney plumb­ing. It also can dis­so­ci­ate into toxic byprod­ucts that injure kid­neys. In rare cases, too much myo­glo­bin in the blood­stream can stop kidney func­tion alto­geth­er, as hap­pened with a 27-year old marathon runner who died from kidney fail­ure.
In a study we con­duct­ed on col­lege swim­mers, we saw a clus­ter of rhab­domy­ol­y­sis, in which six out of 34 swim­mers were hos­pi­tal­ized after par­tic­i­pat­ing in a 20-minute or so "arm com­pe­ti­tion" to see how many pull-ups, rows and bench press­es they could com­plete. Cases of "symp­to­matic rhabdo," or those need­ing med­ical treat­ment, appear to be increas­ing within col­le­giate sports teams at an alarm­ing rate, with the char­ac­ter­is­tic appear­ance seen in foot­ball play­ers return­ing to January prac­tice after a season-ending hol­i­day layoff.
To date, 17 cases of team rhabdo have occurred from doing "too much, too soon, too fast" and include a vari­ety of sports such as foot­ball, swim­ming, lacrosse, soccer, track, bas­ket­ball, soft­ball, vol­ley­ball and golf.
Noncompetitive athletes affected too
So, what about us mere mor­tals trying to get back in shape? Any phys­i­cal activ­i­ty that is either new or exces­sive can cause symp­to­matic rhabdo. Excessive gar­den­ing, weightlift­ing, CrossFit type activ­i­ties and even a rou­tine Army phys­i­cal fit­ness test have trig­gered symp­to­matic rhabdo with kidney injury.
Over 90 cases of rhabdo have been doc­u­ment­ed after spin­ning, while 119 high school stu­dents in Taiwan ended up in the emer­gency room after their teacher made them com­plete 120 push-ups within five min­utes. Thus, harm­ful muscle cell rup­ture can occur after any degree five min­utes to 36 hours of exu­ber­ant and/or unac­cus­tomed phys­i­cal activ­i­ty.
In com­bi­na­tion, grad­ual train­ing and appro­pri­ate recov­ery allow ben­e­fi­cial mus­cu­lar, car­dio­vas­cu­lar and body com­po­si­tion adap­ta­tions to occur, such as build­ing muscle, increas­ing fit­ness and losing body fat. Our research con­firms that a two-week grad­ual intro­duc­tion into train­ing after a layoff is required for muscle cell mem­branes to fully adapt to train­ing stress.
Subclinical rhabdo, or muscle break­down with­out acute kidney injury or debil­i­tat­ing symp­toms, is common and rep­re­sents the typ­i­cal response to train­ing which does not require med­ical treat­ment. However, hard exer­cise, espe­cial­ly fol­low­ing a layoff, with the fol­low­ing signs or symp­toms within one to two days requires an appro­pri­ate med­ical exam­i­na­tion:
excru­ci­at­ing muscle pain that does not resolve over time
muscle swelling with lim­i­ta­tions in move­ment
nausea or vom­it­ing, or both
very dark (looks like Coca-Cola) or sparse urine.
There are risk fac­tors which increase the like­li­hood of devel­op­ing rhabdo fol­low­ing a work­out. These risk fac­tors include exer­cis­ing in the heat, dehy­dra­tionor over­hy­dra­tion, binge drink­ing, exces­sive coffee con­sump­tion, extreme dietaryprac­tices (veg­e­tar­i­an or high pro­tein) and pos­sess­ing the sickle cell trait. Both men and women can devel­op symp­to­matic rhabdo, although we see more cases in men. Smaller arm mus­cles appear more sus­cep­ti­ble to rup­ture after five to 30 min­utes of exer­cise than bigger leg mus­cles for rea­sons that remain unclear.
Although symp­to­matic rhab­domy­ol­y­sis is uncom­mon, this emer­gent com­pli­ca­tion of exer­cise should be on everyone's radar since cases are on the rise. We coach­es, train­ers, sci­en­tists, prac­ti­tion­ers and others encour­age every­one to reap the joys and ben­e­fits of reg­u­lar exer­cise train­ing. However, we cau­tion against exer­cis­ing too much too soon. Self- (or coach-) inflict­ed skele­tal muscle cell explo­sions are fully pre­ventable with adher­ence to smart, phys­i­o­log­i­cal­ly sound approach­es to train­ing.
This arti­cle by Tamara Hew-Butler, Associate Professor of Exercise and Sports Science at Wayne State University, first appeared in The Conversation in January 2020.
This arti­cle was first pub­lished last month.
Source: National Interest