Why Donald Trump's Debt Is a National Security Risk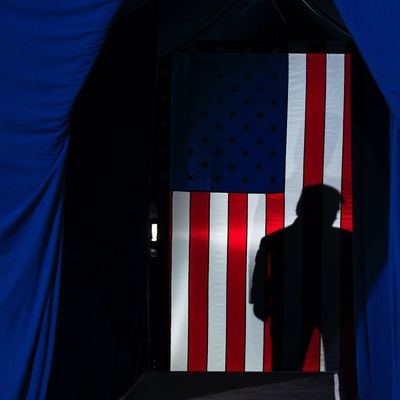 Donald Trump's fail­ure to dis­close his for­eign debts poses a seri­ous risk to the nation­al secu­ri­ty of the United States. It is not just the amount of the debt but his refusal to pro­vide any infor­ma­tion about to whom he owes the money and, there­fore, who might have influ­ence over him.
Trump denied at the NBC Town Hall October 15 that he owed money to any for­eign inter­ests. "Not that I know of," he told NBC reporter Savannah Guthrie when she asked if he owed money to "any for­eign bank, any for­eign entity."
This is not true, accord­ing to mul­ti­ple sources, includ­ing the president's own finan­cial dis­clo­sure forms that list a $300 mil­lion debt to the Germany-based Deutsche Bank, and many more debts to others. Trump's tax returns claim a total of $421 mil­lion in debt, while some sources estimate the debt as high as $1 bil­lion.
I held high-level nation­al secu­ri­ty clear­ances for almost two decades in Washington, D.C. If I had debts even a frac­tion of what President Donald Trump is car­ry­ing — and to for­eign groups — there is not a chance in hell that I could have gotten them. Here's why.
Like many read­ers of Defense One, I answered detailed, intru­sive ques­tions to get clear­ances for my jobs. First as an senior assis­tant at the U.S. Information Agency in the Reagan Administration, then as a pro­fes­sion­al staffer on the House Armed Services Committee, again when I inves­ti­gat­ed major defense pro­grams for the chair­man of the House Government Operations Committee and final­ly as a member of the International Security Advisory Board to Secretaries of State Hillary Clinton and John Kerry.
That last form was 83 pages long, with an entire sec­tion devot­ed to "Foreign Activities." The very first ques­tion was "Have you, your spouse, cohab­i­tant, or depen­dent chil­dren EVER had any for­eign finan­cial inter­ests?" (sic). They wanted to know about real estate, com­pa­nies, pay­ments, advice, sup­port, con­sul­ta­tions and more. They asked for the names of every for­eign nation­al that I had talked to in the past seven years for any reason at all.
Why? It is all about lever­age. Security agen­cies want to be sure that there is noth­ing in your past that some­one could use to pres­sure you to betray America.
If you owe some­one a lot of money, they have lever­age over you. If I owed some­one, say, $420,000, it would raise seri­ous ques­tions about whether that person could pres­sure me into dis­clos­ing clas­si­fied infor­ma­tion. If that person lived in a for­eign coun­try it would raise more seri­ous con­cerns. If that person lived in an auto­crat­ic for­eign coun­try, espe­cial­ly one that had an adver­sar­i­al rela­tion­ship to the United States, well, that's it. I am com­pro­mised. Case closed. Security clear­ance denied.
The risks that we rou­tine­ly con­sid­er for people like me should apply to the pres­i­dent of the United States. But they do not. The pres­i­dent does not have to apply for secu­ri­ty clear­ances. No one inves­ti­gates his suit­abil­i­ty to know the nation's most sen­si­tive secrets. As pres­i­dent, he is auto­mat­i­cal­ly given access. He earned it. The American people gave him access by elect­ing him as pres­i­dent.
As far as we know, no agency has taken a close look at Trump's finances as a nation­al secu­ri­ty risk. But we now know that the pres­i­dent owes at least $420 mil­lion. That is a lot of lever­age.
To whom, exact­ly, does he owe this money? His finan­cial dis­clo­sure form is vague, does not pro­vide any sup­port mate­ri­als and has not been ver­i­fied. Is it to Saudi oli­garchs? Is this why he defended Saudi Crown Prince Mohammed bin Salman after he bru­tal­ly mur­dered American jour­nal­ist Jamal Khashoggi? Is it to Turkish mil­lion­aires? Is this why he abruptly withdrew troops from Syria — trig­ger­ing the res­ig­na­tion of Defense Secretary James Mattis and allow­ing the Turkish army to butch­er our former allies, the Kurds. Is it to the Russians? Is that why he has never once criticized President Vladimir Putin, even after he put a bounty on the lives of American sol­diers?
Maybe there are per­fect­ly inno­cent expla­na­tions to all of this. Which is why Donald Trump should lay it out for the American people. Trust us. Tell us about the $420 mil­lion. Tell us to whom you owe it. Tell us a small bit of what you would have to report if you filled out the secu­ri­ty forms every­one else in the coun­try with clear­ances must do.
But if he doesn't tell us, this is cause for seri­ous worry.
It wor­ries Dan Coats. The former sen­a­tor and Trump's direc­tor of nation­al intel­li­gence has "deep sus­pi­cions" that Putin "had some­thing" on Trump, he told Washington Post reporter Bob Woodward. He could see "no other expla­na­tion" for the way Trump deferred to Putin at every turn.
It wor­ries Robert Cardillo. The former deputy direc­tor of the Defense Intelligence Agency briefed Trump repeat­ed­ly in the Oval Office on the daily intel­li­gence. Trump's "deci­sion to rely upon the word of dic­ta­tors like Vladimir Putin is an unprece­dent­ed betray­al of his oath to the Constitution," Cardillo wrote in late September. "Our cur­rent pres­i­dent bases his deci­sions on his instincts, and his instincts are based upon a per­son­al value propo­si­tion — what's in it for me?"
Fixing this prob­lem is not easy. At a min­i­mum, mem­bers of the House should be rais­ing the issue and request­ing a full dis­clo­sure from the pres­i­dent. Journalists should press the same requests – as Guthrie did at the town hall. To get around the expect­ed Trump stonewall, Congress and jour­nal­ists should be dig­ging deeper into what former Trump offi­cials, like Coats and Cardillo know about his mas­sive debt and for­eign busi­ness deals.
These inquiries should con­tin­ue even if Trump loses the elec­tion. Documenting the extent of the prob­lem will be nec­es­sary for craft­ing pro­phy­lac­tic solu­tions for future pres­i­dents. These could include require­ments that future can­di­dates dis­close their tax returns; adopt­ing strict con­flict-of-inter­est and anti-cor­rup­tion mea­sures for every senior offi­cial in the next and all future admin­is­tra­tions; enforc­ing the emol­u­ments clause of the U.S. Constitution to pre­vent a future pres­i­dent from prof­it­ing from his office; and imple­ment­ing strict revolv­ing door reg­u­la­tions.
These ideas enjoy broad sup­port among the voting public and some are includ­ed in the platform adopt­ed by the Democratic National Committee, includ­ing a pledge to "estab­lish a com­mis­sion on fed­er­al ethics to aggres­sive­ly enforce and strength­en fed­er­al ethics laws, includ­ing rules around per­son­al finan­cial dis­clo­sures for Executive Branch offi­cials and make cam­paign finance, finan­cial dis­clo­sure, and lob­by­ing dis­clo­sure fil­ings easier for the public to access and under­stand." Sunshine, as they say, is a pow­er­ful dis­in­fec­tant.
Until such reforms are imple­ment­ed and until we know much more about Donald Trump's moun­tain of debt, we should be wor­ried. The most imme­di­ate cor­rec­tion is, of course, for the American people them­selves to simply pull his secu­ri­ty clear­ance — at the ballot box.
Joe Cirincione is a Distinguished Fellow at the Quincy Institute for Responsible Statecraft in Washington, DC.