Who Is Secretly Building the USAF's New Fighter?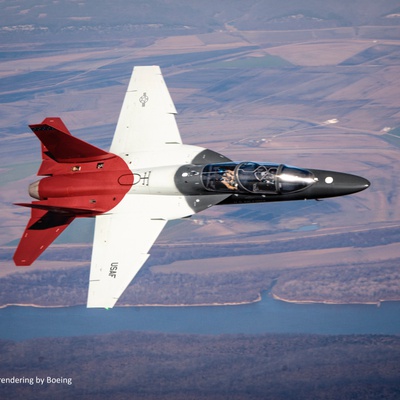 Among the big ques­tions sur­round­ing the secret U.S. Air Force fight­er-jet demon­stra­tor revealed this week is: who built it?
Will Roper, the head of Air Force acqui­si­tion, declined to say much about the new plane, other than it was designed and built using dig­i­tal engi­neer­ing, that it has actu­al­ly flown, and that some of the planes's sys­tems have been flight-tested.
So let's look at some clues, start­ing with a likely pre­de­ces­sor to the Next Generation Air Dominance project that pro­duced the new demon­stra­tor.
In January 2015, Frank Kendall, then defense under­sec­re­tary for acqui­si­tion, tech­nol­o­gy and logis­tics, told the House Armed Services Committee about a DARPA-led project that was devel­op­ing new planes and engine tech­nol­o­gy for the Air Force and Navy.
"The intent is to devel­op pro­to­types for the next gen­er­a­tion of air-dom­i­nance plat­forms — X‑plane pro­grams, if you will," Kendall said.
Dubbed the Aerospace Innovation Initiative, the project aimed to "devel­op the tech­nolo­gies and address the risks asso­ci­at­ed with the air dom­i­nance plat­forms that will follow the F‑35, as well as other advanced aero­nau­ti­cal chal­lenges."
Roper wouldn't say whether the NGAD and AII are linked, but they sound quite sim­i­lar. He instead said that he dis­closed the plane's exis­tence, in part, to encour­age com­pa­nies to invest more in digital engineering.
"The obvi­ous can­di­dates for the NGAD pro­to­type are Boeing, Lockheed Martin and Northrop Grumman, though General Atomics might be a pos­si­ble design­er — but that's a long-shot," Byron Callan, an ana­lyst with Capital Alpha Partners, wrote in a Tuesday note to clients. "Textron's Scorpion pro­gram had recent­ly proven that in one year's time, it could take a new clean sheet design to flight, but we doubt it's been able to ele­vate this skill to combat air­craft."
The plane's engine, Callan wrote, was built by either GE or Raytheon Technologies' Pratt & Whitney.
Here's the case for why each of the fol­low­ing com­pa­nies could have built the new NGAD fight­er.
Boeing
The Chicago-based aero­space giant already knows a lot about dig­i­tal engi­neer­ing, having part­nered with Sweden's Saab to design and build their T‑7A train­ing jet in less than a year, near-light­speed by U.S. mil­i­tary stan­dards. Air Force offi­cials have gushed about the T‑7A, which beat out two other planes, the Lockheed Martin T‑50 and Leonardo T‑100, that were already being used by for­eign air forces. The Boeing plane has a mis­sion com­put­er that can run third-party soft­ware and apps, allow­ing for easy updates. It is also designed for quick assem­bly: it takes just 15 min­utes to assem­ble the for­ward and aft fuse­lages, com­pared with some 24 hours to assem­ble a F/A‑18 Super Hornet fuse­lage, accord­ing to Leanne Caret, the CEO of Boeing Defense.
Northrop Grumman
It often gets over­looked that Northrop owns Scaled Composites — the Burt Rutan-found­ed, XPrize-win­ning design shop behind SpaceShipOne, the first air­craft to carry pri­vate cit­i­zens into space. Like Boeing, Northrop's Scaled built a plane from scratch for the Air Force's pilot train­ing jet con­test, but in the end didn't submit a bid.
Northrop has seen an uptick in classified Pentagon work in recent years. It's been pre­sumed that a siz­able por­tion of that cash has gone to build B‑21 stealth bombers, whose exis­tence has been dis­closed but are being built in secret. It's con­ceiv­able that some of the clas­si­fied cash flow­ing into the company's Aeronautical Systems busi­ness is for the NGAD test air­craft.
Northrop is also build­ing the Ground Based Strategic Deterrent, the new inter­con­ti­nen­tal bal­lis­tic mis­siles that will replace the Cold War Minuteman III, using the same dig­i­tal design tech­nol­o­gy often touted by Roper.
Lockheed Martin
The company's Advanced Development Programs divi­sion — far better known as the Skunk Works — has long devel­oped super-advanced, super-secret planes for the U.S. mil­i­tary, includ­ing the famed U‑2 and SR-71 spy planes and the F‑117 ground-attack jet. They also built the F‑22 Raptor and F‑35 Joint Strike Fighter.
"ADP seems pretty busy across a number of fronts, but also…looking at the Digital Century Series and also look­ing at where the ser­vices are going to go in terms of sixth-gen and next-gen air­craft," said Michele Evans, who leads Lockheed Martin Aeronautics and its Skunk Works oper­a­tion, last week.
Evans also touted Stardrive, a Lockheed effort to incor­po­rate more com­mer­cial tech­nol­o­gy and prac­tices into its man­u­fac­tur­ing.
"Think of model-based sys­tems engi­neer­ing, think about factory of the future, soft­ware devel­op­ment in terms of con­tainer­iza­tion tech­nolo­gies like Kubernetes, and agile [soft­ware] and then even into sus­tain­ment in terms of how we use data ana­lyt­ics and AI," she said. "I think the tech­nolo­gies are just going to pro­vide tremen­dous oppor­tu­ni­ties to speed up the devel­op­ment in the deliv­ery of plat­forms going for­ward."
Someone else
The most intrigu­ing pos­si­bil­i­ty is that the new jet may not be the prod­uct of one of the defense giants at all. There is evi­dence that the dig­i­tal-design tools that Roper touted are allow­ing small­er upstarts to enter mar­kets once reserved for only a few estab­lished con­trac­tors. In July, for exam­ple, an Air Force solic­i­ta­tion for pro­pos­als for drones to accom­pa­ny manned jets drew 18 entries.
"It shows there's a lot of inter­est from very large [com­pa­nies], which you would expect, to very small," Gen. Arnold Bunch, the head of Air Force Materiel Command, said in a Wednesday video­con­fer­ence call with reporters. "I actu­al­ly believe as we do the dig­i­tal cam­paign and we look at doing dig­i­tal engi­neer­ing, it will actu­al­ly open the door to more people to be able to par­tic­i­pate that may not have before."