What's Behind the Rising India-France Maritime Activity in the Indo-Pacific?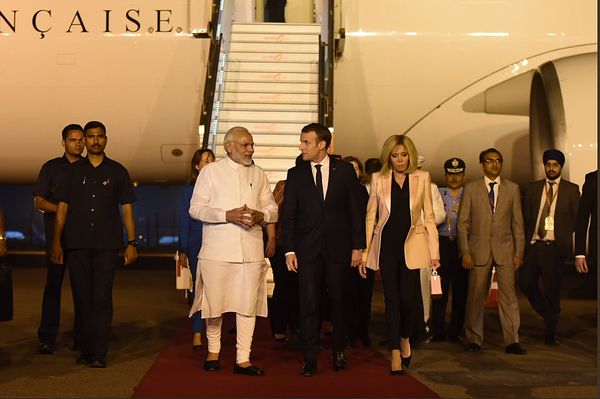 Despite grow­ing fears of the global coro­n­avirus pan­dem­ic, India and France held a joint exer­cise in the Indian Ocean. While deal­ing with this and other chal­lenges, both coun­tries under­stand that they share broad­er strate­gic inter­ests includ­ing the impli­ca­tions China's rise in the Indo-Pacific and beyond.
In a first, the two navies con­duct­ed joint patrols from Reunion Island, the French naval base in the Indian Ocean. The Commander of the Indian Navy P‑8I, which was part of the joint patrols, is report­ed to have said that that such joint secu­ri­ty oper­a­tions "make it pos­si­ble to main­tain the secu­ri­ty of inter­na­tion­al mar­itime routes for trade and com­mu­ni­ca­tions."
These engage­ments are not with­out sig­nif­i­cance. India has so far gen­er­al­ly con­duct­ed Coordinated Patrols (CORPAT) only with its mar­itime neigh­bors. Currently, the Indian Navy has Joint Exclusive Economic Zone sur­veil­lance exer­cis­es with the Maldives, Seychelles and Mauritius and CORPAT series are under­tak­en with the navies of Bangladesh, Myanmar, Thailand and Indonesia. The United States had ear­li­er made an offer to India to carry out CORPAT but India reject­ed it.
But India's own com­fort level in engag­ing in CORPAT-like exer­cis­es is grow­ing because New Delhi seems to be real­iz­ing that it is in India's own inter­ests to expand the number of coun­tries with which its does such engage­ments. Thus, India in the last five years has shown greater incli­na­tion to engage with like-minded coun­tries to expand its pres­ence in the Indian Ocean. The cur­rent engage­ment is also a clear acknowl­edge­ment of the grow­ing strate­gic impor­tance of the areas between the East African coast­line and the Malacca Straits.
Speaking to an Indian news­pa­per on the latest India-France inter­ac­tions more specif­i­cal­ly, Indian defense min­istry sources said that while both India and France are on the same page when it comes to the chal­lenges and con­cerns in the region, both also have capac­i­ty lim­i­ta­tions. These con­straints have in fact become an imper­a­tive for the two to join hands and under­take more coor­di­nat­ed and joint naval maneu­vers. The sources were care­ful to add that these "patrols will be peri­od­i­cal" and that "there is no set pat­tern" to these engage­ments. Nevertheless, it remains an impor­tant indi­ca­tor of India's greater will­ing­ness for expand­ing its own foot­print in the region as also for strength­en­ing capac­i­ty-build­ing by part­ner­ing with navies of like-minded nations.
India and France dis­cussed CORPAT-like engage­ments in November 2019 during the visit of the French Navy Chief Admiral Christophe Prazuck. He had then empha­sized the impor­tance of "orga­niz­ing joint patrols with the Indian Navy" and stated that the two sides are work­ing on "the very pre­cise objec­tives" of such maneu­vers. He added that "if a zone [Exclusive Economic Zones] is not con­trolled, then it is bound to be pil­laged, and if it is pil­laged, then it is bound to be occu­pied. And if it is occu­pied, it will be con­test­ed." As for the areas of engage­ments, he said it could be "North Western Indian Ocean or Southern Indian Ocean around the islands that are part of France." Earlier in October 2019, the French President Emmanuel Macron had men­tioned that a patrol air­craft from the Indian Navy will be deployed at Le Reunion to par­tic­i­pate in sur­veil­lance mis­sions in the first quar­ter of 2020.
Speaking about the grow­ing Chinese pres­ence in west­ern Indian Ocean and the threat it poses, Admiral Prazuk noted that before piracy issues flared up in Somalia in 2008, there were no Chinese ves­sels. But clear­ly piracy has become an excuse for China to send its ships and they are still send­ing them even though the threat from piracy has dimin­ished sig­nif­i­cant­ly. In addi­tion to ships, China has also been send­ing Nuclear Attack sub­marines (SSNs) into the west­ern Indian Ocean. As the Admiral noted, SSNs are "not the most effec­tive tool to fight against pirates."
The closer strate­gic engage­ment between the dif­fer­ent arms of the gov­ern­ments includ­ing the mil­i­taries is a sign of the com­fort and con­fi­dence that exist between India and France. This com­fort level is demon­strat­ed by the com­ments of an Indian offi­cial, who said that "France is a safe coun­try for us, there will be no con­cerns in con­duct­ing joint patrols with them." Thus, it is no sur­prise that France became the first coun­try to have a Liaison Officer at the Indian Navy's Information Fusion Centre (IFC-IOR).
France is one of the oldest, most trust­ed of India's part­ners, pos­si­bly second only to Russia. But today with Russia having estab­lished an uncom­fort­ably close rela­tion­ship with China, India's reliance on France has become that much greater. Even though India has tra­di­tion­al­ly remained uneasy with terms like alliance, Modi used the term to describe the rela­tions with France at his speech at UNESCO in Paris, where he said, "Today in the 21st cen­tu­ry, we talk of INFRA. I would like to say that for me it is IN+FRA, which means the alliance between India and France."
This is a sig­nif­i­cant recog­ni­tion of how much closer New Delhi and Paris have become even in the last few years. Some in the Indian strate­gic com­mu­ni­ty dis­count­ed this as word play, but the real­i­ty is that the two coun­tries' strate­gic engage­ments have expand­ed and deep­ened in sig­nif­i­cant ways. The manner in which France backed India at the UN Security Council dis­cus­sion on Jammu and Kashmir in 2019 is the latest indi­ca­tion of France's strate­gic com­mit­ment to India. Russia used to be that reli­able part­ner in the UN Security Council in the past but increas­ing­ly that spot is occu­pied by France (and of course, the United States).
While India and France have col­lab­o­ra­tion across a number of impor­tant sec­tors such as space, nuclear and defense, the par­tic­u­lar focus on Indian Ocean and mar­itime secu­ri­ty is sig­nif­i­cant. This is in line with India's own changed vision for the Indian Ocean. In 2014, Prime Minister Modi made a pitch to India's friends and strate­gic part­ners, saying "col­lec­tive action and coop­er­a­tion will best advance peace and secu­ri­ty in our mar­itime region," where­in India looks to key part­ners such as France and the United States in guar­an­tee­ing a stable mar­itime order in the Indian Ocean. This is a big shift from India's ear­li­er approach of crit­i­ciz­ing the pres­ence of any extra-region­al powers in the Indian Ocean.
The recent CORPAT between Indian and French navies in Reunion Island became pos­si­ble only because India and France signed an agree­ment in 2018 that would give rec­i­p­ro­cal access to each other's mil­i­tary facil­i­ties. This is sim­i­lar to the logis­tics agree­ment, LEMOA, that India signed with the US. The agree­ment with France has expand­ed the pres­ence and the type of naval oper­a­tions that the Indian Navy is able to under­take in the west­ern Indian Ocean. France has mil­i­tary facil­i­ties in the island of La Réunion, Mayotte, and the French Southern and Atlantic Lands. India's prag­mat­ic approach to Indian Ocean will go a long way in strength­en­ing its oper­a­tional maneu­ver­abil­i­ty and cre­at­ing more strate­gic options as it pre­pares to address a more mus­cu­lar Chinese pres­ence in the mar­itime spaces in India's vicin­i­ty.