What if Doctors Stopped Prescribing Weight Loss?
The wait­ing room at the Mosaic Comprehensive Care Clinic in Chapel Hill, N.C., is as gener­ic as any doc­tor's office except for a framed sign by the door. "No Wrong Way to Have a Body," it says, above an illus­tra­tion of dif­fer­ent cacti species. The second anom­aly of this pri­ma­ry care prac­tice is what is miss­ing from the exam rooms: there are no scales. Louise Metz, the clin­ic's owner and founder, keeps just one on the premis­es, tucked in a back hall­way. Most patients never even know it is there.
Erin Towne, 37, who has come in for her annual phys­i­cal, does know about the scale; she will stand on it during her exam­i­na­tion so Metz can check whether she is con­tin­u­ing to restore her weight after recov­er­ing from a restric­tive eating dis­or­der. But only Metz will see the number. Towne, a mother of two who works in IT at a local uni­ver­si­ty, is tall and slen­der, a runner. She wears a long sun­dress and hunch­es slight­ly as she sits in one of the exam room's arm­less chairs. The chairs are designed to sup­port heavy people com­fort­ably, and not so long ago Towne would have been grate­ful to see them. This wil­lowy body is still rel­a­tive­ly new to her. In January 2017 she under­went bariatric surgery, and she lost 160 pounds.
For most of her life, Towne says, "all of my health care has been focused on me losing weight." After a series of blood sugar spikes at 13 years old, Towne was diag­nosed with type 1 dia­betes and start­ed get­ting daily insulin injec­tions. She was an aver­age-sized kid, but her endocri­nol­o­gist imme­di­ate­ly sug­gest­ed that she lose 10 to 15 pounds — a dictum that became the refrain of every doctor Towne saw as she grew older. It did not seem to matter that her dia­betes was well con­trolled with a very low level of insulin; research dating back to the 1990s has shown an asso­ci­a­tion between weight loss and better blood glu­cose man­age­ment for dia­bet­ics, so weight-loss pro­to­cols are stan­dard. Towne had been diet­ing since she was a teenag­er but never sus­tained the losses for long.
In 2016 Towne saw a new endocri­nol­o­gist who changed her diag­no­sis to matu­ri­ty-onset dia­betes of the young, an inher­it­ed form of the con­di­tion. Even with an accu­rate diag­no­sis — and with con­fir­ma­tion that her dia­betes was genet­ic in origin, not linked to weight — the obses­sion with making her small­er per­sist­ed, Towne says. Her doctor pre­scribed a dia­betes med­ica­tion called Victoza, which is also used for weight loss. Towne tried it for a month but expe­ri­enced acid reflux so severe that she could not go to work. At that point bariatric surgery seemed inevitable. "I could­n't seem to keep the weight off any other way," she says. "I had con­fi­dence that I could take care of my dia­betes, but it seemed like no one else could split those two things apart."
Within six months of her bariatric surgery, Towne's body mass index (BMI) had dropped to 19.1, which is at the low end of the "normal" range for a person her height. In May 2017 Towne was able to stop using her insulin pump, a vic­to­ry her endocri­nol­o­gist attrib­uted to her weight loss. At a follow-up appoint­ment in her sur­geon's office in December 2017, a physi­cian assis­tant seemed thrilled with the results. "Congratulations, you can eat extra cook­ies over the hol­i­days!" Towne recalls the PA telling her. But Towne felt out of con­trol around food. She had become obsessed with track­ing exer­cise and calo­ries on fit­ness apps. "I was restrict­ing so intense­ly that my body was in emer­gency mode," she says. "I would stand in front of my kitchen cab­i­nets and pic­ture myself eating every­thing in there." A few weeks later Towne sought help from a ther­a­pist, who diag­nosed her with anorex­ia and referred her to the Mosaic clinic for med­ical super­vi­sion during her recov­ery. Towne did not quite believe her ther­a­pist at first: "The idea that I had a restric­tive eating dis­or­der was mind-blow­ing," she says. "I thought I was just doing what I'd always been told to do."
Unlike Towne's pre­vi­ous doc­tors, Metz did not praise her patien­t's dra­mat­ic weight loss. In fact, Metz, an inter­nal med­i­cine physi­cian, is sus­pi­cious of the long-held belief that weight loss is nec­es­sary for opti­mal dia­betes care. "The stud­ies that asso­ciate weight loss with improve­ments in A1C [a blood glu­cose mea­sure­ment] are asking the wrong ques­tion," she says. Weight may go down tem­porar­i­ly with a restric­tive diet, but she believes that it is the changes in eating habits and exer­cise that cause the improve­ment, not the pounds lost. "And if those behav­ioral changes are too restric­tive," Metz adds, "they may make the prob­lem worse."
After taking Towne's his­to­ry, Metz ordered an elec­tro­car­dio­gram — and then repeat­ed it three times to con­firm that Towne's rest­ing heart rate had dropped into the low 50s, well below the normal range of 60 to 100 beats per minute. (Although low heart rates are con­sid­ered healthy in endurance ath­letes, they are often a dan­ger­ous com­pli­ca­tion of severe weight loss and mal­nu­tri­tion, which can also cause arrhyth­mia and even death.) Metz also ran blood­work, which revealed high cho­les­terol and estro­gen that had dropped to menopausal levels, both of which are common side effects of anorex­ia. Metz showed her patient the test results and said, "None of this is okay." It was a pro­found­ly sober­ing moment for Towne. "My other doc­tors had never even noticed," she says. "It was the first time I under­stood that my health was in more danger now that I was under­weight than when I'd been at my high­est weight."
Questioning the Weight-Centric Model of Health Care
To Metz, Towne's life­long health care expe­ri­ence is a clas­sic exam­ple of how neg­a­tive beliefs about high body weights lead to bias-informed med­i­cine that hurts rather than heals. In Towne's case, her doc­tors' fix­a­tion on weight loss to manage her dia­betes led them to miss other red flags and even to rein­force her dis­or­dered eating behav­iors. In May 2018 a Canadian woman named Ellen Maud Bennett died only a few days after receiv­ing a diag­no­sis of ter­mi­nal cancer; in her obit­u­ary, her family wrote that Bennett had sought med­ical care for her symp­toms for years but only ever received weight-loss advice. "We see this kind of stigma all the time in the typ­i­cal med­ical visit when patients are shamed about their weight," Metz says. "Assumptions are made about their health and lifestyle based on their size, and they often receive rec­om­men­da­tions for weight loss rather than evi­dence-based treat­ments for their health con­di­tions."
Metz, who attend­ed the University of North Carolina School of Medicine and did her res­i­den­cy in San Francisco before becom­ing an attend­ing physi­cian in New York, esti­mates that her first five to seven years as a doctor were spent in that same weight-cen­tric mode.* "My pri­vate-prac­tice patients all came in asking about weight loss, and I jumped right into it," she says. Indeed, it is what the vast major­i­ty of health care providers have long assumed they should focus on since the early 20th cen­tu­ry, when the life insur­ance indus­try began to col­lect data show­ing that a higher body weight pre­dict­ed a short­er life span. In the 1970s phys­i­ol­o­gist Ancel Keys pub­lished research estab­lish­ing a cor­re­la­tion between dietary fat and heart dis­ease and pro­posed the modern BMI system, a mea­sure of body fat based on weight and height that is used by many doc­tors to cat­e­go­rize health by weight.
By 1985 the National Institutes of Health had adopt­ed the BMI as one of two offi­cial ways to assess body fat, and in 1998 an expert panel con­vened by the NIH put in place guide­lines that moved 29 mil­lion Americans who had pre­vi­ous­ly been clas­si­fied as normal weight or just over­weight into the over­weight and obese cat­e­gories. "This cre­at­ed the 'obe­si­ty epi­dem­ic' and really inten­si­fied the focus on weight as a risk factor for health," says Jeffrey Hunger, an assis­tant pro­fes­sor of social psy­chol­o­gy at Miami University in Oxford, Ohio, who stud­ies health in stig­ma­tized pop­u­la­tions.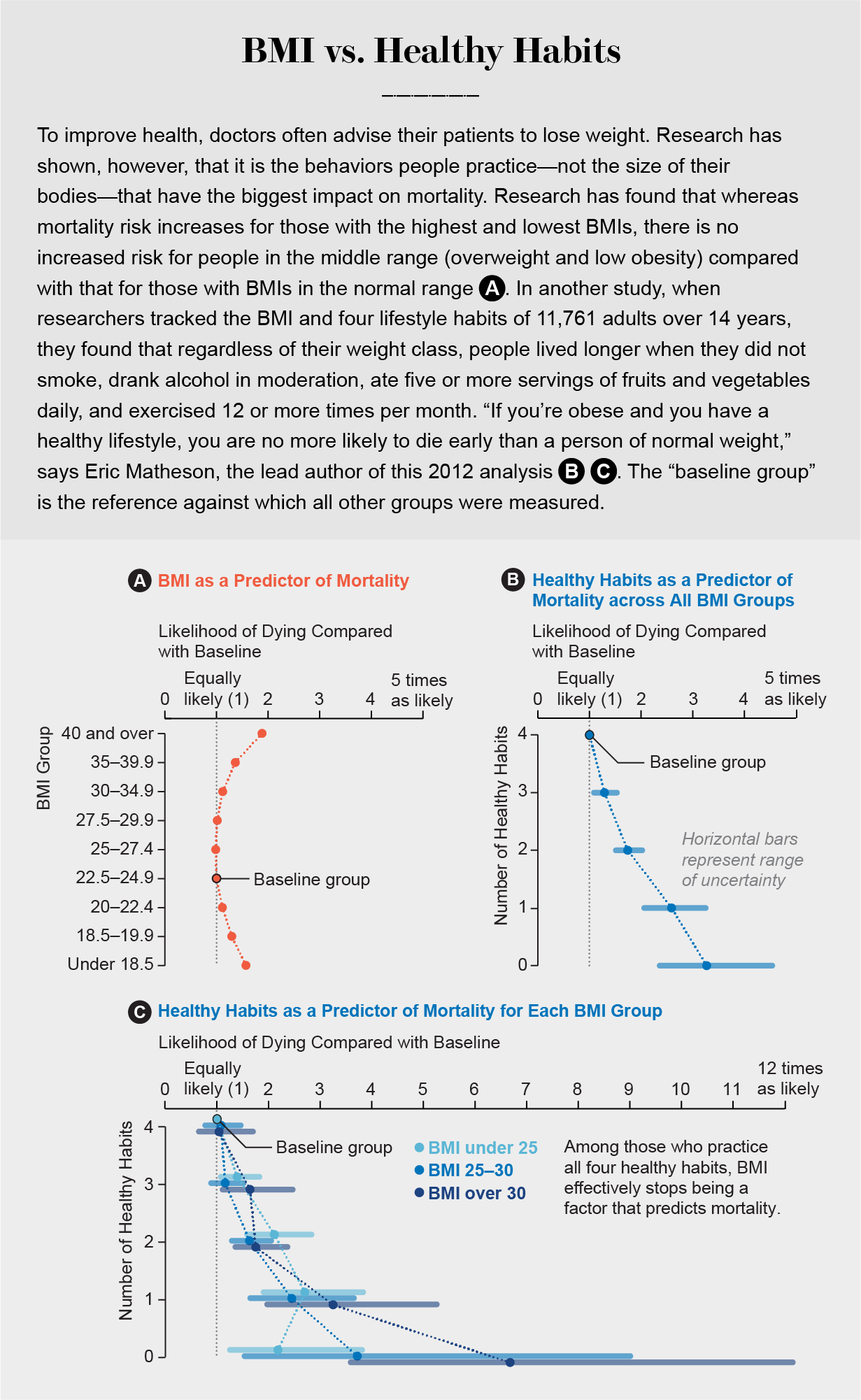 Credit: Amanda Montañez; Sources: "Association of BMI with Overall and Cause-Specific Mortality: a Population-Based Cohort Study of 3.6 Million Adults in the U.K.," by Krishnan Bhaskaran et al., in The Lancet Diabetes & Endocrinology, Vol. 6; October 30, 2018 (BMI data); "Healthy Lifestyle Habits and Mortality in Overweight and Obese Individuals," by Eric M. Matheson et al., in Journal of the American Board of Family Medicine, Vol. 25, No. 1; January 2012 (healthy habits data)
Defenders of the 1998 guid­ance say that research strong­ly sup­port­ed the need for that shift and for med­i­cine's increased and laser­like focus on weight as a health risk. "It is vir­tu­al­ly incon­tro­vert­ible that obe­si­ty has some neg­a­tive impact," says David Allison, dean and dis­tin­guished pro­fes­sor at the Indiana University-Bloomington School of Public Health. "It's pretty clear that it leads to ele­vat­ed blood pres­sure and chron­ic inflam­ma­tion, which both lead to prob­lems." But weight stigma (also known as weight bias), which is defined as the set of neg­a­tive atti­tudes or beliefs that are expressed as stereo­types, prej­u­dice and even overt dis­crim­i­na­tion toward people with higher-weight bodies, does harm, too. It can influ­ence how sci­en­tists approach their research, lead­ing to gaps in under­stand­ing of the rela­tion between body size and health. It con­tributes to missed or delayed diag­noses and to chron­ic stress for patients. Meanwhile the med­ical com­mu­ni­ty's goal of solv­ing America's health prob­lems by fix­at­ing on weight loss has proved nearly impos­si­ble to achieve.
Although the cor­re­la­tion between larger bodies and higher rates of heart dis­ease, dia­betes and other chron­ic con­di­tions is well known, some of the mech­a­nisms behind the rela­tion­ship are not straight­for­ward. Mainstream weight researchers argue that high body weight itself causes the ele­vat­ed blood pres­sure and inflam­ma­tion respon­si­ble for such con­di­tions. Others, such as phys­i­ol­o­gist Lindo Bacon, say that the con­tri­bu­tion of weight to health is com­plex and that the root cause of dis­ease is more likely to be an inter­sec­tion of the patien­t's genet­ics, life habits and envi­ron­ment.
In some cases, data have shown that a higher body weight can actu­al­ly be pro­tec­tive against cer­tain health con­di­tions. In the early 2000s researchers began notic­ing that heart surgery patients with higher BMIs had better sur­vival rates than their thin­ner coun­ter­parts; this phe­nom­e­non was dubbed the "obe­si­ty para­dox" and has also been doc­u­ment­ed for patients with osteo­poro­sis (in whom higher body weight is thought to improve bone min­er­al den­si­ty), major injuries and some kinds of cancer. The fact that a higher body weight actu­al­ly helps people sur­vive cer­tain major ill­ness­es could par­tial­ly explain why indi­vid­u­als in over­weight and low-obese BMI cat­e­gories have an over­all lower mor­tal­i­ty risk accord­ing to the large epi­demi­ol­o­gy analy­ses of body weight and mor­tal­i­ty cor­re­la­tions in the National Health and Nutrition Examination Survey (NHANES), the first of which was pub­lished by sci­en­tists at the Centers for Disease Control and Prevention in 2005. This research doc­u­ments a "J curve" for the rela­tion between BMI levels and mor­tal­i­ty, mean­ing that where­as mor­tal­i­ty risk increas­es for those with the high­est and lowest BMIs, there is no increased risk for people in the middle range — over­weight and low obe­si­ty — com­pared with that for those with BMIs in the normal range.
"The nadir of that J‑shaped curve is get­ting higher on the BMI scale as we track pop­u­la­tions over time," explains Allison, who has stud­ied the "obe­si­ty para­dox." "It could be that we have better treat­ments, so obe­si­ty does­n't kill you as quick­ly as it used to." But the very fact that these find­ings are mar­veled over and clas­si­fied as a para­dox under­scores the role of weight bias in how we think about weight and health, stigma researchers say. "A para­dox is some­thing con­tra­dic­to­ry or seem­ing­ly absurd," Hunger notes. "This term only exists because it's con­sid­ered absurd that fat people could actu­al­ly be healthy."
Scientific under­stand­ing of weight and health devel­oped in tandem with cul­tur­al biases about body size, lead­ing to a belief that weight is a matter of per­son­al respon­si­bil­i­ty and willpow­er. Numerous stud­ies dating back to about 1960 have doc­u­ment­ed how chil­dren, when shown pic­tures of kids with var­i­ous body types, will nearly always rate the fat child as the one they like least. In a 1980 exper­i­ment, a public health researcher named William DeJong found that high school stu­dents shown a pho­to­graph of a higher-weight girl rated her as lazier and less self-dis­ci­plined than a normal-weight sub­ject unless they were told her weight was caused by a thy­roid con­di­tion. "Unless the obese can pro­vide an 'excuse' for their weight … or can offer evi­dence of suc­cess­ful weight loss, their char­ac­ter will be impugned," he wrote.
DeJong's and others' early find­ings of weight stigma were reg­u­lar­ly dis­missed by main­stream researchers and health care providers alike. Then, in the early 2000s, a wealthy donor named Leslie Rudd, who had made his for­tune in the food and bev­er­age indus­try, approached a group of weight researchers at the Yale School of Medicine and asked them to study the impact of this stigma on people in larger bodies. "I was once a lot more over­weight than I am now, and it gave me a first­hand insight into what people who are over­weight feel and the dis­crim­i­na­tion they face," Rudd was quoted as saying in a 2006 Yale release. "There was very little work hap­pen­ing in this area," says Kelly Brownell, a pro­fes­sor of public policy at Duke University and a former direc­tor of what became the Rudd Center for Food Policy and Obesity. Rebecca Puhl, then a grad­u­ate stu­dent of Brownell's, vol­un­teered to lead the effort. "Basically, Rebecca cre­at­ed this field," Brownell says. "And we were pretty quick­ly dumb­found­ed by what we found."
Today ample evi­dence doc­u­ments how people with larger bodies expe­ri­ence bias not only in health care set­tings but also in their work­places, their schools and the media. Puhl, who is now deputy direc­tor for the Rudd Center at the University of Connecticut, and other sci­en­tists are begin­ning to show how living with this kind of chron­ic inter­nal and exter­nal weight stigma neg­a­tive­ly affects phys­i­cal and mental health. This past March, Puhl and 35 of her col­leagues released a con­sen­sus state­ment in the jour­nal Nature Medicine con­demn­ing weight stigma as "incon­sis­tent with cur­rent sci­en­tif­ic evi­dence demon­strat­ing that body weight reg­u­la­tion is not entire­ly under voli­tion­al con­trol and that bio­log­i­cal, genet­ic and envi­ron­men­tal fac­tors crit­i­cal­ly con­tribute to obe­si­ty." They also issued a pledge, signed by more than 100 med­ical and sci­en­tif­ic orga­ni­za­tions, includ­ing the American Diabetes Association, to erad­i­cate weight stigma by treat­ing "indi­vid­u­als with over­weight and obe­si­ty with dig­ni­ty and respect," espe­cial­ly in the work­place and in edu­ca­tion and health care set­tings.
Yet weight loss con­tin­ues to be pro­mot­ed as a med­ical neces­si­ty for reduc­ing mor­tal­i­ty and man­ag­ing chron­ic con­di­tions such as heart dis­ease and dia­betes. That is why a small but grow­ing group of weight researchers is push­ing to replace the weight-cen­tric model of health care with a "weight-inclu­sive" approach being pio­neered by Metz and a hand­ful of other med­ical prac­ti­tion­ers around the coun­try. Doctors who have embraced this strat­e­gy eval­u­ate a patien­t's health and med­ical needs on the basis of blood pres­sure, cho­les­terol and other bio­mark­ers, and they focus on the health ben­e­fits that can be reaped from improv­ing behav­iors relat­ed to diet and exer­cise regard­less of whether such changes lower body weight. These fac­tors may be more useful bench­marks for achiev­ing healthy out­comes than BMI. A hand­ful of ran­dom­ized clin­i­cal trials and epi­demi­o­log­i­cal stud­ies have shown that improve­ments in diet and exer­cise habits can lower blood pres­sure and make other phys­i­o­log­i­cal gains even when study sub­jects do not lose weight, as Bacon and weight sci­ence researcher Lucy Aphramor con­clud­ed in their 2011 evi­dence review in Nutrition Journal. "What we're really doing is look­ing at patients as com­plex human beings rather than fun­nel­ing all of our health con­cerns through their weight," Metz explains. "We're step­ping back to look at how the dif­fer­ent organs and bodily sys­tems inter­act with each other and then how a patien­t's envi­ron­ment, and even soci­ety as a whole, impacts their health." If that approach could lead to health­i­er out­comes, would the med­ical and weight-sci­ence com­mu­ni­ties be ready to let go of the number on the scale?
How Weight Stigma Harms
Negative asso­ci­a­tions with large body types appear to cause real harm in health care set­tings. Kimberly Gudzune, an asso­ciate pro­fes­sor at the Johns Hopkins School of Medicine, has found that people who have been stig­ma­tized for their weight in a doc­tor's office are less likely to come back. After ana­lyz­ing audio record­ings of 208 patient encoun­ters with 39 pri­ma­ry care physi­cians, Gudzune found that doc­tors estab­lished less emo­tion­al rap­port with their higher-weight patients, accord­ing to a study pub­lished in 2013 in the jour­nal Obesity. In anoth­er paper, pub­lished in 2014, she found that 21 per­cent of patients with over­weight and obese BMIs felt that their doctor "judged them about their weight" — and as a result, they were sig­nif­i­cant­ly less likely to trust their doctor.
This dis­trust appears to occur regard­less of a patien­t's socioe­co­nom­ic status. In one 2006 study, 68 per­cent of high-weight women report­ed that they had delayed seek­ing health care because of their weight, even though more than 90 per­cent of the study par­tic­i­pants had health insur­ance. Gudzune says she observes this clin­i­cal­ly all the time: "It's not unusu­al for me to see a patient who hasn't been to the doctor in 10 years, and now I'm telling them they have dia­betes or hyper­ten­sion. Who knows how many of those issues could have been pre­vent­ed or at least better man­aged with ear­li­er care?"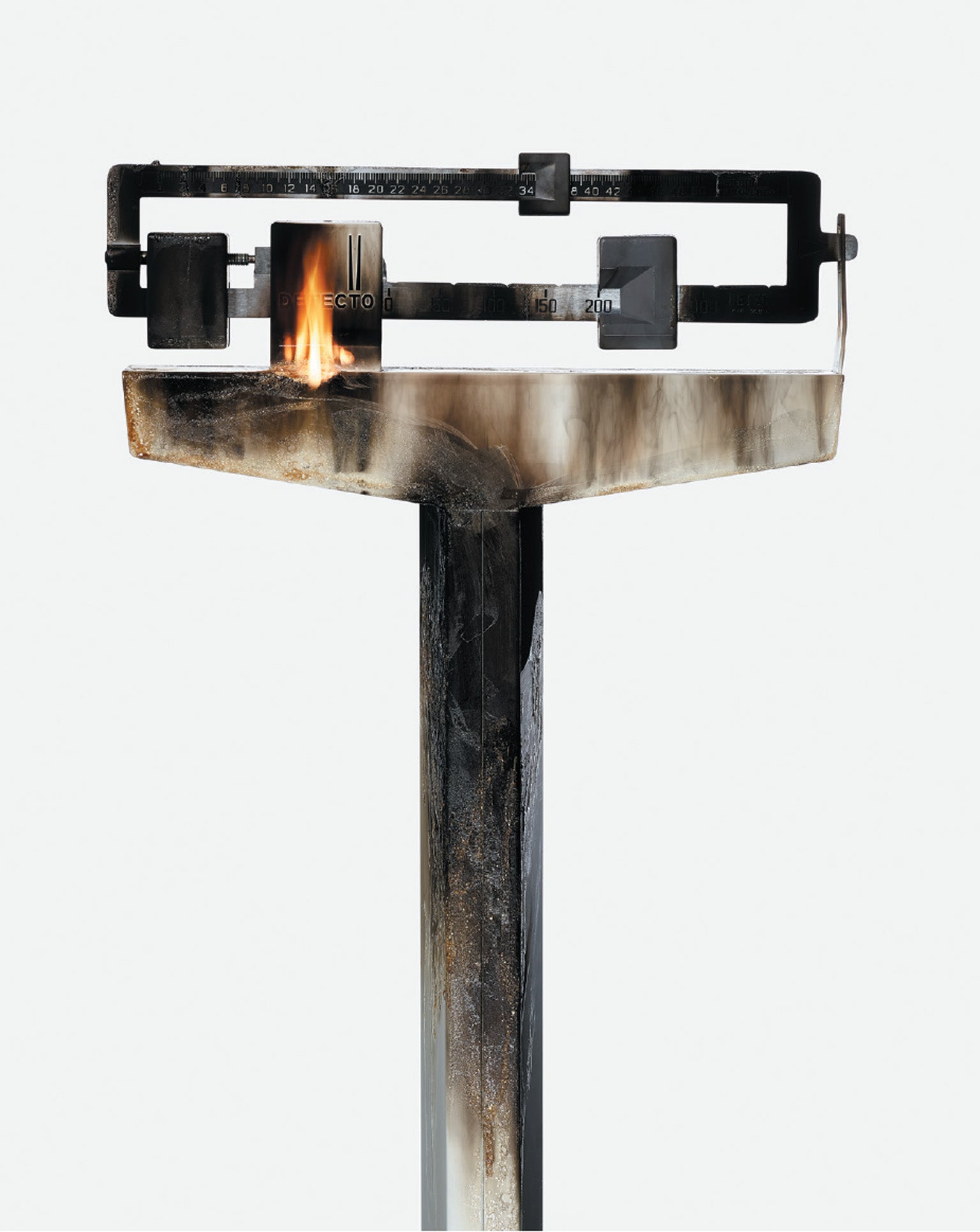 Credit: Dan Saelinger
Even when patients with large bodies do con­tin­ue to seek med­ical care, their provider's weight bias can com­pro­mise the qual­i­ty of the care they receive. "Think about all the stereo­types we have that people with higher body weights are lazy, lack willpow­er and are unin­ter­est­ed in their own health," Hunger says. "If that's the lens you walk in with to a clin­i­cal encounter, of course it shapes the ques­tions you ask and the atti­tudes you take toward your patients." Studies show that clin­i­cians may be less will­ing to pro­vide stan­dard care to patients with high BMIs. In one survey of 1,316 physi­cians, 17 per­cent said they were reluc­tant to per­form pelvic exams on patients with obese BMIs. In a 2011 study on patients report­ing short­ness of breath and sev­er­al other ail­ments, med­ical stu­dents tended to pre­scribe weight-loss strate­gies rather than symp­tom man­age­ment to patients with larger bodies.
Metz says she first became aware of the preva­lence of weight stigma in health care 12 years ago while work­ing in a pri­ma­ry care prac­tice at Duke. She knew that when she treat­ed patients with eating dis­or­ders, it was crit­i­cal to avoid weigh-ins or dis­cus­sions of weight-loss strate­gies because any focus on body size could trig­ger their deeply inter­nal­ized shame and their propen­si­ty toward dis­or­dered eating and other destruc­tive behav­iors. "But then I'd leave that patient and walk next door to see some­one who didn't have a diag­nosed eating dis­or­der but really wanted me to help them lose weight," she recalls. Metz could not rec­on­cile the dis­con­nect she felt talk­ing about por­tion con­trol and calo­rie count­ing with larger patients — many of whom were diet­ing and exer­cis­ing in extreme ways — when those same behav­iors would be cause for con­cern in her thin­ner patients.
In fact, research sug­gests that restric­tive eating dis­or­ders may be more preva­lent in people with larger bodies. Classic anorex­ia ner­vosa is diag­nosed in just 0.6 per­cent of Americans, per­haps in part because one of its diag­nos­tic cri­te­ria is that patients must have reached an "extreme­ly low body weight." But atyp­i­cal anorex­ia, which was added in 2013 to the fifth edi­tion of the Diagnostic and Statistical Manual of Mental Disorders, is now used to diag­nose patients who would oth­er­wise meet cri­te­ria for anorex­ia but are not under­weight; by one recent esti­mate, 2.8 per­cent of Americans would qual­i­fy for this diag­no­sis. Other research on eating dis­or­ders sug­gests that patients who devel­op them at higher weights are as much at risk for med­ical com­pli­ca­tions such as dan­ger­ous­ly low blood pres­sure and slow heart rates as thin­ner patients, and they often strug­gle longer before receiv­ing treat­ment, prob­a­bly because doc­tors ignore or mis­di­ag­nose their symp­toms. "It wasn't pro­mot­ing my patients' health to pre­scribe weight loss," Metz says. "It was doing harm."
The harm caused by weight stigma appears to go well beyond mis­di­ag­no­sis. A 2016 analy­sis of data col­lect­ed from more than 21,000 American adults in the National Epidemiologic Survey on Alcohol and Related Conditions found a sig­nif­i­cant asso­ci­a­tion between a per­son­'s expe­ri­ence of weight stigma and an increased inci­dence of heart dis­ease, stom­ach ulcers, dia­betes and high cho­les­terol even after researchers con­trolled for their sub­jects' socioe­co­nom­ic status, phys­i­cal activ­i­ty level and BMI.
Puhl and other weight-stigma researchers have con­duct­ed exper­i­men­tal stud­ies that have shown that people ran­dom­ly assigned to "weight-stigma stim­uli" con­sis­tent­ly have higher phys­i­o­log­i­cal stress respons­es, such as increased cor­ti­sol levels, than those assigned to non­stig­ma­tiz­ing expe­ri­ences. (One study by psy­chol­o­gists at Rutgers University and the University of California, Los Angeles, involved a researcher telling unwit­ting vol­un­teers that they could not par­tic­i­pate in an exclu­sive shop­ping expe­ri­ence, because they were too big and might stretch out the clothes.) These data sug­gest that weight stigma may be more than just unpleas­ant to live with; it might actu­al­ly con­tribute to some por­tion of the poor health out­comes dis­pro­por­tion­ate­ly seen in people with higher-weight bodies. "We know that phys­i­o­log­i­cal stress plays a role in body weight because higher levels of cor­ti­sol con­tribute to weight gain," Puhl explains. "Weight stigma is a form of chron­ic stress. So that has chron­ic health effects, both phys­i­o­log­i­cal­ly and in terms of how people cope with that stress."
If weight stigma can influ­ence health direct­ly by rais­ing cor­ti­sol levels and blood pres­sure and indi­rect­ly by com­pro­mis­ing the qual­i­ty of care that patients with large bodies receive from their weight-biased doc­tors, is it pos­si­ble that people with large bodies have worse health not just because of their lit­er­al size but also because of the way they are treat­ed by the world for being that size? "Yes," Brownell says with­out hes­i­ta­tion. He does not dis­pute the evi­dence for bio­log­i­cal path­ways between weight and health. "Obesity causes changes in the body that in turn increase risk fac­tors, which in turn lead to dis­eases," he explains. "But there are other path­ways. And every path­way is exac­er­bat­ed by the pres­ence of weight stigma."
Letting Go of the Scale Is Hard for Everyone
At the Mosaic Clinic, Leslie Scott, a 50-year-old woman who is in for her phys­i­cal, still wants to be weighed. It is what she is used to, she says with a shrug. The med­ical tech oblig­es, but Metz does not look at the number before the check­up. She is more con­cerned about her patien­t's mental health. During her last visit, Scott men­tioned that it was dif­fi­cult to juggle work and being the pri­ma­ry care­giv­er for her elder­ly mother. Today Scott says her broth­er recent­ly died and that she has been feel­ing depressed.
Metz closes her laptop and scoots her stool closer to her patient. "I'm so sorry," she says. "That's a ter­ri­ble loss." They talk for sev­er­al min­utes about Scott's symp­toms, such as how she is strug­gling to sleep and to remem­ber to eat meals. "I know I need to take better care of myself," Scott says. "I should prob­a­bly start going back to the gym and walk­ing more."
"Do you enjoy those activ­i­ties?" Metz asks. "And is it doable with your busy sched­ule, even once or twice a week?" Scott thinks it might be. Metz moves on to review Scott's vitals; her blood pres­sure is slight­ly ele­vat­ed. "This is not in a range where you need med­ica­tion, but it's some­thing we'll watch," she tells Scott.
"I think it's my diet and my weight," Scott says. "It used to be high a few years ago. Then I lost weight, but now I've gained it back."
Metz pauses. She choos­es her next words care­ful­ly, making sure to avoid any hint of crit­i­cism of Scott or her pre­vi­ous doc­tors. "We hear a lot in health care set­tings that weight loss itself treats con­di­tions like blood pres­sure," she says. What the med­ical lit­er­a­ture really shows, Metz con­tin­ues, is it is not nec­es­sar­i­ly weight loss that helps; more likely, it is how our behav­ior changes. "So, I wonder: The time before, when your blood pres­sure got better, did you start to engage in dif­fer­ent behav­iors?"
"Well," Scott says. "I moved away from a stress­ful sit­u­a­tion." Previously she worked 12-hour night shifts at the local jail; when she began a less dan­ger­ous day secu­ri­ty job, "my blood pres­sure got worlds better."
Metz senses an open­ing. These are the moments when patients often begin to con­nect the dots them­selves and see how fix­at­ing so entire­ly on their weight has gotten in the way of larger health goals. At anoth­er med­ical prac­tice, Metz wor­ries, Scott's body size might have made her depres­sion all too easy to miss. When her blood pres­sure rose before, nobody asked Scott about her job or her eating habits, let alone her mental health as she strug­gled to bal­ance night shifts with the pres­sure of rais­ing three chil­dren alone. "It was always just, 'If you lose that weight, you won't have to take med­ica­tion,'" Scott says.
Metz explains how the stress, lack of sleep and irreg­u­lar eating habits caused by Scott's old job prob­a­bly con­tributed to her pre­vi­ous hyper­ten­sion. Then she notes how, in the months since her broth­er's death, Scott has begun strug­gling again with those same issues, albeit for dif­fer­ent rea­sons. They talk through a plan to start man­ag­ing Scott's depres­sion with a com­bi­na­tion of med­ica­tion, coun­sel­ing and some modest phys­i­cal activ­i­ty goals. Weight talk is off the table. "My con­cern for you right now is: Are you eating enough?" Metz says. Scott nods and laughs.
Even when doc­tors such as Metz want to offer an alter­na­tive to the weight-cen­tric model of health care, they are often con­tend­ing with patients who expect a weight-loss pre­scrip­tion. Yet weight is a trait that is far less muta­ble than experts have long thought. In the jour­nal American Psychologist, an evi­dence review on the effec­tive­ness of weight-loss inter­ven­tions found that regard­less of which diet people fol­lowed, they could lose some weight in the first nine to 12 months of any pro­to­col, but over the next two to five years they gained back all but an aver­age of 2.1 pounds. Nondieting con­trol groups also gained weight during that time, though just 1.2 pounds on aver­age. "The dieters had little ben­e­fit to show for their efforts, and the nondi­eters didn't seem harmed by their lack of effort," says Traci Mann, one of the paper's co-authors, who is now a pro­fes­sor of psy­chol­o­gy at the University of Minnesota. "Weight regain appears to be the typ­i­cal response to diet­ing, not the excep­tion." Brownell, who stud­ied public policy approach­es to obe­si­ty pre­ven­tion during his time at the Rudd Center, agrees that the data on its effi­ca­cy and dura­bil­i­ty are "too dis­cour­ag­ing," both because people strug­gle so much to lose and because their cycling between loss and sub­se­quent weight regains seem to fur­ther ele­vate their risk for health issues.
Indeed, Dana Sturtevant, a reg­is­tered dietit­ian, spent seven years man­ag­ing weight-loss inter­ven­tions in clin­i­cal trials com­par­ing treat­ment pro­to­cols for hyper­ten­sion. "Everybody on our trials did the same six-month cur­ricu­lum, and they did lose some weight in those six months," she recalls. "But they were always back up to where they start­ed, or higher, at our two-year follow-up. When I'd bring that up in meet­ings, the researchers would say, 'Well, it's the par­tic­i­pants' fault for not adher­ing to our pro­to­col.'" It never occurred to her col­leagues to ques­tion that pro­to­col or whether weight loss should be the goal in the first place. Sturtevant began to "feel uneth­i­cal" about her work; today she co-owns an orga­ni­za­tion called Be Nourished that teach­es health care providers how to offer trauma-informed and weight-inclu­sive care. "We have no evi­dence-based treat­ment for high body weight that leads to sus­tained out­comes," Sturtevant says. "If a med­ica­tion had this kind of fail­ure rate, doc­tors would stop pre­scrib­ing it."
Metz laments that there are only a hand­ful of stud­ies that com­pare weight-inclu­sive or "nondi­et" treat­ments with weight-loss pro­to­cols. A 2005 study ran­dom­ly assigned 78 women with obe­si­ty to either a diet pro­to­col or a Health at Every Size inter­ven­tion. For the latter, par­tic­i­pants were coun­seled about body accep­tance, encour­aged to sep­a­rate their self-worth from their weight, and edu­cat­ed about tech­niques for intu­itive eating and strate­gies for find­ing phys­i­cal activ­i­ty they enjoyed. The dieters lost weight but regained it; they were more likely to quit the pro­gram and saw fewer over­all improve­ments in health out­comes than those using the nondi­et inter­ven­tion. A 2018 study found that fol­low­ing a sim­i­lar Health at Every Size pro­to­col helped par­tic­i­pants improve their psy­cho­log­i­cal well-being, phys­i­cal sta­mi­na and over­all qual­i­ty of life even though they did not lose weight. Such results are encour­ag­ing, but Metz says more data are needed to under­stand and fine-tune the approach.
One such piece of research, which Metz refers to often, is a 2012 analy­sis of the NHANES data pub­lished by Eric Matheson, an asso­ciate pro­fes­sor of family med­i­cine at the Medical University of South Carolina, and his col­leagues. They found that life habits were a strong pre­dic­tor of mor­tal­i­ty because regard­less of their weight class, people lived longer when they prac­ticed healthy habits such as not smok­ing, drink­ing alco­hol in mod­er­a­tion, eating five or more serv­ings of fruits and veg­eta­bles daily, and exer­cis­ing 12 or more times a month. "If you're obese and you have a healthy lifestyle, you are no more likely to die early than a person of normal weight," Matheson says.
Some dis­crep­an­cies exist in his data; for exam­ple, eating more veg­eta­bles was asso­ci­at­ed with lower mor­tal­i­ty for folks in the normal and over­weight cat­e­gories but not for obese people, where­as exer­cis­ing reg­u­lar­ly appeared to help those in the normal and obese groups but not people in the over­weight range. Matheson does not know how to explain those find­ings. But one pos­si­ble expla­na­tion is that the weight clas­si­fi­ca­tions them­selves are some­what arbi­trary, some­thing that even the main­stream weight researchers acknowl­edge. "At every level of the BMI, people can have dif­fer­ent degrees of body fat or be that size because of entire­ly dif­fer­ent fac­tors or com­bi­na­tions of fac­tors," Allison says. "Their age, race, sex and genet­ic back­ground all come into play when we try to say whether their level of adi­pos­i­ty will cause health effects. It's not as simple as saying obe­si­ty is bad. You have to know for what, for whom, for when."
Metz is not sure that she has fig­ured out the best approach to health care, but she sees patients every day who affirm that she is evolv­ing in the right direc­tion. Midway through her phys­i­cal, Towne men­tions that she has recent­ly been dis­charged from eating-dis­or­der ther­a­py. "That's won­der­ful!" says Metz, break­ing into a warm smile. They talk a little more about Towne's diet as Metz thought­ful­ly frames the con­ver­sa­tion, asking, "Does your body give you feed­back after you eat that?" instead of offer­ing pre­scrip­tive advice about what to eat or avoid, as a dif­fer­ent doctor might have. One risk of the weight-inclu­sive model is that con­ver­sa­tions about "healthy habits" can still easily turn into more oppor­tu­ni­ties to judge patients for their abil­i­ty to comply with doc­tor's orders; talk­ing about por­tion con­trol and "lifestyle changes" can come across as a coded way of encour­ag­ing weight loss. But Metz is deter­mined to push only changes that are sus­tain­able for her patients and that have clear ben­e­fits regard­less of whether they lead to weight loss.
Towne tells me later that one of the biggest chal­lenges of recov­er­ing from her eating dis­or­der has been accept­ing that her weight is not some­thing she needs to con­trol. "I don't know if I'll stay in a small­er body. And that's com­pli­cat­ed because I have a lot of left­over trauma around how I was treat­ed as a bigger person," she says. But Metz helped her see that fix­at­ing on being small, rather than healthy, had led to seri­ous med­ical ram­i­fi­ca­tions. "Having a doctor who can so total­ly remove weight from my health care has been lit­er­al­ly life-chang­ing."
*Editor's Note (6÷24÷20): This sen­tence has been edited after post­ing to cor­rect a ref­er­ence to the med­ical school Louise Metz attend­ed.