What Concerns These Air Force Generals Most About Nuclear Modernization Right Now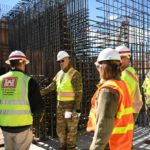 Manpower, material, and funding remain the foundation—and a key concern—for the Air Force's top-to-bottom nuclear modernization effort, a pair of top generals said Jan. 24.
That modernization effort covers everything from personnel to weapons systems to entire facilities, and the service must execute this massive undertaking without losing the slightest bit of operational superiority in a world where nuclear threats have considerably increased, Lt. Gen. James C. Dawkins Jr. and Maj. Gen. Michael J. Lutton said during an Aerospace Nation event hosted by the Mitchell Institute for Aerospace Studies.
At the same time, the Air Force is in the thick of its nuclear modernization program—according to Dawkins, deputy chief of staff for strategic deterrence and nuclear integration, the "bow wave" of new requirements and fielding of new systems discussed a decade or more ago is now here. With the enormous number of systems and improvements on the horizon, immense challenges follow.
"Believe it or not, what I worry about most, more than anything right now—more than technology—is concrete and rebar, reinforcement steel that goes in the concrete to build the 650 construction projects that we have, not just in the missile fields but across the nuclear enterprise," Dawkins said. "It has to be built in the next 12 years in 13 states."
He noted a number of systems and equipment that will be fielded in the coming years, including the recently rolled-out B-21, the air-launched B61-12 tactical bomb, the MH-139 Grey Wolf helicopter for missile site security, and a modernized nuclear command, control, and communications network. But that's only part of the picture.
"Anytime you transition and do everything at the same time, you've got to really be careful about how you orchestrate that," Dawkins said. "That is going to require a lot of work by our Global Strike Command to ensure that they, again, do that just right."
The personnel component to these efforts is also crucial, and Dawkins particularly emphasized the need for experts in critical areas—such as electricians, pipe fitters, and welders—to keep the multitude of projects on schedule.
Lutton, commander of the 20th Air Force, discussed the human capital component of the process and how talent management shapes and is shaped by emerging systems and technology. He focused on the integration of Grey Wolf, along with the ground-based Sentinel ICBM system that's replacing the Minuteman III.
"Some of the similar questions about talent management, talent retention, talent placement, when you're building a new weapon system, are agnostic of the weapon system, whether it's an aircraft or a missile system," Lutton said. "So Gray Wolf right now is teaching us some lessons that will definitely export to Sentinel."
Lutton said Sentinel has prompted some organizational changes, with the flight test squadron evolving into a test and evaluation group. This will include a flight test squadron, test support squadron, and a maintenance test squadron. Overall, these developments have expanded opportunities for Airmen across the board, particularly when it comes to the country's ICBM defense.
"Historically, and by historically I can only talk about the time that I've served, we've never really been 'Total Force' in the ICBM business," Lutton added, noting that the first Reservist weapons officer graduated from the U.S. Air Force Weapons School in December. "We are looking to build so much more Total Force opportunity in the ICBM business, and that does two new things for us: One, it gives us incredible depth of expertise, and two, it allows our Airmen to have options."
In addition, Lutton noted the service has increased communication about "why" Airmen are doing what they're doing, looking closely at world events and diplomacy to form a better understanding of their role.
"There's a component to it where we have to ensure that we're still very active with counterproliferation," he said. "We still have to ensure that we're very active with nuclear nonproliferation, and then we have obviously a very healthy treaty system that is transparent and compliant."
Dawkins said stable funding remains essential, and he's pleased with the bipartisan support the mission has had for many years—even with the scrutiny the nuclear enterprise often receives. Still, raw materials, personnel, and tight timelines remain at the forefront.
"We deferred programs back to the early 2000s, and then we had sequestration, and so we don't have a lot of margin to produce these," he said, adding that while producing new systems, the current ones must endure. "The ICBMs that Gen. Lutton commands and is in charge of out there in missile fields have to be as good on their last day as they were on their first day, and that continues to get more challenging."
The post What Concerns These Air Force Generals Most about Nuclear Modernization Right Now appeared first on Air & Space Forces Magazine.