Weeding Out Fraudulent Unemployment Claims Just Became More Difficult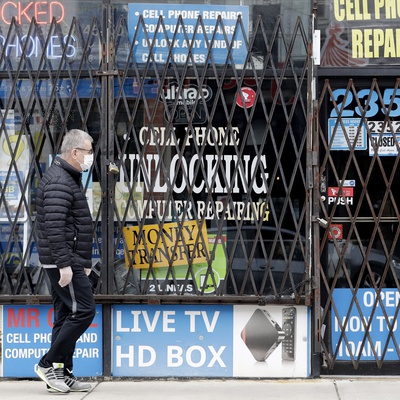 Scammers defraud­ed the state of Washington out of hun­dreds of mil­lions of dol­lars by using res­i­dents' stolen infor­ma­tion to file claims for unem­ploy­ment, the state employ­ment office said this week.
The dis­clo­sure under­scores the dif­fi­cul­ty states face in root­ing out fraud­u­lent claims as an unprece­dent­ed number of out-of-work Americans file for unem­ploy­ment because of the coro­n­avirus out­break.
Washington's Employment Security Department has paid out $3.8 bil­lion in ben­e­fits to more than 768,000 people since March, when busi­ness­es began clos­ing down as the state tried to con­tain the coro­n­avirus.
But last week the state saw a 26% jump in the number of first-time unem­ploy­ment fil­ings, and offi­cials believe at least a por­tion of those are due to an increase in fraud­u­lent claims.
"At this point, we have tens of thou­sands of indi­vid­u­als whose stolen infor­ma­tion has been used to file fraud­u­lent claims," the department's Commissioner Suzi LeVine told local reporters this week. "We believe that this trans­lates into hun­dreds of mil­lions of dol­lars."
An inter­na­tion­al crime ring is believed to be involved in a large scale fraud oper­a­tion tar­get­ing state unem­ploy­ment sys­tems, accord­ing to a memo the Secret Service issued last week, which was report­ed on by the New York Times and Krebs on Security. Washington has been the pri­ma­ry target thus far, but author­i­ties also uncov­ered evi­dence of fraud­u­lent activ­i­ty in North Carolina, Massachusetts, Rhode Island, Oklahoma, Wyoming and Florida and warned that every state was vul­ner­a­ble to the scheme.
The Secret Service said that the crime ring behind the fraud scheme "pos­sess­es a sub­stan­tial [per­son­al­ly iden­ti­fi­able infor­ma­tion] data­base" and warned that "a sub­stan­tial amount of the fraud­u­lent ben­e­fits sub­mit­ted have used PII from first respon­ders, gov­ern­ment per­son­nel and school employ­ees."
More than 38 mil­lion Americans have filed for unem­ploy­ment ben­e­fits since March, when states began order­ing busi­ness­es and schools to close to try and stem the coro­n­avirus out­break. States have strug­gled to keep up with the crush­ing demand, making it espe­cial­ly dif­fi­cult for unem­ploy­ment offices to detect and catch this type of fraud.
"All these state sys­tems are set up to catch or detect fraud by indi­vid­ual claimants. Not people work­ing in a con­cert­ed effort to submit fraud­u­lent claims all at once," said Mason Wilder, a senior research spe­cial­ist with the Association of Certified Fraud Examiners.
For exam­ple, Oklahoma, like many other states, did away with a week-long wait­ing period before ini­tial unem­ploy­ment com­pen­sa­tion would be paid in order to quick­ly get money to out-of-work res­i­dents. But that could be making it easier for fraud­sters to slip through the cracks, said Kerry Master, the reem­ploy­ment ser­vices and com­pli­ance divi­sion direc­tor for the Oklahoma Employment Security Commission.
"It gets assis­tance and relief to people faster, but it also gives the fraud­u­lent actors a week of free time, if you will, that we would nor­mal­ly catch them and now don't nec­es­sar­i­ly get that improp­er pay­ment stopped imme­di­ate­ly, but we'll get it stopped," Kerry told KOKH-TV last month before the inter­na­tion­al fraud ring was iden­ti­fied.
Some of the per­son­al infor­ma­tion used in com­mit­ting the fraud­u­lent unem­ploy­ment fil­ings may have been acquired through prior secu­ri­ty com­pro­mis­es of busi­ness­es, Wilder said. For instance, if a hacker obtained the human resources employ­ee logs of a com­pa­ny, it could have the per­son­al infor­ma­tion and social secu­ri­ty num­bers needed to file an unem­ploy­ment claim.
In that case, states may need to devel­op better ways to flag poten­tial­ly fraud­u­lent claims for review. Some red flags of poten­tial fraud could include use of the same bank account for mul­ti­ple unem­ploy­ment claims, hun­dreds of claims sub­mit­ted through the same IP address, or asking unem­ploy­ment offices to send claims to out-of-state address­es, Wilder said.
"Those would be a red flag that should put a pay­ment on hold until that claim is eval­u­at­ed," he said.
It could also be help­ful to review claims that have been iden­ti­fied as fraud­u­lent for any tell­tale signs that could be used to weed out others.
Some of the fraud­u­lent activ­i­ty has report­ed­ly been traced to a Nigerian crime ring, so noting the time of day that claims are sub­mit­ted (for instance, if hun­dreds of claims were filed at 3 a.m.) or incor­rect spelling of a word in the same way could help iden­ti­fy other fraud, Wilder said.
Flagging a large volume of poten­tial­ly fraud­u­lent unem­ploy­ment claims will also create a new set of prob­lems.
"If they put a system in place that auto­mates the red flag detec­tion and they start having 5,000 cases a day that now need fur­ther human review, it's going to be really dif­fi­cult for them to handle all of that," Wilder said of state unem­ploy­ment agen­cies. "The biggest chal­lenge will be from a resource per­spec­tive, the finan­cial resources to pay for all this addi­tion­al review and extra time and effort."