Viewpoint: Rush to Fill Supreme Court Vacancy Is an Attack on Democracy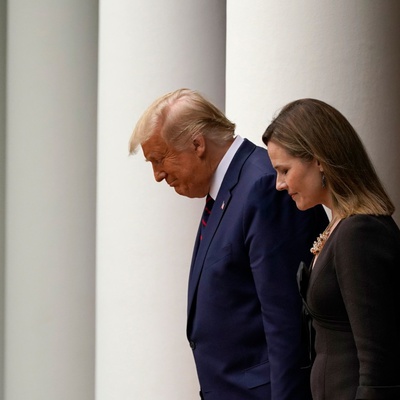 President Donald Trump's and Senate Majority Leader Mitch McConnell's power grab to fill Justice Ginsburg's seat on the U.S. Supreme Court before elec­tion results are ren­dered is an abuse of power that will only be made worse if Trump's nom­i­nee isn't rig­or­ous­ly vetted.
If seated on the Court, Judge Amy Coney Barrett will play a decid­ing role in whether crit­i­cal cases issued over the last half-cen­tu­ry remain good law, and how the next half-cen­tu­ry of con­sti­tu­tion­al law will devel­op. That fact alone merits a close exam­i­na­tion of her judi­cial record, but cou­pled with the sig­nif­i­cant eth­i­cal fail­ures of the pres­i­dent and his pre­vi­ous nom­i­nees — both Cabinet and judi­cial appoint­ments — the need for a robust con­fir­ma­tion process that McConnell has pledged to avoid is even more acute.
Senate Republicans have jus­ti­fied their blind pledge for a speedy con­fir­ma­tion with the mis­lead­ing argu­ment that Justice Ginsburg's own con­fir­ma­tion process lasted 42 days. A key dif­fer­ence, of course, is that Americans were not already voting to poten­tial­ly replace the pres­i­dent and major­i­ty leader. Ginsburg was confirmed in Bill Clinton's first year as pres­i­dent, and on her merits, not in a process expe­dit­ed for par­ti­san rea­sons. McConnell's case for moving for­ward with this nom­i­nee is also incon­sis­tent with his jus­ti­fi­ca­tion for not con­sid­er­ing the nom­i­na­tion of Judge Merrick Garland, President Obama's choice to replace Justice Antonin Scalia on the Court when the latter passed away nearly nine months before the 2016 elec­tion.
Even dis­count­ing McConnell's par­ti­san hypocrisy, President Trump's dis­turb­ing pat­tern of select­ing eth­i­cal­ly dubi­ous indi­vid­u­als to gov­ern­ment posts should give Americans pause about sen­a­tors push­ing through a new jus­tice as bal­lots are cast. The most well-known exam­ples are former Trump White House staffers Michael Flynn and Steve Bannon, con­vict­ed and accused, respec­tive­ly, of seri­ous crimes. But there are also many crit­i­cal Senate-con­firmed posts that Trump could not fill because his nom­i­nees faced sig­nif­i­cant eth­i­cal ques­tions. In January 2017, the Senate post­poned a con­fir­ma­tion hear­ing for Trump's Secretary of Labor pick, Andrew Pudzer, as he strug­gled to address poten­tial con­flicts of inter­est. Pudzer withdrew from the process amidst mul­ti­ple scan­dals, includ­ing his ex-wife accus­ing him of domes­tic abuse. Trump's nom­i­nee to serve as the second-rank­ing offi­cial at the Federal Emergency Management Agency withdrew his nom­i­na­tion in the middle of hur­ri­cane and wild­fire season after con­firmed reports that he fal­si­fied gov­ern­ment records during the Bush admin­is­tra­tion. More recent­ly, Trump's nom­i­nee to head the National Oceanographic and Atmospheric Administration, Barry Myers, withdrew after his nom­i­na­tion stalled due to con­flict con­cerns about his family's stake in AccuWeather, a pri­vate weath­er fore­cast­ing com­pa­ny.
President Trump's track record of con­fir­ma­tion fail­ures amidst ethics ques­tions also extends to judi­cial nom­i­na­tions. In September 2017, Trump nom­i­nat­ed Brett Talley for a fed­er­al dis­trict court judge­ship. Talley's nom­i­na­tion was heav­i­ly scrutinized due to his dearth of expe­ri­ence, par­ti­san writ­ings, and lack of candor regard­ing a poten­tial con­flict with the Trump admin­is­tra­tion — he was mar­ried to a senior offi­cial within Trump's Office of White House Counsel. Talley later withdrew from the process. In 2018, Trump nom­i­nat­ed John O'Connor for a fed­er­al dis­trict court judge­ship in Oklahoma. The American Bar Association unan­i­mous­ly rated O'Connor as "unqualified" based in part on con­cerns that he engaged in "eth­i­cal­ly dubi­ous" con­duct includ­ing "charg­ing clients unusu­al­ly high fees" and "alleged­ly schem­ing to increase his own prof­its." O'Connor with­drew from consideration almost a year after his nom­i­na­tion.
Although Judge Barrett was con­firmed by the Senate in 2017 to serve on the Seventh Circuit Court of Appeals, prior con­fir­ma­tion is no guar­an­tee that new ethics issues won't arise. Several of Trump's most high pro­file appointees pro­vide cau­tion­ary tales. Interior Secretary Ryan Zinke, who was con­firmed by a bipartisan major­i­ty in 2017, amassed 18 inves­ti­ga­tions into his behav­ior includ­ing alle­ga­tions of lavish spending and travel as well as whistle­blow­er retaliation before being forced to resign. William Barr was confirmed not once, but twice to lead the Department of Justice, but during his tenure as Trump's Attorney General, Barr has con­sis­tent­ly abused his office by inter­ven­ing in criminal and civil cases to pro­tect the President and his allies. Most notably, the vet­ting of D.C. Circuit Judge Brett Kavanaugh to join the Supreme Court includ­ed con­cerns about irregularities in his finan­cial dis­clo­sures and was sig­nif­i­cant­ly delayed as the FBI exam­ined allegations of sexual mis­con­duct against the judge. A panel of judges even­tu­al­ly dis­missed dozens of ethics com­plaints against Kavanaugh, con­clud­ing that although the complaints were "seri­ous," there was no legal author­i­ty for them to inves­ti­gate him once McConnell's Senate con­firmed him to the high court.
President Trump's and Leader McConnell's attempt to replace Justice Ginsburg while Americans are voting to poten­tial­ly replace them both is an inde­fen­si­ble attack on our democ­ra­cy. Certainly the American public and their sen­a­tors should ques­tion why Judge Barrett accept­ed the nom­i­na­tion under the cur­rent cir­cum­stances, as doing so could taint the rep­u­ta­tion of the Court going for­ward. She should also explain how that squares with her own comments regard­ing fill­ing Justice Scalia's seat during an elec­tion year and whether she will recuse herself from any cases involv­ing the 2020 pres­i­den­tial elec­tion.
Even if these were normal times, Trump's track record of nom­i­nat­ing eth­i­cal­ly chal­lenged indi­vid­u­als to high gov­ern­ment posts warns against the rubber stamp con­fir­ma­tion that McConnell has promised.
Donald K. Sherman is deputy direc­tor of the non­prof­it Citizens for Responsibility and Ethics in Washington.