USS Chung-Hoon Conducts GUNEX With HMAS Stuart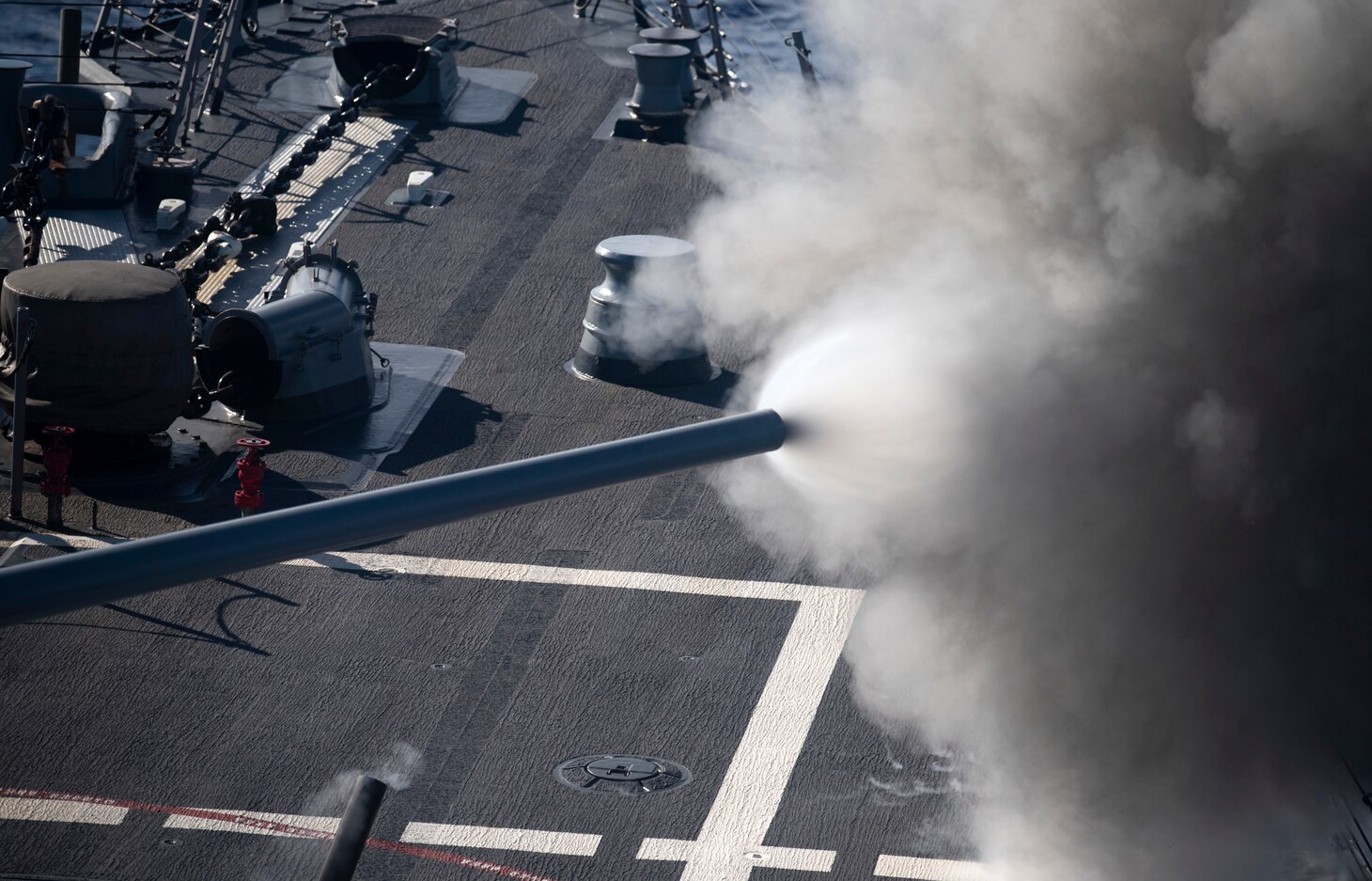 U.S. Navy guided-mis­sile destroy­er USS Chung-Hoon (DDG 93) con­duct­ed a gun­nery exer­cise with the Royal Australian Navy frigate HMAS Stuart (FFH 153) August 19 during Exercise Rim of the Pacific (RIMPAC) 2020.
During the exer­cise, Stuart dropped a float­ing target into the ocean, known as a "killer tomato." Chung-Hoon fired 20 rounds from the MK 45 five-inch gun and 400 rounds from .50 cal­iber machine guns.
"Today's live-fire event rein­forced the impor­tance of com­mu­ni­ca­tions, coor­di­na­tion, and pre­ci­sion," said Chung-Hoon Commanding Officer, Cmdr. Stephen Henz. "It demon­strat­ed our lethal­i­ty and helped hone the skills required to fight and win a war at sea. Being able to do so with our part­ner nations at an event like RIMPAC makes it even better."
Prior to the live-fire exer­cise, Chung-Hoon and Stuart sailed in for­ma­tion and con­duct­ed tac­ti­cal move­ments with the Japanese ship JS Ise (DDH 182) and the French ship FS Bougainville (A 622).
"Having the oppor­tu­ni­ty to sail and train with our part­ner nations is an amaz­ing oppor­tu­ni­ty for CHUNG-HOON," said Henz. "We look for­ward to exe­cut­ing the upcom­ing RIMPAC seri­als and improv­ing our war-fight­ing readi­ness along­side our coun­ter­parts."
Ten nations, 22 ships, 1 sub­ma­rine, and more than 5,300 per­son­nel are par­tic­i­pat­ing in RIMPAC from August 17 to 31 at sea around the Hawaiian Islands. RIMPAC is a bien­ni­al exer­cise designed to foster and sus­tain coop­er­a­tive rela­tion­ships, crit­i­cal to ensur­ing the safety of sea lanes and secu­ri­ty in sup­port of a free and open Indo-Pacific region. The exer­cise is a unique train­ing plat­form designed to enhance inter­op­er­abil­i­ty and strate­gic mar­itime part­ner­ships. RIMPAC 2020 is the 27th exer­cise in the series that began in 1971.