US Space Force Hires a Horse to Boldly Go Where Rockets Can't. (The Beach)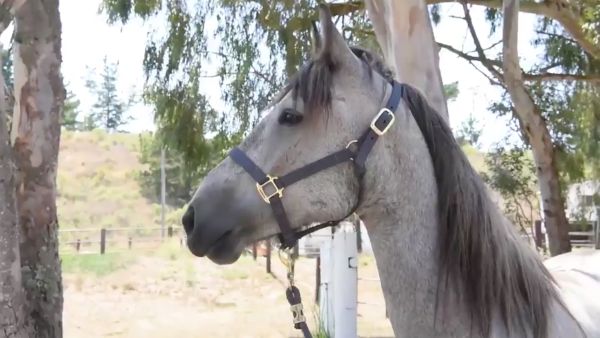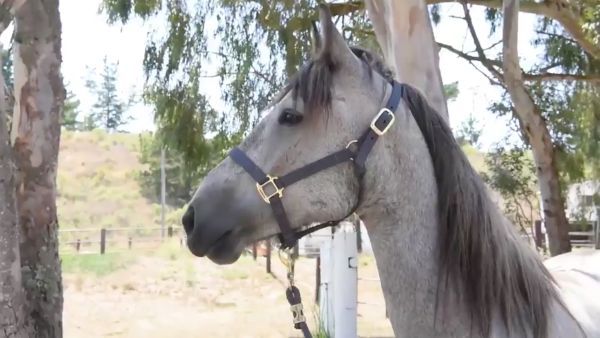 The United States Space Force has a new recruit in their mis­sion to keep planet Earth safe. His name is Ghost, and he likes to go clip-clop on the beach.
Ghost, a 5‑year-old mus­tang, is the newest addi­tion to the Conservation Military Working Horse pro­gram, which the Space Force recent­ly inher­it­ed from the U.S. Air Force. According to a video tweeted by the Space Force, Ghost just joined a stable of four Military Working Horses at Vandenberg Air Force Base — a 99,600-acre (40,306 hectares) chunk of land on the California coast. (That's rough­ly 100 times the size of Central Park in New York.)
Let's just get this out of the way: No, Ghost is not going into space. Horses are noto­ri­ous­ly bad at oper­at­ing com­put­ers, and NASA has had enough trou­ble sizing their space suits for bipeds lately. Nor is Ghost being trained for combat, despite his cool mil­i­tary cre­den­tials.
So, how does Ghost spend his work­days, if not dream­ing of the stars or dis­tant shores? According to Staff Sgt. Michael Terrazas, man­ag­er of the Military Working Horse Program and one of Ghost's han­dlers, Ghost is sort of a quadrupedal con­ser­va­tion cop. Ghost and his equine col­leagues help the human mem­bers of the Working Horse pro­gram tra­verse the vast hills and beach­es of Vandenburg, keep­ing an eye on the area's many pro­tect­ed species and any intrud­ers that might pose a threat to them.
"We enforce fish and game laws, and the horses help us walk off the beaten path to com­plete our mis­sion," Terrazas said in a 2019 news release (before the Space Force took own­er­ship of the pro­gram). "We have even respond­ed to lost hunters and hurt ani­mals."
According to the Vandenburg website, 15 endan­gered or threat­ened species live within the base's bor­ders. When patrolling the base's far cor­ners with motor vehi­cles proves too dif­fi­cult, pro­gram mem­bers turn to the horses. Ghost has a small­er eco­log­i­cal foot­print than an ATV, Terrazas said, making the horses cru­cial to accom­plish­ing envi­ron­men­tal­ly friend­ly patrols.
Like an astro­naut, Ghost is under­go­ing rig­or­ous train­ing before he can go full-time, cur­rent­ly riding three times a week with a per­son­al train­er. Cleaning up beach­es and writ­ing cita­tions for hunters might not be as roman­tic as explor­ing the Horsehead nebula, but it's arguably even more impor­tant work. Way to go, Ghost! That's four small steps for horse-kind.
Originally pub­lished on Live Science.