US, Russia Share a Complex and Bloody History in Afghanistan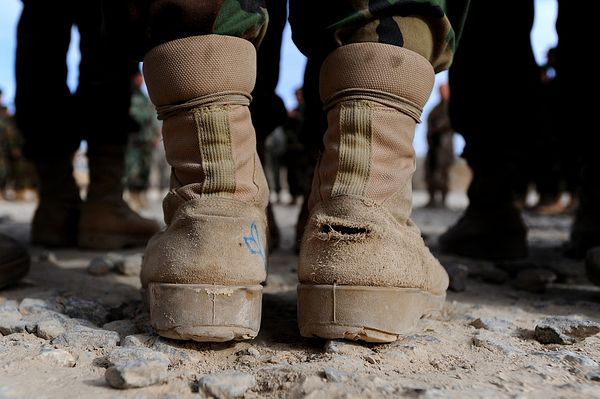 Moscow and Washington are inter­twined in a com­plex and bloody his­to­ry in Afghanistan, with both suf­fer­ing thou­sands of dead and wound­ed in con­flicts last­ing for years.
Now both super­pow­ers are linked again over Afghanistan, with intel­li­gence reports indi­cat­ing Russia secret­ly offered boun­ties to the Taliban to kill American troops there.
But ana­lysts sug­gest that despite these appar­ent dif­fer­ences, the two adver­saries actu­al­ly have much in common, espe­cial­ly when it comes to what a post­war Afghanistan should look like: Both want a stable coun­try that does not serve as a base for extrem­ists to export ter­ror­ism.
"The Russian endgame is an Afghanistan which will nei­ther sup­port jihadi move­ments in the former U.S.S.R. nor host American bases that might one day be used against Russia," says Anatol Lieven, a Georgetown University pro­fes­sor in the Middle Eastern state of Qatar and a senior fellow at the New American Foundation.
Even the Pentagon said this week in a report to the U.S. Congress that Russia backed Washington's deal with the Taliban as the best path for­ward, while at the same time the Kremlin has sought to cul­ti­vate inter­est with the group, limit the West's mil­i­tary pres­ence and encour­age oper­a­tions against Islamic State mil­i­tants.
Lieven, who stud­ied the Soviet Union's inva­sion of the coun­try in 1979 and its sub­se­quent occu­pa­tion, defeat and with­draw­al a decade later, said Moscow would "prefer to see a mixed gov­ern­ment in Afghanistan, with Taliban power lim­it­ed."
He says Moscow has not for­got­ten its expe­ri­ence in Afghanistan, where at least 15,000 Soviet troops were killed in fight­ing that began as an effort to prop up a com­mu­nist ally and soon became a grind­ing cam­paign against the U.S.-backed muja­hedeen insur­gency.
But in today's Afghanistan, the threat facing Russia is the Islamic State and its affil­i­ates. Russia has raised con­cerns about the Islamic Movement of Uzbekistan, a ter­ror­ist orga­ni­za­tion that was born of brew­ing dis­con­tent in Muslim-dom­i­nat­ed Central Asia in the 1990s which has spend much of the last two decades exiled to Afghanistan and Pakistan, where it has been allied with the Taliban and Haqqani net­work.
Even as Russia and the U.S. vie for influ­ence in Afghanistan, they are aligned in their oppo­si­tion to IS. Lieven says Moscow regards the Taliban as the lesser evil and, like Washington, sees it as an ally in the fight against both IS and the IMU.
Remnants of the muja­hedeen groups in Afghanistan are now war­lords-turned-polit­i­cal lead­ers in the Kabul gov­ern­ment and also are in the ranks of the Taliban. The chief Taliban nego­tia­tor in peace talks with the United States, Mullah Abdul Ghani Baradar, fought in the 1980s on the side of the U.S.-backed muja­hedeen, as did Mullah Mohammed Omar, the founder of the Taliban.
"A humil­i­at­ing defeat of the U.S. and NATO forces in Afghanistan by the Taliban would pro­vide some in Moscow with a feel-good sense of revenge for the U.S. sup­port to muja­hedeen groups in the 1980s that led to the humil­i­at­ing defeat and with­draw­al of Soviet forces," says Andrew Wilder, vice pres­i­dent of the Asia Program at the U.S. Institute of Peace.
Wilder said Moscow's vision of a post­war Afghanistan is much the same as Washington's.
"They would prefer an end state not that dif­fer­ent from what the U.S. desires – a polit­i­cal set­tle­ment that leads to the with­draw­al of U.S. and NATO forces but leaves behind a rel­a­tive­ly stable and eth­ni­cal­ly inclu­sive gov­ern­ment that can ensure Afghanistan doesn't again become a safe haven for transna­tion­al ter­ror­ist groups," he said.
He said Afghanistan's neigh­bors, includ­ing the strate­gi­cal­ly sen­si­tive nations of Central Asia bor­der­ing Russia, would be "the biggest losers" if a with­draw­al of U.S. and NATO forces led to a col­lapse of the coun­try and a return to the anar­chy of the 1990s.
As for the reports of boun­ties being paid to the insur­gents, ana­lysts also say that cash from abroad has flowed into Afghanistan for years. Loyalties are fluid in the coun­try and money has been used to buy influ­ence, curry favor or manip­u­late gov­ern­ment offi­cials since the col­lapse of the Taliban in 2001.
As far back as 2013, suit­cas­es of cash given to the Afghan gov­ern­ment by the CIA was being blamed for run­away cor­rup­tion. Washington's own watch­dog, the Special Inspector General for Afghan Reconstruction (SIGAR) has alleged that bil­lions of dol­lars have been pock­et­ed by gov­ern­ment offi­cials, war­lords, drug lords and insur­gents.
The money was pumped into Afghanistan by the U.S., Iran, Pakistan, Russia and India.
In Kabul's Sherpur neigh­bor­hood, the mul­ti­sto­ry marble man­sions owned by war­lords, drug lords and Kabul's polit­i­cal elite were built by cor­rup­tion, accord­ing to Afghans who stage anti-graft protests. Last month, a group of lawyers and econ­o­mists asked the International Monetary Fund not to lend money to Afghanistan because it would be pock­et­ed by offi­cials.
Insurgents also ben­e­fit from the explod­ing drug trade and have taken pay­ments from coun­tries seek­ing to buy influ­ence, ana­lysts say.
"U.S. mil­i­tary offi­cials have often sug­gest­ed that Russia is fun­nel­ing arms to the Taliban, but the evi­dence hasn't been nearly as strong as it is for Pakistani and, more recent­ly, Iranian sup­port for the Taliban," said Michael Kugelman, deputy direc­tor of the Asia Program at the Wilson Center.
"While Moscow has sought to scale up its engage­ment with the Taliban in recent years, much of this has been meant to pro­mote sup­port for peace and rec­on­cil­i­a­tion. And this is part of a broad­er Russian objec­tive to increase its influ­ence in Afghanistan," he said.
But for Brian G. Williams, author of "Counter Jihad. The America Military Experience in Afghanistan, Iraq and Syria," and a former employ­ee of the CIA's Counter Terrorism Center, Russia's endgame in Afghanistan is to hand Washington a humil­i­at­ing defeat.
"The gen­er­als in the FSB (Federal Security Service) and GRU (Main Intelligence Directorate) would again be toast­ing should American Chinooks be forced to chaot­i­cal­ly evac­u­ate U.S. per­son­nel from the U.S. Embassy in Kabul." he said,
Williams said President Vladimir Putin "has always seen America as its pri­ma­ry com­peti­tor for power in post-Soviet Eurasia."
By Kathy Gannon for the Associated Press.
With addi­tion­al report­ing from The Diplomat.