US Public Opinion Is Changing the Relationship With China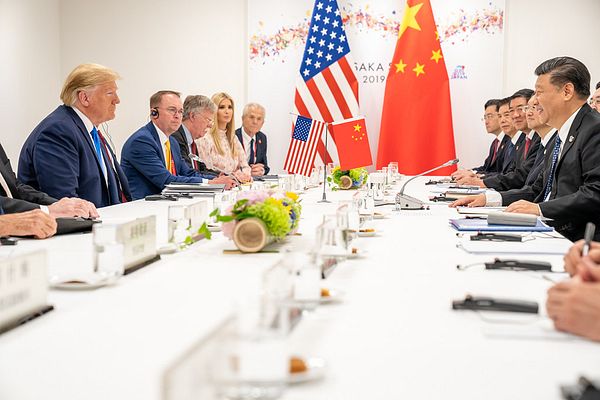 The year is not over, but it's safe to say that 2020 has been a water­shed. Even so, it may be dif­fi­cult to grasp just how con­se­quen­tial the last sev­er­al months have been for U.S.-China rela­tions. As the many crises of 2020 recede into the past, it will become increas­ing­ly clear that we wit­nessed the most impor­tant sea change in U.S.-China rela­tions in 50 years. Critically, this was the year that the tide of public opinion in the United States turned against China.
The two global powers have been the best of "fren­e­mies" for decades. But the issues that have chal­lenged the rela­tion­ship in the past – human rights, democracy, territorial claims, and espionage – have snow­balled this year. Some of this is delib­er­ate, a prod­uct of President Donald Trump's aggres­sive China poli­cies. But the COVID-19 pan­dem­ic, and more impor­tant­ly, China's lack­lus­ter public rela­tions and crisis man­age­ment have led to a down­ward spiral in U.S. and global public opin­ion of the Middle Kingdom. Future American lead­ers (at least those who are polit­i­cal­ly savvy) will follow this trend in public opin­ion, and the needle will con­tin­ue to move from coop­er­a­tion to com­pe­ti­tion. Declining public approval of America's great­est com­peti­tor means that even if Joe Biden is elect­ed pres­i­dent, he will be unable to reverse course.
Over the last decade, even as China assert­ed itself more strong­ly in places like the South China Sea and Hong Kong, Americans con­tin­ued to debate whether China was really a threat or not. This was reflect­ed in American public opin­ion: Following the 2008 Beijing Olympics and short­ly before Xi Jinping rose to power, Americans large­ly held a positive view of China. But a con­flu­ence of events this year has brought a series of fes­ter­ing issues to the fore­front. First, the pan­dem­ic itself has been a huge blow to Americans' per­cep­tions of China. According to recent polling by the Pew Research Center, an incred­i­ble 78 per­cent of the American public believes that China is to blame for the spread of the virus. Second, even in the past when the public's view was large­ly pos­i­tive, China's repres­sive poli­cies were no secret. But it has been at least 30 years since this repres­sion was dis­played as naked­ly as it was in Hong Kong this summer. Combined with grow­ing rev­e­la­tions of the (mis)treatment of Uyghur Muslims in the west­ern provinces of the coun­try, the CCP is win­ning its inter­nal bat­tles while losing the global PR battle.
In fact, the drop in American public opin­ion coin­cides with sig­nif­i­cant blows to China's image around the world. As Denny Roy has point­ed out, China was facing self-induced backlash in many coun­tries even before the pan­dem­ic began. As a result, China has under­mined its own stated desire to wield "soft power" in inter­na­tion­al rela­tions. Public per­cep­tion has tanked, not just in the United States where Beijing was always viewed as a com­peti­tor, but even in areas that have offered China wide lat­i­tude, such as Africa and Central Asia. And con­trary to the Trump administration's focus on Chinese eco­nom­ic threats, the aver­age American's con­cerns about China are not primarily economic. Instead, Americans believe that China poses the great­est threat in areas like human rights and the envi­ron­ment – issues of global con­cern.
If American public opin­ion remains at such his­tor­i­cal­ly low levels, we are likely to see more American politi­cians aban­don­ing the pre­tense of a "mostly coop­er­a­tive" rela­tion­ship with China. Trump's aggres­sive stance on China is there­fore not fleet­ing. Biden recent­ly char­ac­ter­ized Hong Kong's new secu­ri­ty laws as a "death blow" to free­dom and the country's treat­ment of Uyghurs as "geno­cide." If you need any more evi­dence that the tide of American public opin­ion has turned against China in 2020, con­sid­er that the two pres­i­den­tial can­di­dates have accused each other of "fealty to Xi Jinping" and having an agenda that is "Made in China."
In short, it is no longer polit­i­cal­ly wise to char­ac­ter­ize China as a part­ner or friend. This does not nec­es­sar­i­ly mean that war is more likely. With recent coop­er­a­tion on the Phase One trade deal, it's clear that the United States and China still see mutual eco­nom­ic ben­e­fit in a peace­ful rela­tion­ship. And it's pos­si­ble that China could reverse its cur­rent public image in the U.S. in a number of ways. For now, though, such a rever­sal seems unlike­ly. The next decade for the United States and China is going to look and sound very dif­fer­ent than the last.
Dr. Justin Conrad is the Gary K. Bertsch Director of the Center for International Trade and Security (CITS) at the University of Georgia and the author of Gambling and War: Risk, Reward and Chance in International Conflict.