US Health Secretary Alex Azar to Visit Taiwan in Rare Cabinet-Level Exchange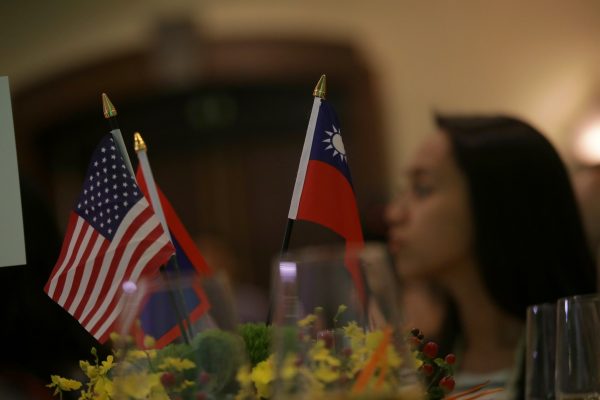 U.S. Secretary of Health and Human Services Alex Azar will lead a del­e­ga­tion in a rare high-level visit to Taiwan, the first visit by a U.S. Cabinet-level offi­cial since 2014, in a bid to pro­mote coop­er­a­tion between the two coun­tries in com­bat­ing the global COVID-19 pan­dem­ic.
Azar and the del­e­ga­tion will arrive in Taipei on August 9, a spokesper­son for Taiwan's cab­i­net said Thursday.
The trip comes as the United States and Taiwan con­tin­ue to expe­ri­ence rad­i­cal­ly diver­gent out­comes from the global spread of COVID-19 after pledging in March to coop­er­ate in research­ing and devel­op­ing tests, vac­cines, and med­i­cines.
Taiwan has report­ed just 477 coro­n­avirus infec­tions and no cases of local trans­mis­sion since April 12. Its strict quar­an­tine, con­tact trac­ing, and mask wear­ing ini­tia­tives have won praise both within the coun­try and abroad.
The United States had report­ed over 4.8 mil­lion cases and at least 158,000 deaths as of early Thursday morn­ing, both higher num­bers than any other coun­try.
Azar said Wednesday he was "look­ing for­ward" to the trip to Taiwan, where he plans to meet President Tsai Ing-wen, Health Minister Chen Shih-chung, and other top offi­cials.
"Taiwan has been a model of coop­er­a­tion, trans­paren­cy, and col­lab­o­ra­tion in the inter­na­tion­al com­mu­ni­ty, and their response to COVID has been incred­i­ble," Azar said in a Fox News inter­view.
Azar and his del­e­ga­tion will only be allowed into the coun­try if they test neg­a­tive for the coro­n­avirus before leav­ing and again upon their arrival, Taiwan Centers for Disease Control deputy direc­tor-gen­er­al Chuang Jen-hsiang said Thursday.
They will be exempt­ed from usual quar­an­tine require­ments when they arrive in Taiwan, although Chuang said they will be required to wear masks "at all times" and will be restrict­ed in where they are allowed to visit. Crowded areas, such as Taipei's night mar­kets, are off the menu.
"There are rules on where they can go," Chuang said.
The exact itin­er­ary of the delegation's visit has not yet been made public, but the U.S. Department of Health and Human Services said in a state­ment that Azar will meet with COVID-19 respon­ders and experts in Taiwan along with senior coun­ter­parts, includ­ing Tsai, and will give a speech to public health grad­u­ate stu­dents.
The visit, Azar wrote on Twitter, will convey President Donald Trump's "sup­port for [Taiwan's] global health lead­er­ship" and "under­score our shared belief that free and demo­c­ra­t­ic soci­eties are the best model for pro­tect­ing and pro­mot­ing health."
"Taiwan has been a model of trans­paren­cy and coop­er­a­tion in global health during the COVID-19 pan­dem­ic and long before it," Azar said. "This trip rep­re­sents an oppor­tu­ni­ty to strength­en our eco­nom­ic and public health coop­er­a­tion with Taiwan."
Azar's trip to Taiwan will mark the first visit by a Cabinet-level U.S. offi­cial since 2014, when Environmental Protection Agency admin­is­tra­tor Gina McCarthy vis­it­ed the coun­try.
U.S. Secretary of State Mike Pompeo said Wednesday the visit was in line with past visits to Taiwan by U.S. Cabinet mem­bers, adding that Azar is "going there with a deep and impor­tant pur­pose."
"We wanted [Taiwan] to be part of the con­ver­sa­tions at the World Health Assembly," Pompeo said. "China has pre­vent­ed that from hap­pen­ing."
Taiwan dropped its bid for observ­er status at May's World Health Assembly after it became evi­dent a push by the United States and dozens of other coun­tries would not be enough to secure Taiwan's par­tic­i­pa­tion in a floor vote.
The U.S. has since begun its formal withdrawal from the World Health Organization, a move that gar­nered intense crit­i­cism at home and, in Taiwan, threw a wrench into the country's long­time U.S.-backed bid to par­tic­i­pate in WHO func­tions and assem­blies.
Azar's visit has drawn pre­dictable crit­i­cism from the Chinese gov­ern­ment, which has opposed Taiwan's par­tic­i­pa­tion in WHO func­tions and asserts sov­er­eign­ty over Taiwan.
Chinese Foreign Ministry spokesper­son Wang Wenbin said Thursday that China "will take strong coun­ter­mea­sures in response to the U.S. behav­ior." He did not elab­o­rate.
Azar won't be lead­ing the only for­eign del­e­ga­tion into Taiwan this month. Milos Vystrcil, pres­i­dent of the Senate of the Czech Republic, told Taiwan's Central News Agency on Thursday he would lead a delegation to Taiwan on August 29 to pro­mote eco­nom­ic and tech­no­log­i­cal coop­er­a­tion between the two coun­tries and would meet politi­cians such as Tsai and You Si-kun, the speak­er of Taiwan's leg­is­la­ture.