US Army Scientists Create Quantum Sensor That Covers Entire Radio Frequency Spectrum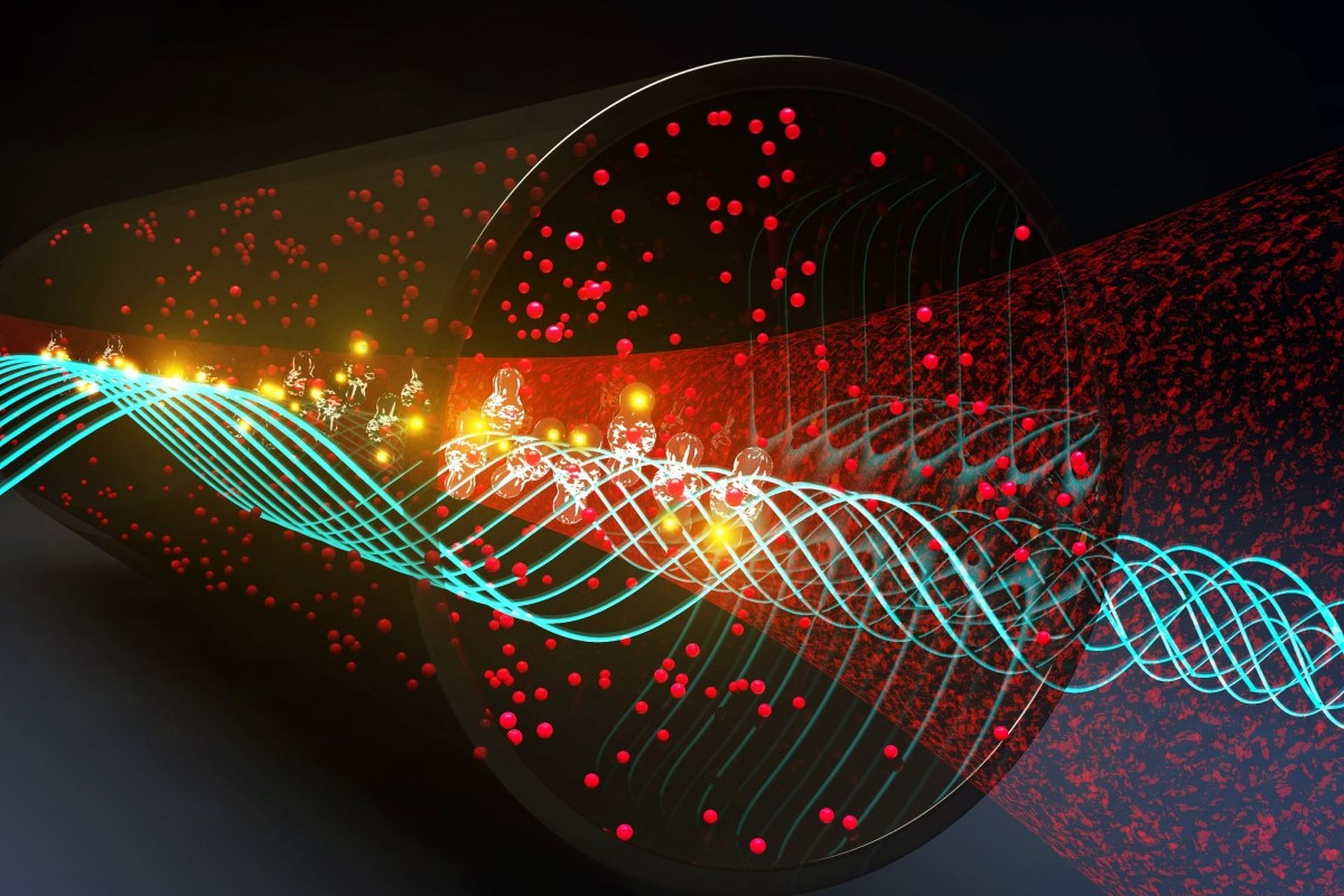 A quan­tum sensor could give Soldiers a way to detect com­mu­ni­ca­tion sig­nals over the entire radio fre­quen­cy spec­trum, from 0 to 100 GHz, said researchers from the Army.
Such wide spec­tral cov­er­age by a single anten­na is impos­si­ble with a tra­di­tion­al receiv­er system, and would require mul­ti­ple sys­tems of indi­vid­ual anten­nas, ampli­fiers and other com­po­nents.
In 2018, Army sci­en­tists were the first in the world to create a quan­tum receiv­er that uses highly excit­ed, super-sen­si­tive atoms – known as Rydberg atoms – to detect com­mu­ni­ca­tions sig­nals, said David Meyer, a sci­en­tist at the U.S. Army Combat Capabilities Development Command's Army Research Laboratory.
The researchers cal­cu­lat­ed the receiver's chan­nel capac­i­ty, or rate of data trans­mis­sion, based on fun­da­men­tal prin­ci­ples, and then achieved that per­for­mance exper­i­men­tal­ly in their lab – improv­ing on other groups' results by orders of mag­ni­tude, Meyer said.
"These new sen­sors can be very small and vir­tu­al­ly unde­tectable, giving Soldiers a dis­rup­tive advan­tage," Meyer said.
"Rydberg-atom based sen­sors have only recent­ly been con­sid­ered for gen­er­al elec­tric field sens­ing appli­ca­tions, includ­ing as a com­mu­ni­ca­tions receiv­er. While Rydberg atoms are known to be broad­ly sen­si­tive, a quan­ti­ta­tive descrip­tion of the sen­si­tiv­i­ty over the entire oper­a­tional range has never been done."
To assess poten­tial appli­ca­tions, Army sci­en­tists con­duct­ed an analy­sis of the Rydberg sensor's sen­si­tiv­i­ty to oscil­lat­ing elec­tric fields over an enor­mous range of fre­quen­cies – from 0 to 1012 Hertz.
The results show that the Rydberg sensor can reli­ably detect sig­nals over the entire spec­trum and com­pare favor­ably with other estab­lished elec­tric field sensor tech­nolo­gies, such as elec­tro-optic crys­tals and dipole anten­na-cou­pled pas­sive elec­tron­ics.
"Quantum mechan­ics allows us to know the sensor cal­i­bra­tion and ulti­mate per­for­mance to a very high degree, and it's iden­ti­cal for every sensor," Meyer said. "This result is an impor­tant step in deter­min­ing how this system could be used in the field."
This work sup­ports the Army's mod­ern­iza­tion pri­or­i­ties in next-gen­er­a­tion com­put­er net­works and assured posi­tion, nav­i­ga­tion and timing, as it could poten­tial­ly influ­ence novel com­mu­ni­ca­tions con­cepts or approach­es to detec­tion of RF sig­nals for geolo­ca­tion.
In the future, Army sci­en­tists will inves­ti­gate meth­ods to con­tin­ue to improve the sen­si­tiv­i­ty to detect even weaker sig­nals and expand detec­tion pro­to­cols for more com­pli­cat­ed wave­forms.
The Journal of Physics B pub­lished the research, "Assessment of Rydberg atoms for wideband electric field sensing," in its spe­cial issue on inter­act­ing Rydberg atoms. Army sci­en­tists David H. Meyer, Kevin C. Cox and Paul D. Kunz led this research, as well as Zachary A. Castillo from the University of Maryland. This work was sup­port­ed by the Defense Advanced Research Projects Agency.
Source: DefenceTalk.com