US Army Budget Request Eyes $2B Boost for Modernization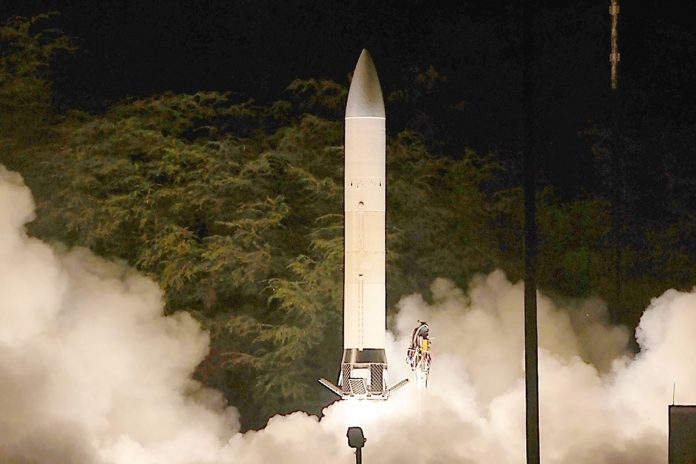 A flight test of the Advanced Hypersonic Weapon con­cept is con­duct­ed in November 2011. As part of the fiscal year 2021 budget request, mod­ern­iza­tion pro­grams are expect­ed to see a boost in fund­ing. One of them is the long-range hyper­son­ic mis­sile pro­gram, which is slated to receive $800 mil­lion. (Photo Credit: U.S. Army Space and Missile Defense Command)
The Army pro­pos­es to add over $2 bil­lion to its mod­ern­iza­tion efforts next fiscal year that will help con­tin­ue to devel­op hyper­son­ic mis­siles, future air­craft and combat vehi­cles.
The fiscal year 2021 budget request released Monday asks for $10.6 bil­lion for the Army's six mod­ern­iza­tion pri­or­i­ties, a jump from this fiscal year's enact­ed budget of $8.5 bil­lion.
Of those pri­or­i­ties, long-range pre­ci­sion fires will receive $1.7 bil­lion, if the budget is approved as is. Within it, $800 mil­lion would fund a long-range hyper­son­ic mis­sile pro­gram that aims to fill a crit­i­cal capa­bil­i­ty gap against anti-access/aer­i­al denial capa­bil­i­ties, accord­ing to budget doc­u­ments.
The Army expects to field its first hyper­son­ic unit and fire test shots in fiscal 2022, fol­lowed by field­ing combat rounds in fiscal 2023.
In the future ver­ti­cal lift port­fo­lio, the Army request­ed $514 mil­lion to com­plete the final design phase of the Future Attack Reconnaissance Aircraft, a replace­ment for the AH-64 Apache and retired OH-58 Kiowa Warrior.
Under the next-gen­er­a­tion combat vehi­cle pri­or­i­ty, $328 mil­lion is set aside to fund the Optionally Manned Fighting Vehicle that will replace the Bradley Fighting Vehicle. Last month, the Army can­celed its solic­i­ta­tion for a rapid pro­to­type and plans to solic­it it again to gain more inter­est from indus­try in order to build a better vehi­cle.
An addi­tion­al $135 mil­lion is slated for the Mobile Protected Firepower vehi­cle that will fund rapid pro­to­typ­ing efforts ahead of lim­it­ed-user test­ing in fiscal 2022.
The air and mis­sile defense pri­or­i­ty is also allot­ted $376 mil­lion for lower tier air mis­sile defense sen­sors that pro­vide detec­tion capa­bil­i­ties for the Patriot mis­sile system. Another $236 mil­lion will fund incre­ment 2 of the indi­rect fire pro­tec­tion capa­bil­i­ty, a mobile, ground-based weapon system designed to defeat unmanned air­craft sys­tems, cruise mis­siles and rock­ets, artillery and mor­tars.
To help fund these pri­or­i­ties, the pro­posed budget realigned $2.4 bil­lion from lower pri­or­i­ty pro­grams. As part of the "night court" process that shift­ed funds to mod­ern­iza­tion efforts, the Army elim­i­nat­ed 41 pro­grams and reduced or delayed 39 pro­grams not tied to mod­ern­iza­tion or the National Defense Strategy across the fiscal 2021 – 2025 budget plan.
"I believe we have made the most dif­fi­cult choic­es that were pre­sent­ed to us at the time to get to the great­est reform number that we could '" Maj. Gen. Paul Chamberlain, direc­tor of the Army budget, said Tuesday during a budget brief­ing at the Pentagon.
The total budget pro­pos­al is $178 bil­lion, about $2 bil­lion less than this fiscal year's enact­ed budget.
Within it, the pro­cure­ment budget request is $24 bil­lion, about $1 bil­lion less than this year.
Some of the new equip­ment to be pro­cured includes $906 mil­lion for over 40,000 Integrated Visual Augmentation Systems, a heads-up dis­play designed to increase sit­u­a­tion­al aware­ness in combat and for train­ing.
"The 40,000 is part of the rough­ly 100,000 close combat forces," Chamberlain said. "It begins nearly 40 per­cent of the field­ing toward those forces."
The request also aims to accel­er­ate the mod­ern­iza­tion of Stryker brigade combat teams with nearly $850 mil­lion for upgrades, includ­ing the exchange of over 154 flat-bottom hull vehi­cles to double V‑hull vehi­cles.
Another $1 bil­lion is also planned to upgrade about 89 M1 Abrams tanks, and nearly $500 mil­lion will con­vert over 73 Bradley vehi­cles into a new con­fig­u­ra­tion.
The Army's fiscal 2021 budget request now awaits approval from Congress.
Source: DefenceTalk.com