Top DOD Spox: No Conclusions Yet on Cause of Beirut Explosion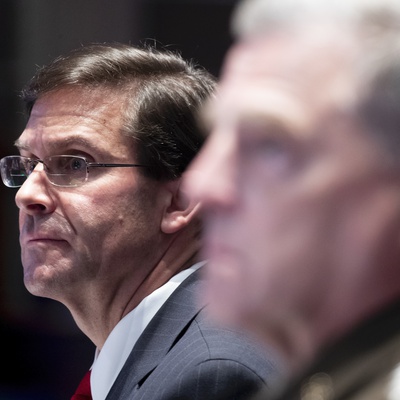 The United States has reached no offi­cial con­clu­sion on the cause of the mas­sive explo­sions that ripped through Beirut's port area on Tuesday, the top Pentagon spokesman said on Thursday.
The state­ment was a subtle shift from Defense Secretary Mark Esper's claim on Wednesday before that "most people believe" the inci­dent was "an acci­dent," bring­ing the Pentagon into closer align­ment with the White House's public state­ments on the matter.
"The sit­u­a­tion has been fast-evolv­ing. On Tuesday and Wednesday we saw dif­fer­ent infor­ma­tion come to light," the spokesman, Jonathan Hoffman, told reporters at the Pentagon. "[Defense Secretary Mark Esper] and the pres­i­dent have been con­sis­tent that we've reached no defin­i­tive cause for the explo­sion. Information is con­tin­u­ing to come in."
The Lebanese gov­ern­ment has pinned the blast on a cache of dan­ger­ous fer­til­iz­er that had been stored at the port unsafe­ly since its seizure in 2014 — an expla­na­tion that a grow­ing number of weapons experts and U.S. offi­cials speak­ing on back­ground say appears to be true.
"No change to our assess­ment" that the blast was the result of a tragic acci­dent, not an attack, one mil­i­tary offi­cial told Defense One on Thursday morn­ing.
But President Donald Trump on Tuesday evening raised the pos­si­bil­i­ty — with­out evi­dence — that the blast was the result of an attack. Lebanon has been the seat of rising ten­sions between the politi­co-mili­tia group Hezbollah and Israel, and is also strug­gling with a dis­in­te­grat­ing econ­o­my that is near col­lapse.
"I met with some of our great gen­er­als and they just seem to feel that it was [an attack]," Trump told reporters at the White House. "This was not some kind of a man­u­fac­tur­ing explo­sion type of event — they would know better than I would. They seem to think it was an attack, it was a bomb of some kind, yes."
It is not clear which "gen­er­als" briefed the pres­i­dent.
The next day, Esper said that "most people believe" that the inci­dent was "an acci­dent" — almost imme­di­ate­ly putting the belea­guered defense sec­re­tary back in the crosshairs of the pres­i­dent, who reported flirted with firing him ear­li­er this summer after he didn't sup­port Trump's plan to use active duty troops to quell protests in Washington, D.C.
Chief of Staff Mark Meadows fired back on Tuesday night, saying that the defense sec­re­tary did not have accu­rate infor­ma­tion.
"From Secretary Esper's stand­point, he doesn't know," Meadows said, telling reporters that the United States hadn't ruled out an attack.
Trump, asked about the dis­crep­an­cy with Esper, insist­ed that there was infor­ma­tion to sup­port both sce­nar­ios.
"I don't think any­body can say right now. Some people think it's an attack. And some people think it wasn't," he said on Wednesday.
Multiple U.S. offi­cials who spoke to Defense One on the con­di­tion of anonymi­ty since Tuesday say that they have seen no evi­dence that the explo­sion was the result of any kind of attack by a coun­try or non-state ter­ror­ist group. They point­ed to the public expla­na­tions by Lebanese offi­cials that tons of ammo­ni­um nitrate — a fer­til­iz­er that can be used in bomb making — was con­fis­cat­ed from an aban­doned ship in port in 2014 and then left in the port ware­house until it com­bust­ed on Tuesday.
"I promise you that this cat­a­stro­phe will not pass with­out account­abil­i­ty," Prime Minister Hassan Diab said in a tele­vised speech after the blast. "Those respon­si­ble will pay the price… Facts about this dan­ger­ous ware­house that has been there since 2014 will be announced, and I will not pre­empt the inves­ti­ga­tions."
One offi­cial famil­iar with the ini­tial Lebanese inves­ti­ga­tion told Reuters in Beirut that although the ques­tion of stor­ing the seized fer­til­iz­er safely had come up before offi­cial com­mit­tees and judges, "noth­ing was done."
"It is neg­li­gence," the offi­cial said.
Hoffman on Thursday declined to answer a ques­tion about whether there was any evi­dence that the explo­sion was the result of an attack, and said the U.S. would work with Lebanon on the inves­ti­ga­tion if it was asked.
"I'm not going to offer any con­clu­sions from the U.S. gov­ern­ment or the intel­li­gent com­mu­ni­ty," Hoffman said.