The US No Longer Considers Hong Kong Autonomous. What Does That Mean?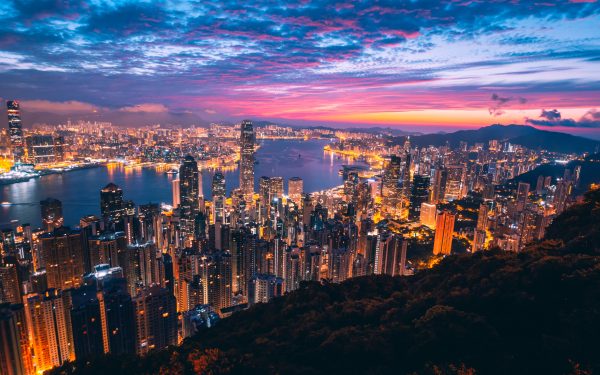 On May 27, U.S. Secretary of State Mike Pompeo offi­cial­ly noti­fied Congress that Hong Kong should no longer be con­sid­ered autonomous – and thus does not war­rant spe­cial treat­ment under U.S. law. The move threat­ens to over­turn the many eco­nom­ic and legal agree­ments the United States has with Hong Kong sep­a­rate from the cen­tral gov­ern­ment in China.
Pompeo linked the bomb­shell announce­ment to the National People's Congress Standing Committee (NPCSC) deci­sion to craft its own nation­al secu­ri­ty leg­is­la­tion for Hong Kong. The NPC deci­sion would bypass the spe­cial admin­is­tra­tive region's own leg­isla­tive body to do so (although the deci­sion also requires Hong Kong to pass its own leg­is­la­tion "as soon as pos­si­ble"). The leg­is­la­tion would seek "to effec­tive­ly pre­vent, stop, and punish any con­duct that seri­ous­ly endan­gers nation­al secu­ri­ty, such as sep­a­ratism, sub­ver­sion of state power, or orga­niz­ing and car­ry­ing out ter­ror­ist activ­i­ties, as well as activ­i­ties by for­eign and over­seas forces that inter­fere in the affairs of [Hong Kong]." Another clause calls for Chinese state secu­ri­ty organs – likely includ­ing the Ministry of State Security — to set up branch­es in Hong Kong. The prospect for this to over­turn free­dom of speech and expres­sion in Hong Kong, as well as the rule of law, has sparked out­rage and oppo­si­tion in Hong Kong and abroad.
In his state­ment Wednesday, Pompeo slammed the move. "Beijing's dis­as­trous deci­sion is only the latest in a series of actions that fun­da­men­tal­ly under­mine Hong Kong's auton­o­my and free­doms," he said. He added, "No rea­son­able person can assert today that Hong Kong main­tains a high degree of auton­o­my from China, given facts on the ground."
"[T]his deci­sion gives me no plea­sure," Pompeo con­tin­ued. "But sound policy making requires a recog­ni­tion of real­i­ty."
The secretary's announce­ment came one day before the full NPC is sched­uled to vote on the NPCSC's draft deci­sion. The nation­al secu­ri­ty leg­is­la­tion called for by the cur­rent deci­sion is still being draft­ed and likely would not be approved by the Standing Committee before August. As NPC Observer notes, it could take longer if the leg­is­la­tion is left open for public com­ment.
Enjoying this arti­cle? Click here to sub­scribe for full access. Just $5 a month.
China's latest move came just as Pompeo was being required by U.S. leg­is­la­tion to make a formal judg­ment call on Hong Kong's auton­o­my. The Hong Kong Human Rights and Democracy Act (HKHRDA), passed last year, requires the sec­re­tary of state to annu­al­ly "issue a cer­ti­fi­ca­tion to Congress that… indi­cates whether Hong Kong con­tin­ues to war­rant treat­ment under United States law in the same manner as United States laws were applied to Hong Kong before July 1, 1997" – the date of Hong Kong's han­dover to Chinese con­trol.
The cer­ti­fi­ca­tion is sup­posed to be part of a larger annual report required as part of the 1992 U.S. Hong Kong Policy Act. As of this writ­ing, the full report has not been pub­licly released; it gen­er­al­ly comes out in the mid-to-late spring.
But the main con­clu­sion was made clear Wednesday. "I cer­ti­fied to Congress today that Hong Kong does not con­tin­ue to war­rant treat­ment under United States laws in the same manner as U.S. laws were applied to Hong Kong before July 1997," Pompeo said in his state­ment.
Note the word­ing there: "Hong Kong does not con­tin­ue to war­rant" its exist­ing spe­cial treat­ment does not equate to "Hong Kong will not receive" that treat­ment. Essentially, this is a shot fired across the bow – a seri­ous warn­ing, but one that does not imme­di­ate­ly cause any damage.
The impli­ca­tion is that Hong Kong's sep­a­rate agree­ments and arrange­ments with the United States could be revoked, mean­ing Hong Kong, from the U.S. per­spec­tive, would be treat­ed no dif­fer­ent­ly from any other Chinese city. For exam­ple, Hong Kong would no longer be exempt – as it cur­rent­ly is – from the Trump administration's tar­iffs on Chinese goods.
To cite anoth­er exam­ple, the United States has strict export con­trols on the sale of cer­tain high-tech goods to China – con­trols that don't apply to Hong Kong. The dis­crep­an­cy had caused con­cern already in Washington. The HKHRDA requires the Departments of State, Commerce, and the Treasury to annu­al­ly inves­ti­gate whether and to what extent Hong Kong was being used as a loop­hole to cir­cum­vent U.S. export con­trols on China. Now Hong Kong could be sub­ject to same export restric­tions as the main­land.
It's even pos­si­ble that the United States could with­draw its sup­port for Hong Kong hold­ing a sep­a­rate seat from the PRC in inter­na­tion­al orga­ni­za­tions like the World Trade Organization and Asia-Pacific Economic Cooperation (APEC) forum.
None of these moves will auto­mat­i­cal­ly follow from Pompeo's state­ment, how­ev­er. The U.S. Congress will have a role to play in deter­min­ing what the legal frame­work for Hong Kong will look like from here; given the ease of the HKHRDA's pas­sage (there was just one dis­sent­ing vote in the House and none in the Senate), and recent neg­a­tive state­ments from mem­bers of Congress on the loom­ing nation­al secu­ri­ty law, Beijing should be wor­ried about that prospect. The Trump admin­is­tra­tion will also have a great deal of leeway to alter U.S. treat­ment of Hong Kong through exec­u­tive order.
But any change in Hong Kong's treat­ment will not be cost-free for the United States. Last year's State Department report on Hong Kong noted the deep finan­cial ties between the two:
More than 1,300 U.S. firms oper­at­ed in the Special Administrative Region, with about 300 U.S. firms basing their Asian region­al oper­a­tions in the city… In 2018, the United States' largest world­wide bilat­er­al trade-in-goods sur­plus was with Hong Kong, at $31.1 bil­lion. Exports totaled $37.4 bil­lion and imports were $6.3 bil­lion…
Enjoying this arti­cle? Click here to sub­scribe for full access. Just $5 a month.
Jeopardizing those busi­ness and finan­cial ties would be a seri­ous blow to Hong Kong and to China, which has long relied on Hong Kong as a proxy to the West. It would be immense­ly dis­rup­tive for U.S. busi­ness­es as well – and that's not even count­ing the inevitable retal­i­a­tion from China, par­tic­u­lar­ly once the nation­al secu­ri­ty law gives it wide leeway to target "for­eign forces" within Hong Kong. Beijing seems to have gam­bled that Washington wouldn't dare to in revoke Hong Kong's spe­cial treat­ment; now we have to see just how far the United States is will­ing to go.
As Brian Fong noted in a pre­vi­ous analy­sis of Washington's options:
[T]he poten­tial risk [of cer­ti­fy­ing Hong Kong is no longer autonomous]… hinges on whether Washington has the strate­gic deter­mi­na­tion and con­sis­ten­cy to push ahead. This option will cer­tain­ly set up Hong Kong as a bat­tle­field for a U.S.-China show­down. Unless Washington has the strate­gic deter­mi­na­tion to con­sol­i­date Hong Kong's auton­o­my by con­sis­tent­ly lever­ag­ing its upper hand through the HKHRDA, adopt­ing this option may only inject polit­i­cal insta­bil­i­ty into the ter­ri­to­ry.