The US Navy Must Soul-Search in Wake of Bohonmme Richard Fire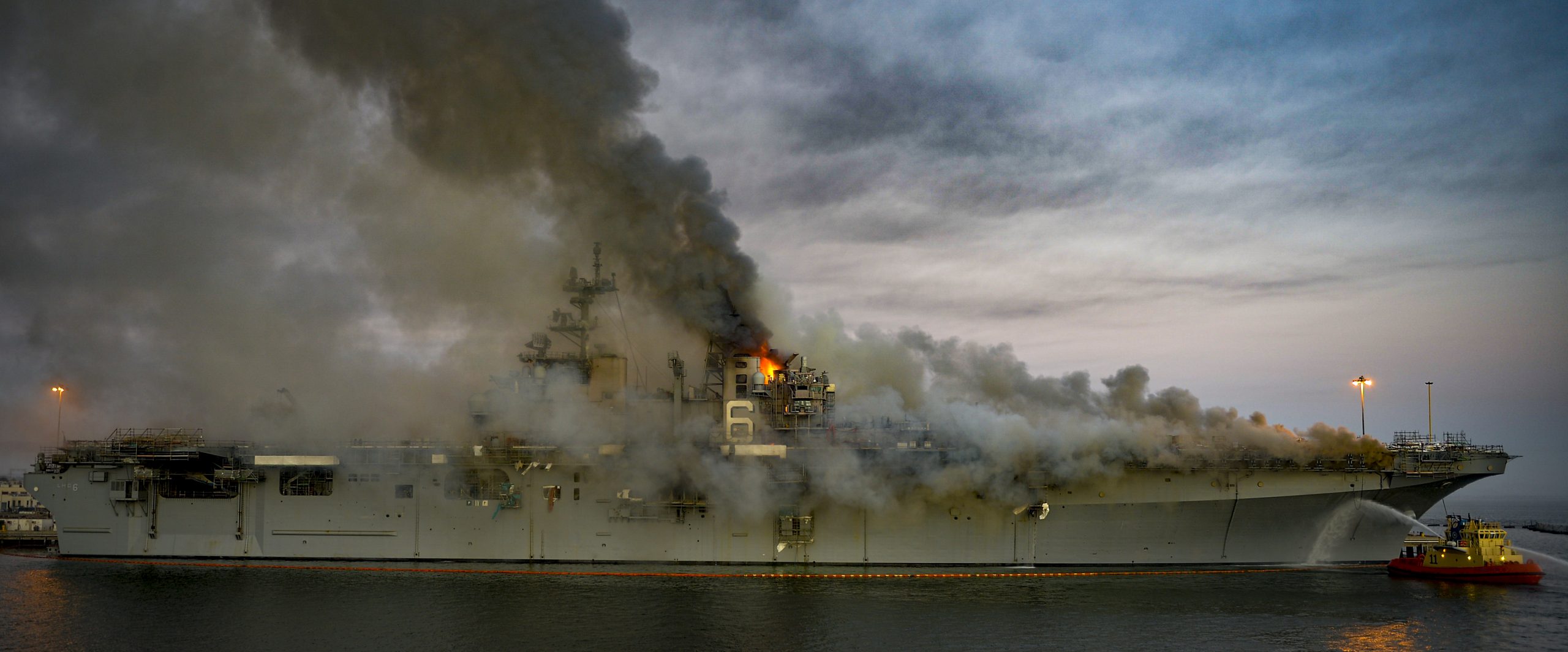 The fire aboard the US Navy amphibi­ous assault ship Bonhomme Richard in San Diego that con­tin­ues to smol­der raises pro­found ques­tions about the com­pe­tence and capac­i­ty of the ser­vice and its lead­er­ship — with budget, strat­e­gy and deter­rence impli­ca­tions.
The world right­ly is asking how a war­ship that could cost $4 bil­lion to replace can catch fire at a major naval base and burn out of con­trol for days until near destruc­tion.
The acci­dent is the latest in a series of inci­dents over the past sev­er­al years that has includ­ed the Fat Leonard scan­dal, deadly col­li­sions, acqui­si­tion mis­steps and the sidelin­ing of USS Theodore Roosevelt ear­li­er this year that ended up cost­ing the ship's cap­tain, the strike group com­man­der and ulti­mate­ly the acting Navy sec­re­tary their jobs.
While the TR episode gave the Navy a black eye, the Bonhomme Richard fire has left many asking the same ques­tions after the 2017 col­li­sions — how the Navy will per­form in war if it can't oper­ate with­out costly acci­dents in peace, and whether there is a deeper under­ly­ing prob­lem that links these seem­ing­ly dis­parate events?
The fire comes as the unique capa­bil­i­ties Bonhomme Richard and its 10 sis­ter­ships are vital­ly needed to project reas­sur­ing and deter­rent force across the Pacific as China becomes increas­ing­ly aggres­sive. And she recent­ly under­went a costly upgrade to become one of four "Lightning Carriers" equipped to carry the US Marine Corps' new F‑35B fight­ers.
Aside from oper­a­tional and rep­u­ta­tion reper­cus­sions, the fire under­mines the Navy's case for more ships. Defense offi­cials and law­mak­ers already skep­ti­cal of the Navy's per­for­mance will ask why it needs more ships if it can't take care of the ones it already has. Repairing or replac­ing her will take resources from other pri­or­i­ties as defense spend­ing flat­tens and nation­al pri­or­i­ties change.
Moreover, how will allies and poten­tial adver­saries regard the Navy's abil­i­ty to deter, defend and reas­sure?
An inves­ti­ga­tion into the fire will deter­mine what hap­pened aboard the ship and valu­able lessons will be learned.
That inves­ti­ga­tion will reveal why weld­ing was being per­formed early on a Sunday morn­ing when the ship's auto­mat­ic fire­fight­ing sys­tems were off line. Why, after a 55-gallon drum explod­ed, per­son­nel evac­u­at­ed the ship rather than redou­ble efforts to extin­guish the fire before it got out of con­trol? It will ask what role civil­ian fire­fight­ers and ship­yard con­trac­tors played. It will hold the cap­tain and mem­bers of his crew as well as his supe­ri­ors account­able and pro­pose changes to in-port watch sec­tions and fire stan­dards.
Sadly, Navy inves­ti­ga­tions tend to be nar­row­ly focused and punish those direct­ly involved and absolve the most senior lead­er­ship rather than deter­mine whether there are broad­er fac­tors at play. Such was the case in the TR inci­dent. The Navy pun­ish­es indi­vid­u­als allow­ing the insti­tu­tion itself to avoid respon­si­bil­i­ty and cul­pa­bil­i­ty.
All orga­ni­za­tions are about people. In any effec­tive orga­ni­za­tion, lead­ers are ulti­mate­ly respon­si­ble for their people.
During his con­fir­ma­tion hear­ings, Navy Secretary Ken Braithwaite described the "fail­ure of naval lead­er­ship," which he later amend­ed to mean the service's civil­ian lead­er­ship. However, it would appear that this con­dem­na­tion also applies to the uni­formed side.
To inves­ti­gate 2017's ship col­li­sions an out­side panel was cre­at­ed that was far more crit­i­cal and wide reach­ing than the Navy's formal review.
As the Navy moves to inves­ti­gate this fire, it's crit­i­cal that lead­ers take a broad­er look at lead­er­ship, orga­ni­za­tion­al, oper­a­tional and cul­tur­al fac­tors that may be at the heart of mis­steps. It's time for deep soul-search­ing that is long over­due.
If that review is launched by the Chief of Naval Operations, Adm. Mike Gilday, it will be far more effec­tive than if it is imposed on the ser­vice by DoD, the Hill or the White House.
Over the years, a pas­sion­ate debate has raged whether these episodes have a wider under­ly­ing cause and if so, what they are.
Some argue against a rush to judg­ment, stress­ing that acci­dents happen. That the Navy remains a sin­gu­lar­ly able force pro­vid­ing high-demand capa­bil­i­ties to deter adver­saries. A fire that would easily have been extin­guished by a ship fully manned at sea simply got out of con­trol in port with only 160 sailors aboard.
Others, how­ev­er, main­tain that the common thread appears to be fail­ures in basic lead­er­ship, man­age­ment and judg­ment at the high­est level, leav­ing the impres­sion the Navy is not ready for prime time.
That means asking hard ques­tions that can no longer be ignored, dis­missed or swept under the rug.
There is no doubt that the Navy is the world's most pow­er­ful thanks to extra­or­di­nary people who work hard every day to do the right thing. But fail­ures born of lapses of judg­ment painful­ly sug­gest it may not be as good as it thinks it is or needs to be.
There is a fine line between con­fi­dence stem­ming from demon­strat­ed capa­bil­i­ty and over­con­fi­dence that may be mis­placed. As ten­sions with China rise, it's imper­a­tive the Navy iden­ti­fy its weak­ness­es before a deter­mined and focused adver­sary expos­es — or worse, exploits — those weak­ness­es under fire.
Is the prob­lem arro­gance born of the service's per­cep­tion that it's the best navy in the world may be breed­ing over­con­fi­dence and per­ni­cious com­pla­cen­cy. Has the US Navy that last saw high-end warfight­ing suc­cess in World War II become a victim of its own image of suc­cess as did the Royal Navy in the cen­tu­ry after Trafalgar?
Are senior lead­ers out of touch with the force, boast­ing about warfight­ing capa­bil­i­ties to sailors who sense that flag offi­cer rhetoric doesn't match their deck-plate real­i­ty? Is a cor­ro­sive aver­sion to risk to avert what could be career-ending mis­takes a factor?
Is it that the Navy, unlike its sister ser­vices, is not one force, but a col­lec­tion of forces with con­flict­ing and blurred lines of con­trol that make real author­i­ty and account­abil­i­ty vir­tu­al­ly impos­si­ble?
Or is one of the causes a force that's busier than ever, trying to do more with less, cut­ting cor­ners to keep get­ting the job done, like rush­ing work on a Sunday morn­ing to get a ship that was late out of the yard back in ser­vice as quick­ly as pos­si­ble?
If the Navy is to be seen as a seri­ous orga­ni­za­tion, it must con­front the real­i­ty that all is not well. Its deter­rent abil­i­ties depend on con­vinc­ing adver­saries in Beijing, Moscow, Pyongyang or Tehran that it's so for­mi­da­ble and com­pe­tent that no one would risk con­fronting it.
These acci­dents and inci­dents under­mine the Navy's abil­i­ty to project an image of invin­ci­bil­i­ty and have no doubt prompt­ed adver­saries to see weak­ness and oppor­tu­ni­ty.
The loss of such an impor­tant fleet unit is a tragedy. But the real tragedy will be if the Navy treats this inci­dent as it does every other one — that it was a one-off lapse in judge­ment rather than some­thing that may have far deeper under­ly­ing cause.