The Underemployment Crisis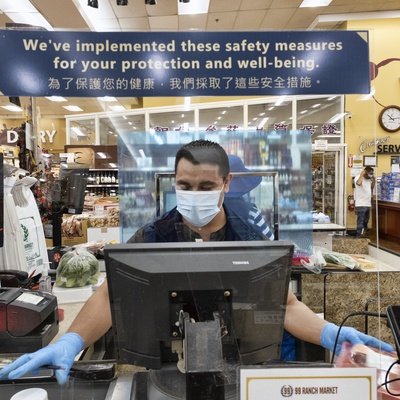 Nannies asked to come back for two days a week instead of four. Checkout work­ers sched­uled for 15 hours a week instead of 30. Retail employ­ees with their shifts cut in half. As the econ­o­my reopens while the coro­n­avirus spreads, hun­dreds of thou­sands of work­ers are get­ting back to work, but with less work than they want, need, and used to have.
Not only are 18 mil­lion Americans unem­ployed; mil­lions more are now under­em­ployed, their lost hours trans­lat­ing into lost wages trans­lat­ing into lost con­sumer spend­ing, while emer­gency unem­ploy­ment-insur­ance pay­ments expire, evic­tion mora­to­ri­ums lapse, and Congress remains dead­locked.
A new analysis from the Center for Law and Social Policy (CLASP), an anti-pover­ty research and advo­ca­cy group, sug­gests that under­em­ploy­ment was far more common than gov­ern­ment sta­tis­tics indi­cat­ed even before the pan­dem­ic reces­sion hit. A kitchen-table eco­nom­ic crisis was hiding in plain sight. Now the pan­dem­ic threat­ens to make the sit­u­a­tion far worse.
[Annie Lowrey: Now we'll know what the recession feels like]
The Bureau of Labor Statistics mea­sures under­em­ploy­ment pri­mar­i­ly through a single mea­sure: a count of workers who have part-time jobs but want full-time jobs. People who might like but cannot accept more hours, because they cannot afford child care, for instance, are not includ­ed in the mea­sure. (The tech­ni­cal term is under­em­ployed for eco­nom­ic rea­sons.) Before the reces­sion hit, rough­ly 4 mil­lion work­ers slot­ted into this cat­e­go­ry, for a nation­al under­em­ploy­ment rate of 3 per­cent.
In the new analy­sis, Lonnie Golden, an econ­o­mist at Penn State, and Jaeseung Kim, an assis­tant pro­fes­sor of social work at the University of South Carolina, used sur­veys to find work­ers who wanted more hours while still keep­ing a part-time sched­ule — fast-food employ­ees who wanted 20 hours a week instead of 15, for exam­ple, or home health aides who wanted just one more shift. Including such work­ers, the under­em­ploy­ment rate was rough­ly twice as high as the government's head­line figure, between 8 and 11 per­cent as of 2016.
That is a straight­for­ward mea­sure of house­hold strife: Research shows that the under­em­ployed expe­ri­ence much of the same finan­cial, emo­tion­al, and phys­i­cal stress as job­less work­ers, if less intense­ly. "Getting people to have the hours that they want makes a huge dif­fer­ence in their lives," Golden told me. "Underemployment is really semi-unem­ploy­ment."
The CLASP data point is one of many indi­cat­ing that American fam­i­lies' finances were pre­car­i­ous before the virus hit, even as the job­less rate sank to its lowest point in a half cen­tu­ry. The unem­ploy­ment rate for Black work­ers, for instance, was rough­ly twice as high as that for white work­ers, and par­tic­u­lar­ly high for young Black work­ers. As many as 42 per­cent of recent college graduates were work­ing in posi­tions that did not require their degree short­ly before the reces­sion began. Wage growth remained stub­born­ly slow. And, we now know, rough­ly one in 10 work­ers wanted to be log­ging more hours than they were.
[Read: How the pandemic defeated America]
Golden and Kim's study indi­cates that the "part-time under­em­ployed," as they call them, are more likely to be women than men. They are more likely to be Black than white, and more likely to be Latino. They are dis­pro­por­tion­ate­ly young or old. They also tend to be clus­tered in cer­tain areas of the econ­o­my: retail, leisure and hos­pi­tal­i­ty, edu­ca­tion, and health care.
That is a pretty good sum­ma­tion of the types of essen­tial, front­line work­ers who have been hit par­tic­u­lar­ly hard during this down­turn. Workers who were likely to be under­em­ployed before the reces­sion hit are now being dis­pro­por­tion­ate­ly affect­ed by lay­offs, fur­loughs, pay cuts, and reduc­tions in hours. The weak­est house­holds in the econ­o­my are bear­ing the worst of its pain.
Structural eco­nom­ic fac­tors have been dri­ving the part-time under­em­ploy­ment rate higher for decades, Golden told me. The rise of the gig econ­o­my; the lack of afford­able child care, uni­ver­sal paid leave, and guar­an­teed afford­able health insur­ance; and low union­iza­tion rates — all of these fac­tors or trends under­cut the cre­ation of stable jobs.
Then came the pan­dem­ic. The number of work­ers that the gov­ern­ment counts as being part-time for eco­nom­ic rea­sons has soared from 4 mil­lion to 9 mil­lion in the past five months. The CLASP analy­sis indi­cates that the real number might be far higher. Private data point in that direc­tion too: The pay­roll provider Gusto, for instance, has said that head­counts at the small busi­ness­es that use its ser­vices are not too far off their pre-COVID-19 levels, but wages and hours are marked­ly down.
Mass under­em­ploy­ment requires short-term solu­tions to help work­ers keep food on the table, and long-term solu­tions to help work­ers get the hours they want. The most imme­di­ate policy fix is to make unem­ploy­ment insur­ance avail­able not just to job­less work­ers, but to work­ers with lost hours. In the longer term, fair-workweek laws to make sched­ul­ing more reli­able, pre­dictable, and equi­table among low-wage work­ers would help, as would higher min­i­mum wages and pro­vi­sions to give already-hired work­ers access to addi­tion­al shifts.
Too many Americans want work and cannot get it. That was ham­per­ing the econ­o­my before, and might suf­fo­cate the recov­ery now.
This story was originally published by The Atlantic. Subscribe to the mag­a­zine's newslet­ters here.