The Pandemic Response Measures State and Local Governments Should Move on Now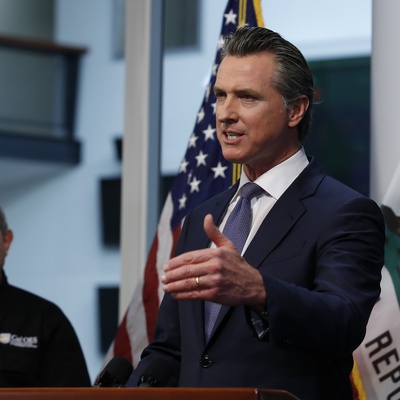 The Trump admin­is­tra­tion has failed the American people to an aston­ish­ing extent during the cur­rent pan­dem­ic crisis. Failed to pre­pare, failed to take the threat seri­ous­ly, failed to direct resources where they're needed, and failed to tell the truth. While Congress has pro­vid­ed some aid to state and local gov­ern­ments in relief pack­ages, given the enor­mous fiscal chal­lenges already under­way, it will not go nearly far enough to help offset the health and eco­nom­ic fall­out of Covid-19.
The fed­er­al gov­ern­ment is the only entity with the suf­fi­cient scale and resources to do what's needed, and yet those efforts con­tin­ue to be lack­lus­ter at best. Ultimately, Congress should pass a new aid pack­age that pro­vides states and local­i­ties with $500 billion—more than triple the amount already autho­rized.
Until then, as state and local lead­ers find them­selves large­ly on their own, they can and should con­tin­ue to exer­cise their powers to pro­tect public health and secure their economies as much as pos­si­ble at this time.
History pro­vides an exam­ple of the impact they can have: At the onset of the 1918 Spanish flu, Philadelphia offi­cials held a parade to sup­port the war effort, while offi­cials in St. Louis shut every­thing down imme­di­ate­ly, slow­ing the flu's spread, effec­tive­ly "flattening the curve" and saving thou­sands of lives.
Already two states' divergent paths in 2020 are rem­i­nis­cent of 1918. California had just over 900 con­firmed cases when its shel­ter-in-place took effect on March 19. New York's order took effect on March 22, with over 16,000 con­firmed cases. Now, New York has more than 195,000 report­ed cases, and California has just over 24,000.
Economic needs are inex­tri­ca­bly inter­twined with public health, making state and local inter­ven­tions like stay-at-home orders essential. The handful of states with­out them should take action imme­di­ate­ly or their even­tu­al num­bers will show the tragedy of fail­ing to do so. States should also keep these orders in place as long as is needed for public health, even in the face of pres­sure from the Trump administration or the busi­ness com­mu­ni­ty. But despite some strong actions to date, state and local lead­ers can still go much fur­ther. How? The list is long.
Enforce Non-Essential Business Closures
States and locals need to enforce stay-home orders with non-essen­tial busi­ness­es. Many remain operational, and work­ers struggle to deter­mine what to do when their place of busi­ness unlaw­ful­ly remains open. Washington cre­at­ed an online form for people to report sus­pect­ed vio­la­tions. The Michigan attor­ney gen­er­al has sent busi­ness­es cease and desist letters; sev­er­al other attor­neys gen­er­al have done the same. And for essen­tial busi­ness­es, states and local­i­ties should man­date wear­ing of masks, social dis­tanc­ing and other safety mea­sures, as some municipalities have done.
Paid Sick and Family Leave
Paid sick leave has been shown to reduce spread of ill­ness. Nearly a dozen states, and even more local­i­ties, passed paid sick leave before the Covid-19 pan­dem­ic, albeit for short­er time peri­ods. Recently passed fed­er­al leg­is­la­tion that includ­ed paid leave pro­vi­sions exclud­ed far too many work­ers, like anyone at a com­pa­ny with more than 500 employ­ees. New York, San Jose and, to a more lim­it­ed extent, Colorado, have enact­ed forms of paid sick leave laws to fill in gaps in federal legislation.
Relatedly, states should also pre­vent retal­i­a­tion against work­ers who take leave to care for family with the virus, like Michigan did.
Health Care Access
State and local lead­ers should facil­i­tate coro­n­avirus test­ing and access to health care; for exam­ple, man­date elimination of co-payments for testing and pro­hib­it insur­ance cut­offs. Washington's Insurance Commissioner has ordered health insur­ers to expand tele­health, test­ing cov­er­age and extend grace peri­ods for pre­mi­ums.
Workplace Safety Protection
More than 20 states have the abil­i­ty to reg­u­late work­place safety and health, allow­ing them to enact pro­tec­tive emer­gency rules and active­ly enforce existing law, includ­ing require­ments regard­ing the pro­vi­sion of per­son­al pro­tec­tive equip­ment. For states and local­i­ties where work­place safety is fed­er­al­ly reg­u­lat­ed, they can still pass laws pro­hibit­ing retal­i­a­tion against work­ers who raise safety con­cerns, sim­i­lar to what has been proposed in New York City.
Collection and Publication of Data on Covid-19 fatal­i­ties
State health depart­ments should inves­ti­gate, track and pub­lish real time demo­graph­ic data (e.g. age, race and gender), occu­pa­tion and place of work for all Covid-19 relat­ed deaths. This data will be crit­i­cal for iden­ti­fy­ing racial and other dis­par­i­ties among the pan­demic's vic­tims. It will also help iden­ti­fy indus­tries or par­tic­u­lar work­places with likely occu­pa­tion­al expo­sure, par­tic­u­lar­ly impor­tant given the recent announcement by the Trump administration that employ­ers out­side of the health care indus­try won't gen­er­al­ly be required to record coro­n­avirus cases among their work­ers.
Public Assistance
With many eco­nom­ic sec­tors grind­ing to a near com­plete halt, it's essen­tial to address people's eco­nom­ic short- and long-term needs. Recent fed­er­al leg­is­la­tion great­ly increased access to unem­ploy­ment insur­ance (UI). But now it's up to states to make UI more available by waiv­ing wait­ing peri­ods, which at least 35 states have done; remov­ing job-seek­ing require­ments, as at least 27 states have done; and expand­ing ben­e­fit dura­tion like Michigan and Georgia have. Additionally, states will have to face the chal­lenge of unprece­dent­ed claim volume, and iden­ti­fy solu­tions to enable their sys­tems and infra­struc­ture to handle record vol­umes.
States should also help pre­vent lay­offs, through use of workshare programs, which allow employ­ers to move people to part-time work, and employ­ees receive unem­ploy­ment ben­e­fits for the bal­ance of time.
Relatedly, lead­ers should declare moratoriums on evictions and utility cut­offs for elec­tric­i­ty, water and inter­net access. They should also pro­vide cash and food assis­tance for people how­ev­er pos­si­ble. Some juris­dic­tions, like Oregon and Chicago are using schools as food dis­tri­b­u­tion cen­ters for chil­dren who receive meals through school and in some cases, their fam­i­lies.
Immigrant Communities
Communities with immi­grant pop­u­la­tions have par­tic­u­lar needs, includ­ing multilingual materials about the coro­n­avirus. Because of fear of depor­ta­tion, immi­grant com­mu­ni­ties may ben­e­fit from tar­get­ed out­reach to encour­age them to seek health care. Also, immi­grants who are undoc­u­ment­ed are inel­i­gi­ble for most other pro­grams, so states and cities should create funds or pro­grams open to them, sim­i­lar to what Minneapolis did.
These mea­sures are not unre­al­is­tic. Many of them have been taken in one or more juris­dic­tions and this par­tic­u­lar moment calls for aggres­sive actions in order to achieve the best pos­si­ble out­come. State and local lead­ers only need to decide if they want to be remem­bered like the lead­ers of 1918 Philadelphia or St. Louis.
Source: Route Fifty