The Pandemic Is Changing Work Friendships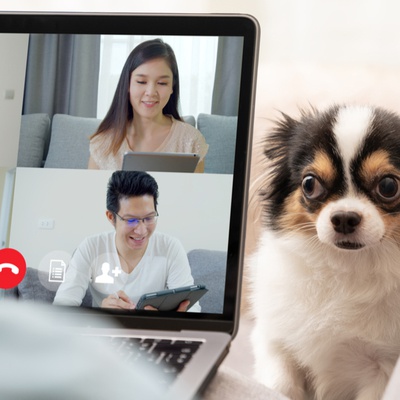 When offices in the U.S. start­ed shut­ting down to slow the spread of COVID-19, the tele­work time­lines were opti­misti­cal­ly brief. But as com­pa­nies have extend­ed dead­lines and shift­ed to long-term remote work, employ­ees across many dif­fer­ent indus­tries are accept­ing that the pre-pan­dem­ic work­place may be a thing of the past.
In the Before Times, many found respite during long work­days in the com­pa­ny of others. Heather Cody, a 30-year-old employ­ee at an Oklahoman teacher's non­prof­it, loved get­ting daily lunch­es with co-work­ers before she went remote. Two Bay Area tech mar­keters, one 27 and one 23, reg­u­lar­ly con­vened at their office for tea and tarot read­ings. (They request­ed anonymi­ty because their com­pa­ny didn't approve the inter­view.) "A lot of my work … is send­ing out emails, writ­ing up docs, and there's noth­ing glam­orous or par­tic­u­lar­ly excit­ing about these indi­vid­ual tasks that make up my day," the 27-year-old told me. "What makes it a lot more enjoy­able is being able to hang out with people … as I'm firing off these emails."
Making friends at work is rarely a job require­ment, yet in a 2018 survey con­duct­ed by researchers at Olivet Nazarene University, 82 per­cent of respon­dents reported having at least one work friend. Nearly 30 per­cent said that they had a work best friend. Some of this millennium's most pop­u­lar sitcoms revel in the antics of co-work­ers who have little choice but to bond while spend­ing 40 hours a week togeth­er. Annie McKee, the author of How to Be Happy at Work: The Power of Purpose, Hope, and Friendship, told me that these rela­tion­ships emerge from the nexus of con­ve­nience and neces­si­ty — con­ve­nient because of the low-effort oppor­tu­ni­ties to social­ize, nec­es­sary because of our basic human need to con­nect.
Read: The scheduling woes of adult friendship
While some work friend­ships stay firmly within work­ing hours, others extend beyond the 9 to 5 and into "real friend" ter­ri­to­ry. Ashley Rose Young, a 32-year-old his­to­ri­an at a museum in Washington, D.C., would often meet up with her work friends on evenings and week­ends for happy hours and game nights. The 23-year-old tech mar­keter I spoke with con­sid­ers her co-work­ers some of her clos­est friends, saying, "I've found really good people to share inti­mate aspects of my life with, who care about me and not just my deliv­er­ables."
According to Gallup research, having a close work friend increas­es ful­fill­ment, pro­duc­tiv­i­ty, and even com­pa­ny loy­al­ty; on the flip side, lone­li­ness in the office can affect both pro­fes­sion­al and per­son­al well-being. The absence of casual hall­way chats and long lunch breaks during the pan­dem­ic could poten­tial­ly make work­ers feel more iso­lat­ed, accord­ing to Hilla Dotan, an orga­ni­za­tion­al-behav­ior researcher at Tel Aviv University. "What we're doing through vir­tu­al work is we're neu­tral­iz­ing the social aspect of [work]," she told me.
Deprived of shared spaces and rit­u­als, col­leagues now have to be proac­tive to main­tain rela­tion­ships that once thrived on con­ve­nience. Cody has kept up with her work friends via FaceTime and text. But she admits that the phys­i­cal dis­tance, cou­pled with the cur­rent demands of being a single mother to a 5‑year-old, affects how she main­tains her friend­ships. "There are some people that I will answer texts from no matter the time. There's some that I will not [respond to], because it's after work hours," she told me.
Read: Never go back to the office
Like any long-dis­tance rela­tion­ship, remote-work friend­ships depend on par­tic­i­pants making extra effort to com­mu­ni­cate. Evelyn R. Carter, a social psy­chol­o­gist at a diver­si­ty, equity, and inclu­sion con­sul­tan­cy firm, who had already been work­ing remote­ly for about a year before the pan­dem­ic hit, told me that these friend­ships are worth the work: They can alle­vi­ate the feelings of stress and alien­ation that remote work often pro­duces.
Young's friends have made her tran­si­tion to tele­work much smoother. The women orga­nize reg­u­lar videochat lunch­es, text through­out the day, and even take online class­es togeth­er. "The kind of lunch dates I have with my girl­friends … [remind] me of us run­ning into each other in the hall­way," Young told me, offer­ing her some sem­blance of the old office rou­tine. The friends told me that they've actu­al­ly become closer during the pan­dem­ic.
The two tech mar­keters I spoke with also moved their sched­uled hang­outs to videochat — but while they've remained close, the 27-year-old noted that many of his other work friend­ships have become more trans­ac­tion­al. "When the foun­da­tion of your rela­tion­ship or your friend­ship with your co-work­ers is pri­mar­i­ly work-based, it's hard to reach out, like 'Oh, let's hang out,'" he told me. Without the organ­ic office chitchat, many of his work friend­ships have been reduced to min­i­mal com­mu­ni­ca­tions about tasks. He now spends more time alone or with col­lege and high-school friends whom he is more com­fort­able plan­ning things with.
People aren't merely strug­gling to main­tain work friend­ships as they tran­si­tion to remote work: They're strug­gling to main­tain work friend­ships in the midst of a pan­dem­ic, stag­ger­ing unem­ploy­ment rates, and a nation­wide reck­on­ing with racial injus­tice. Nearly 70 per­cent of respon­dents to one recent survey said that the pan­dem­ic has been the most stress­ful time in their career. Workers across the coun­try are experiencing burnout, symp­toms of depres­sion, and lack of energy.
When it feels like a Herculean under­tak­ing to just meet dead­lines, work friend­ships can seem low pri­or­i­ty, or simply impos­si­ble to main­tain. Many people have lost their work friends to lay­offs or are wor­ried about their own job secu­ri­ty; some real­ized that, when in need of sol­i­dar­i­ty and com­pas­sion in the face of racism, their work friends were not show­ing up like "real friends" might. Carter told me it would be wrong to sug­gest that "there aren't people who are hurt­ing or who are think­ing that they had those gen­uine, trust­ing rela­tion­ships and are real­iz­ing they don't."
But not every­body nec­es­sar­i­ly wants to turn to col­leagues for sup­port right now. For some, a remote work­place with less built-in social­iza­tion is a wel­come change, less­en­ing the pres­sure to devote emo­tion­al as well as pro­fes­sion­al energy to their job. "There's kind of an unspo­ken rule that when we're work­ing remote­ly, we shouldn't waste time on rela­tion­ships," McKee told me. That no-frills approach to work might be attrac­tive to those who are look­ing to recal­i­brate their work-life bal­ance, and devote more time to rela­tion­ships out­side of work.
While Cody enjoyed her two-hour lunch­es, time at home has made her real­ize that she would prefer cut­ting those meal­times down to end the work­day a bit ear­li­er. She loves her work friends, but believes that "the reason you made them your best friends is because that's who you spend all your time with," adding, "I think that's impor­tant, that there's life out­side work."
According to a recent Gartner survey, 74 per­cent of com­pa­nies plan to per­ma­nent­ly increase remote work­ing post-pan­dem­ic. Without gath­er­ing daily in a com­mu­nal space, co-work­ers will no longer share the prox­im­i­ty that once cre­at­ed low-effort, high-reward friend­ships. If that presents a per­sis­tent bar­ri­er to rela­tion­ship-build­ing, those friend­ships won't be as easy as they once were.
Relationships of con­ve­nience may become rarer, but people will likely still make the effort for co-work­ers they really con­nect with. Even so, a social defi­cien­cy in the vir­tu­al office could be alien­at­ing, espe­cial­ly if Americans con­tin­ue to ded­i­cate so much of their days to work. It's pos­si­ble that lonely work­ers will redi­rect that energy toward family, hob­bies, and non­work friends. The rise of remote work may just mean that work friend­ships no longer play an over­size pres­ence in our social and pro­fes­sion­al life — and that they become more like reg­u­lar, "real," friend­ships.
This arti­cle was orig­i­nal­ly pub­lished in The Atlantic. Sign up for their newslet­ter.