The Need to Keep Renters Housed Is Getting More Urgent, Advocates Say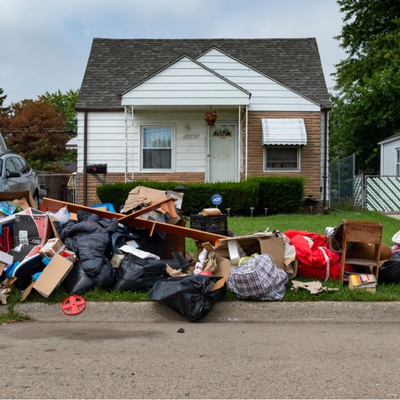 Americans owe more than $21.5 bil­lion in over­due rent, accord­ing to one recent analysis that under­lined the urgency of the hous­ing crisis facing American renters as the coro­n­avirus pan­dem­ic drags on. With evic­tion mora­to­ri­ums ending in many cities and states, experts are warn­ing of an impend­ing wave of fam­i­lies being forced out of their homes with dev­as­tat­ing col­lat­er­al con­se­quences if imme­di­ate action is not taken to keep people housed.
Certain cities have begun to arise as "evic­tion hotspots" in the past few weeks, accord­ing to data collected by Princeton University's Eviction Lab. Houston has become a hotspot for fil­ings fol­low­ing the ter­mi­na­tion of the statewide evic­tion mora­to­ri­um in May, and experts warn that hundreds of thousands of renters in the city may soon face evic­tion. Like many local­i­ties, the city funded rental assis­tance soon after the evic­tion mora­to­ri­um ended, but found that the $15 mil­lion offi­cials set aside was claimed in just 90 minutes.
In Milwaukee, Wisconsin, evic­tions in June rose above the city's his­tor­i­cal aver­age, alarm­ing ten­ants and local hous­ing advo­cates.
"We're seeing evic­tion num­bers on a scale we've never seen before in Milwaukee," said Alieza Durana, with the Eviction Lab. "But, to be clear, his­tor­i­cal aver­ages across the coun­try were high to begin with. [In 2016], there were 3.7 mil­lion evic­tion fil­ings, which is one every seven min­utes. That's the base­line, and it's already too many fam­i­lies."
With mil­lions of Americans still unem­ployed and state and local eviction moratoriums that are already or soon to be expired, the number of renters who could face evic­tion this year could easily sur­pass that base­line in the "absence of imme­di­ate and gen­er­ous local, state, or fed­er­al poli­cies," Durana said.
A federal ban pro­hibit­ing the evic­tion of people using hous­ing vouch­ers or living in homes financed by fed­er­al­ly backed mort­gages ended last month, although land­lords aren't allowed to file for evic­tions on covered properties until August 24. (Housing advo­cates say some evic­tions have been happening anyway, rais­ing ques­tions about enforcement). Advocates for both landlords and tenants have urged Congress to pro­vide finan­cial assis­tance for hous­ing in the next coro­n­avirus relief pack­age. But Democrats and Republicans are still very far apart on what to include in that bill and it remains unclear whether Congress could rein­state its mora­to­ri­um.
Communities that are pop­u­lat­ed by low-income fam­i­lies, immigrants, and people of color are likely to be hard­est hit by evic­tions, poten­tial­ly push­ing people into hous­ing con­di­tions that are unsafe during the coro­n­avirus pan­dem­ic. Homeless shel­ters, for exam­ple, are not set up for social dis­tanc­ing.
Experts are also con­cerned that as people move in with friends and family, or turn to shel­ters, there could be a sig­nif­i­cant down­turn in the number of people who are able to par­tic­i­pate in two key 2020 events: the pres­i­den­tial elec­tion and the Census. Both require a steady home address — par­tic­u­lar­ly for this year's elec­tion, which will likely see a much higher rate of mail-in voting than in pre­vi­ous years.
Census Counts, an advo­ca­cy orga­ni­za­tion for Census turnout, has also warned that low-income renters "could be under­count­ed if their address is not updat­ed when evict­ed" and that the Census Bureau relies on "assis­tance from local offi­cials and com­mu­ni­ty advo­cates in iden­ti­fy­ing tem­po­rary tran­si­to­ry loca­tions, such as motels that now house fam­i­lies dis­placed by eco­nom­ic dis­tress."
At least two cities, Boston and Philadelphia, have extend­ed their evic­tion mora­to­ri­ums to the end of 2020 or beyond. The Philadelphia ban, which will now last until March of 2021, only applies to evic­tions that are for non­pay­ment of rent. The city's hous­ing author­i­ty said in a release that they want to assure the city's "80,000 low-income res­i­dents, who have been dis­pro­por­tion­ate­ly impact­ed by the virus, that their hous­ing will not be a cause for con­cern during this period of health and eco­nom­ic uncer­tain­ty."
One mea­sure being con­sid­ered in Congress, , intro­duced by Rep. Ayanna Pressley, a Democrat from Massachusetts, would direct $10 bil­lion to states and local­i­ties for home­less­ness pre­ven­tion and pro­vid­ing legal rep­re­sen­ta­tion to those facing evic­tion, as ten­ants are much less likely to have an attor­ney than land­lords. Pressley and other law­mak­ers say that hous­ing help is a form of racial jus­tice, as Black renters are disproportionately affected by evic­tions in many states.
In announc­ing the leg­is­la­tion, Pressley said that the "bold, urgent action" is needed in the face of "an unprece­dent­ed finan­cial cliff" that could cause "an impend­ing evic­tion tsuna­mi."
As nego­ti­a­tions for that leg­is­la­tion and other mea­sures drag on, President Trump has sug­gest­ed that he may take exec­u­tive action on an evic­tion mora­to­ri­um some­time soon. "I could do that if I want, and I want to do that. I don't want people to be evict­ed," Trump said during a Monday news con­fer­ence.
Whatever the fed­er­al response may be, Durana said that law­mak­ers should take this time to start reimag­in­ing the idea of "hous­ing as a busi­ness" and instead think of it as a system that serves a basic human need. "We need to rethink the way hous­ing and rental prop­er­ties are dif­fer­ent from other types of invest­ments," she said, "because people have been ignor­ing the human toll of evic­tion for a long time."