The Map Is Not the Territory. or Is It?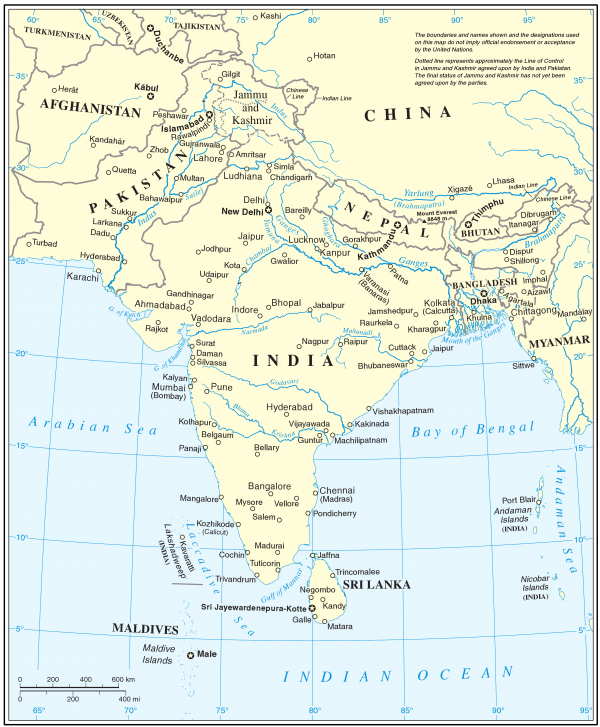 Future his­to­ri­ans may very well remem­ber the past year, since August 2019, as a time when South Asia's car­to­graph­ic con­fab­u­la­tions reached a new peak, threat­en­ing to spill over on the ground as sev­er­al states in the region reassert­ed their ter­ri­to­r­i­al claims.
The latest episode in a sorry saga where India, China, Pakistan, and Nepal have, all at some point, used maps to make a polit­i­cal point was yes­ter­day when Indian National Security Advisor (NSA) Ajit Doval walked out of a Shanghai Cooperation Organization (SCO) meet­ing after his Pakistani coun­ter­part, Moeed Yusuf, con­tin­ued to dis­play a new polit­i­cal map of Pakistan that includes large swathes of ter­ri­to­ry tra­di­tion­al­ly under India's con­trol despite Doval's protests. Yusuf's was a clever gambit; given that the meet­ing was vir­tu­al, there was no single "room" where all SCO mem­bers met, which meant each coun­try could have what­ev­er it chose to in their representative's back­ground. (No other SCO NSA dis­played a map, India includ­ed.)
Pakistan unveiled a new polit­i­cal map of the coun­try a day before August 5 – the one-year anniver­sary of India's deci­sion to revoke the spe­cial, autonomous status of the erst­while Indian state of Jammu and Kashmir. The map showed the entire­ty of India- and Pakistan-admin­is­tered Kashmir as dis­put­ed – and marked with the same color. It also, much to Indian cha­grin, showed Junagadh in the Indian state of Gujarat as Pakistani ter­ri­to­ry, lead­ing the Indian Ministry of External Affairs to term the map "an exer­cise in polit­i­cal absur­di­ty." (Pakistan's Dawn, on the other hand, called the new map a "landmark move.")
Roughly a month and a half before Pakistan's umbrage-through-maps, on June 19, Nepal too did some­thing quite sim­i­lar: A new polit­i­cal map pub­lished by Kathmandu showed Lipulekh, Kalapani, and Limpiyadhura, areas India tra­di­tion­al­ly has con­sid­ered its own, as part of Nepal. The move came amid seri­ous India-Nepal ten­sions whose prox­i­mate cause was India's deci­sion to inau­gu­rate a new road in May that con­nects the state of Uttarakhand to Lipulekh at the India-China-Nepal tri­junc­tion. But under­ly­ing this was grow­ing recrim­i­na­tion and con­cerns in New Delhi about Beijing's sway over the K.P. Sharma Oli gov­ern­ment in Kathmandu. Finally, in November 2019, New Delhi released a new map reflect­ing the reor­ga­ni­za­tion of Jammu and Kashmir in August of that year into two cen­tral­ly con­trolled ter­ri­to­ries: Jammu and Kashmir as well as Ladakh. But that map, in turn, had included Kalapani as Indian territory, spark­ing protests by Kathmandu.
South Asians have always been very prick­ly about car­to­graph­ic depic­tions of their coun­tries; states in the region take par­tic­u­lar umbrage (per­haps under­stand­ably so) at redrawn lines on the map even if facts on the ground remain intact.
I remem­ber as a child how the family copy of the National Geographic – a rare luxury in the aus­tere closed-off India of the 1980s – used to often arrive in the mail with an ugly smudged stamp on its pages that had a map of India, with an inscrip­tion stat­ing that the ter­ri­to­r­i­al bound­aries of the coun­try were depict­ed incor­rect­ly or some­thing to that effect.
But it is not just India or Pakistan or Nepal. China's nine-dash line, or for that matter its depic­tion of Arunachal Pradesh as part of south­ern Tibet, all fall into a sin­gu­lar pat­tern: where car­tog­ra­phy is war by other, cheap­er, means. It allows gov­ern­ments to demon­strate both to their own cit­i­zens, as well as the other state, that they mean busi­ness when it comes to sov­er­eign­ty – even when there are no prac­ti­cal ways through which they can affect ter­ri­to­r­i­al claims.
Any Chinese attempt to seize Tawang in Arunachal Pradesh comes with the risk of nuclear esca­la­tion; Pakistan knows very well that the con­ven­tion­al mil­i­tary bal­ance with India does not favor it so any plan to recov­er India-admin­is­tered Kashmir is futile; India like­wise very well knows that any mil­i­tary action to, say, take back Pakistan-admin­is­tered Kashmir, in turn, runs the risk of a two-front India-China war. Better be revan­chist or revi­sion­ist on paper that soil; better pos­ture than the alter­na­tive.
One of things the ongo­ing India-China crisis in east­ern Ladakh has demon­strat­ed is how far both coun­tries are will­ing to go to test each other's will even when the border between the two remains ghost-like, nei­ther delin­eat­ed on paper nor demar­cat­ed on land. And coun­tries in the region fear that car­to­graph­ic ambi­gu­i­ty fuels even­tu­al mil­i­tary aggres­sion. After all, it was the vague­ness of lan­guage in the 1949 Karachi agree­ment about the Line of Actual Control — then called the Cease-Fire Line, after the first war between India and Pakistan in 1947 — in the treach­er­ous Siachen area in (what is now con­sid­ered) west­ern Ladakh that paved the way for both coun­tries' plans to grab it, with India suc­ceed­ing in April 1984. That, in turn, pro­voked Pakistan to embark on Operation Koh-e-Paima lead­ing to the 1999 Kargil war with India.
One of the most strik­ing things about the maps of South Asia in the last 76 years is how fluid the sub­con­ti­nent has looked over time. Between the reor­ga­ni­za­tion of the region after India's inde­pen­dence and the cre­ation of Pakistan in 1947 to the after­math of the 1971 war when the east­ern wing of Pakistan, now Bangladesh, was sud­den­ly marked with an dif­fer­ent color than its west­ern part, static maps have been far from the norm. And then there are those "small­er" changes too, for exam­ple Goa being forced to become a part of India — rather than remain a Portuguese colony — in 1961, or Sikkim being absorbed into the Indian repub­lic in 1975. Then of course, there is the saga of how five princely states who had ini­tial­ly chosen to remain inde­pen­dent of India, such as Junagadh – whose incor­po­ra­tion in Pakistan's new polit­i­cal map in August this year irked India so much – came to be part of the coun­try.
As long as his­to­ry shapes periph­er­al visions in the region, the map and the ter­ri­to­ry will con­tin­ue to be seen as the same.