The Insurance Industry Can Help States Act on Climate Change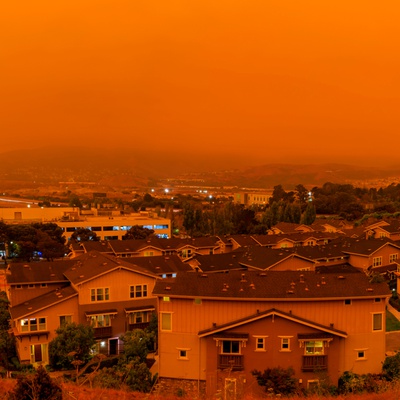 The wild­fires dev­as­tat­ing the West Coast states under­score that the effects of cli­mate change are deadly and come with sig­nif­i­cant finan­cial costs, which states must plan to address.
Between 2017 and 2019, the U.S. registered 44 natural disasters, each causing more than $1 billion in damage—more than double the annual rate of the pre­vi­ous 30 years. Looking ahead, the impacts only are expect­ed to inten­si­fy. For exam­ple, pop­u­la­tions that face sub­stan­tial dam­ages from hur­ri­canes are likely to grow fivefold by 2075.
Similarly, over 14 million U.S. homes are currently at risk of flood­ing from river, urban and coastal waters and this risk grows to 16.2 mil­lion homes by 2050. By 2100, nearly 670 coastal communities could be chron­i­cal­ly inun­dat­ed by sea water. The U.S. National Climate Assessment esti­mat­ed that about $1 trillion in coastal real estate is threatened by rising seas in com­bi­na­tion with storms, floods and ero­sion. The fiscal expo­sure is stag­ger­ing con­sid­er­ing that FEMA's National Flood Insurance Program already owes the U.S. Treasury $20.5 billion, despite more than $17 bil­lion in debt can­celled from this pro­gram in 2017.
Additionally, cli­mate volatil­i­ty has and will con­tin­ue to affect many of the social and envi­ron­men­tal deter­mi­nants of health like air and drink­ing water qual­i­ty, food and shel­ter secu­ri­ty and mental health. While the spe­cif­ic health effects will vary by region, vul­ner­a­ble pop­u­la­tions will be dis­pro­por­tion­ate­ly harmed.
Many Americans are well aware of the poten­tial destruc­tion on the hori­zon. Almost half of the par­tic­i­pants in a recent Climate Change in the American Mind survey said they would be per­son­al­ly harmed by the effects of a warm­ing planet. These indi­vid­u­als will increas­ing­ly ask their gov­ern­ment why more is not being done to reduce the immense risk of cli­mate change. It won't be suf­fi­cient for gov­ern­ment lead­ers to take timid action or wait and see what hap­pens.
The urgency for cli­mate action is increas­ing. The House Select Committee on the Climate Crisis has taken notice and con­veyed that oppor­tu­ni­ties exist for col­lab­o­ra­tion with risk man­age­ment experts to increase effi­cien­cy and effec­tive­ness.
The insur­ance indus­try can act as an impor­tant ally to state and local gov­ern­ments in com­bat­ting cli­mate risk. Insurers are well-posi­tioned to sup­port gov­ern­ment risk under­stand­ing and mit­i­ga­tion, inform­ing poli­cies and strate­gies for mit­i­ga­tion and adap­ta­tion, includ­ing invest­ments in resilient infra­struc­ture.
California Insurance Commissioner Ricardo Lara recent­ly launched the first-ever database of green insurance products to increase under­stand­ing and access for risk mit­i­ga­tion and to encour­age fur­ther insur­ance inno­va­tion to gen­er­ate a resilient future.
The insur­ance indus­try is show­ing dra­mat­ic cli­mate lead­er­ship and under­stands that focus­ing on risk man­age­ment before a crisis offers the best pro­tec­tion for com­mu­ni­ties. Insurers stand ready to help, guided by four key steps to risk man­age­ment: under­stand­ing risk by explor­ing extreme events and cli­mate trends; assess­ing expo­sure by quan­ti­fy­ing the future impact of var­i­ous cli­mate change sce­nar­ios; eval­u­at­ing response by deter­min­ing goals and exam­in­ing options; and apply­ing resilience strat­e­gy by mod­i­fy­ing policy, bud­gets and oper­a­tions to create every­day dis­as­ter and recov­ery-resilience.
Opportunities for gov­ern­ment col­lab­o­ra­tion with risk man­age­ment experts exist. For exam­ple, the Coalition for Climate Resilient Investment is com­mit­ted to devel­op­ing and pilot­ing solu­tions for this kind of resilient deci­sion-making. Other ini­tia­tives, such as the United Nations Environment Programme Finance Initiative's Principles for Sustainable Insurance, act to rally pri­vate insur­ers and reg­u­la­to­ry agents around a set of prin­ci­ples cen­tered around imple­ment­ing common sus­tain­abil­i­ty and cli­mate resilience frame­works into their indi­vid­ual orga­ni­za­tions.
The objec­tive is to improve the over­all well-being of com­mu­ni­ties so that pre­cious gov­ern­ment resources are applied to mit­i­gate cli­mate chal­lenges effec­tive­ly and afford­ably. Working togeth­er, state and local gov­ern­ment lead­ers and insur­ance part­ners can embrace and sus­tain the urgency of cli­mate action.