The Escalating Crisis in Police Hiring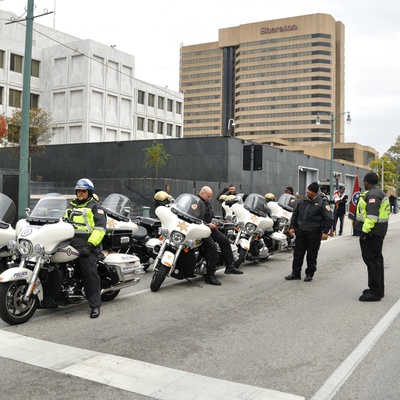 In its 2019 workforce survey, the Center for State and Local Government Excellence found hiring police offi­cers was the biggest public sector recruit­ment chal­lenge. That was a year before George Floyd's death in Minneapolis, the mass protests that fol­lowed and a nation­al move­ment to "defund the police."
In the same year as the center's work­force study, a Police Executive Research Forum (PERF) report labeled recruit­ing a "work­force crisis" that affect­ed "law enforce­ment agen­cies of all sizes and types — large, medium and small, local, state and fed­er­al." A forum survey showed 63% of police depart­ments had seen a decrease in appli­ca­tions. In addi­tion, it cited turnover prob­lems, par­tic­u­lar­ly among young offi­cers. PERF sug­gest­ed that recruiters needed to change who they were trying to hire, sug­gest­ing that depart­ments start look­ing for a dif­fer­ent kind of can­di­date. Cities need "a more diverse set of offi­cers who pos­sess key skills such as inter­per­son­al com­mu­ni­ca­tions, prob­lem-solv­ing, basic tech­no­log­i­cal exper­tise, crit­i­cal think­ing, empa­thy and 'com­mu­ni­ty mind­ed­ness,'" the report said.
One issue addressed in the PERF report was the lack of com­mu­ni­ty trust in police exposed after high-pro­file police killings, such as the fatal shoot­ing of 18-year-old African-American Michael Brown by a white offi­cer in Ferguson, Missouri in 2014. But the out­rage and nation­wide protests about the killing of Floyd by a Minneapolis police offi­cer have had a far broad­er reach than even that gal­va­niz­ing inci­dent. An uncer­tain polit­i­cal envi­ron­ment, racial ten­sions, and con­tin­ued pan­dem­ic hard­ship, as well as a large drop in rev­enue and the move­ment to dra­mat­i­cal­ly reduce police bud­gets, com­pli­cate recruit­ment and hiring much more.
"We've been on a roller coast­er," says Marvin Haiman, exec­u­tive direc­tor of the Professional Development Bureau of the Washington D.C. Metropolitan Police Department. While public and pri­vate sector lay­offs this spring may have result­ed in a surge in appli­ca­tions, the increase D.C. saw in appli­ca­tions in the early spring lev­eled off and then plateaued.
"We're not seeing appli­cants dis­suad­ed from coming into public ser­vice because of the pan­dem­ic, but we have heard appli­cants dis­suad­ed because of the cur­rent sen­ti­ment on law enforce­ment," says Haiman. He wor­ries about reten­tion issues and burnout as work­load increas­es in a police force that is likely to shrink by about 200 posi­tions in fiscal year 2021.
"I'm strug­gling to under­stand how you recruit in this envi­ron­ment," says Chuck Wexler, exec­u­tive direc­tor of PERF. Wexler said it is dif­fi­cult to see who would want to apply to depart­ments in what he called "today's very caus­tic envi­ron­ment."
"Do you want to become the member of a pro­fes­sion that's going through an iden­ti­ty crisis?" he asks.
Memphis pro­vides a good exam­ple of a city that already was trying to change its hiring strate­gies, but now is expe­ri­enc­ing new dif­fi­cul­ties. Police recruiters in Memphis describe the impacts of the last four months on a four-and-a-half-year drive by the city to increase the police force and fill vacant posi­tions that rapid­ly opened up after stag­nant salaries, changes in health-ben­e­fit sub­si­dies and pen­sion ben­e­fit reduc­tions led to an exodus of offi­cers between 2011 and 2015.
In 2016, with the arrival of a new mayor and human resource direc­tor, the Tennessee city dra­mat­i­cal­ly stepped up recruit­ment. They improved the online appli­ca­tion process, cre­at­ed a far more infor­ma­tive web­site, and teamed up human resource pro­fes­sion­als and police recruiters to travel to other cities and job fairs in a nation­wide hiring cam­paign.
The city also relaunched a Police Service Technician (PST) pro­gram that had been shut down in 2009 and pro­vid­ed entry-level jobs han­dling minor traf­fic vio­la­tions and inci­dents. The pro­gram opened jobs to com­mu­ni­ty res­i­dents who did not meet tra­di­tion­al qual­i­fi­ca­tions but could earn col­lege cred­its for free while work­ing full time. One aspect of the pro­gram, dubbed "Blue Path," is now geared to high school stu­dents who are recruit­ed as seniors, admit­ted to a police train­ing pro­gram during the summer after their high school grad­u­a­tion, and start com­mu­ni­ty col­lege and full-time police tech­ni­cian jobs in the fall. This pro­vides these recruits with a salary, police expe­ri­ence and the abil­i­ty to get the 54 col­lege cred­its needed by the time they reach the usual qual­i­fy­ing age of 21 required to join the depart­ment.
According to Alex Smith, Memphis' chief human resource offi­cer, Blue Path and other efforts that pull mem­bers of the com­mu­ni­ty into the police force — as opposed to get­ting lat­er­al trans­fers from other cities — is a strong way of build­ing trust between com­mu­ni­ties and police. "It cre­ates an oppor­tu­ni­ty for more rep­re­sen­ta­tion from the com­mu­ni­ty rather than pick­ing up habits from other police depart­ments and bring­ing them over," she says.
Currently, Black offi­cers make up 55% of the Memphis police force in a city that is 64% Black. A con­cert­ed effort is under­way to increase the per­cent­age of women and the city has been part­ner­ing with com­mu­ni­ty orga­ni­za­tions to raise the per­cent­age of Latino offi­cers. The city has also been work­ing on shift­ing police cul­ture, moving to "a guardian men­tal­i­ty versus a war­rior men­tal­i­ty," says Smith. It added a new behav­ioral­ly-based com­po­nent at an early stage of the vet­ting process, explor­ing the rea­sons appli­cants wanted to become police offi­cers and how they have demon­strat­ed com­mu­ni­ty ser­vice and com­mit­ment in the past.
But recruit­ing and hiring, par­tic­u­lar­ly during this time, con­tin­ues to be an ongo­ing chal­lenge. Currently, the police force is still 248 offi­cers short of its 2,300 goal.
"The coro­n­avirus hurt our recruit­ment efforts," says Chris Allen, who heads up police recruit­ment for the city. "Since 2016, we've been work­ing really hard, but then Covid hap­pened and all the new things we were doing, we had to stop and regroup." After Floyd was killed, and the protests and civic unrest that fol­lowed, appli­cants "start­ed pulling out of the process. They begin ghost­ing us and becom­ing unre­spon­sive."
Tyler Stegall heads up Memphis police ini­tia­tives that are geared to high school stu­dents and new grad­u­ates who want to join the Blue Path pro­gram.
In 2018, the city missed its goal of a 20-person Blue Path cohort, ending up with about a dozen par­tic­i­pants. As the 2019 – 2020 school year began, it dra­mat­i­cal­ly stepped up recruit­ment with visits to 80 high schools before active recruit­ment shut down when the pan­dem­ic struck. Even so, appli­ca­tions jumped from 280 the pre­vi­ous year to 500.
But with schools moving to online learn­ing, recruit­ment became more dif­fi­cult and by late spring, neg­a­tive news about police depart­ments and ongo­ing protests fur­ther cut into the 2020 Blue Path class. From the 21 young people who were ini­tial­ly in the pipeline, the pro­gram now has six indi­vid­u­als. Some pulled out along the way and ten failed the psy­cho­log­i­cal test that was given toward the end of the hiring process. Recruitment man­agers say that is a major jump in the psy­cho­log­i­cal fail­ure rate. Currently, the rea­sons for the increase are unknown.
Even after a con­tin­gent offer of employ­ment was made, two new Blue Path recruits abrupt­ly dropped out of the process — one simply stopped com­mu­ni­cat­ing with the depart­ment. The other explained that she was scared by tele­vi­sion cov­er­age of nation­al protests and riots, men­tion­ing media cov­er­age of fires that burned at police precincts and busi­ness­es like Target in Minneapolis. "She said she didn't feel com­fort­able going for­ward with this career path," Stegall says.