The Disparate Reality and Reputation of Chinese Museums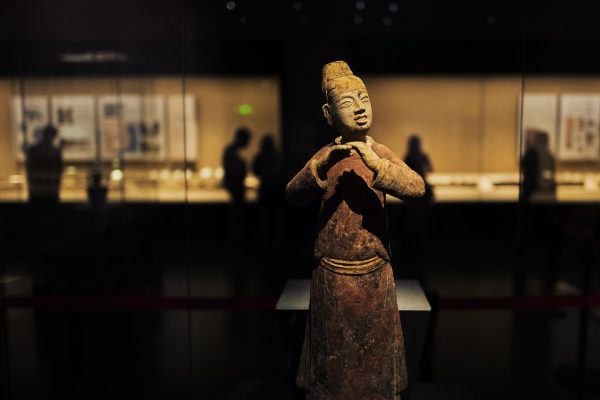 Chinese tourists have increas­ing­ly trav­eled the globe in the last decade, becom­ing the world's lead­ing spender in inter­na­tion­al tourism. At the same time, more Chinese nation­als have trav­elled domes­ti­cal­ly than ever before. In 2018, domes­tic tourism account­ed for 5.13 tril­lion Chinese yuan (nearly $725 mil­lion), a 12 per­cent increase from 2017 data. But China is not only trav­elled by its cit­i­zens; in 2018, inter­na­tion­al tourists con­tributed $127 bil­lion in rev­enue.
To match these trends, China's invest­ment in domes­tic travel and tourism has sig­nif­i­cant­ly grown in recent years. The museum indus­try is no excep­tion. Every two days, three new muse­ums appear in China, and older muse­ums around the coun­try are being ren­o­vat­ed. Despite the domes­tic push for progress in this indus­try, China is still not rec­og­nized as a "museum coun­try," result­ing in a large dis­par­i­ty between mass invest­ment and the inter­na­tion­al rep­u­ta­tion of Chinese muse­ums.
The Diplomat spoke with Harel Sholovitz, a pri­vate equity fund man­ag­er, Yenching Scholar, and the former General Manager at the Israeli Chamber of Commerce in Shanghai, about his research on this dis­par­i­ty between local devel­op­ment and inter­na­tion­al rep­u­ta­tion. Sholovitz has uti­lized data sci­ence to study muse­ums in Shanghai, the face of China's con­tem­po­rary museum scene.
How would you char­ac­ter­ize the Chinese travel and tourism indus­try at large?
China is a world leader in many "hard prod­ucts." This includes the world's longest rail­way net­work, exten­sive air travel options, state-of-the-art accom­mo­da­tion, increas­ing­ly smart cities, highly advanced infra­struc­ture, and a pletho­ra of cul­tur­al resources, includ­ing the great­est number of UNESCO world her­itage sites in the world. Despite this for­mi­da­ble com­bi­na­tion of tourism mag­nets, many of China's "soft prod­ucts" still lag far behind from an inter­na­tion­al visitor's per­spec­tive. While China excels in such aspects as cul­tur­al resources, safety and secu­ri­ty and busi­ness travel, it scores excep­tion­al­ly low in the fields of inter­na­tion­al open­ness and tourist ser­vice infra­struc­ture.
So while there has been a leap for­ward in the travel and tourism indus­try in recent years, a great por­tion is driven by the rise of domes­tic tourism and devel­op­ment of local pref­er­ences. This cur­rent imbal­ance presents an inter­est­ing cross­road between an out­ward-look­ing or inward-work­ing indus­try.
How does the Chinese museum indus­try mea­sure up to inter­na­tion­al com­par­isons?
The inter­na­tion­al play­ing field is still not per­ceived as lev­elled, and the rep­u­ta­tion of Chinese muse­ums still has much room to grow. Chinese muse­ums are present in this space, and fre­quent­ly loan pieces to British and American muse­ums for rea­sons of cul­tur­al diplo­ma­cy and improved inter­na­tion­al rep­u­ta­tion. Despite gen­er­ous state fund­ing, high qual­i­ty of col­lec­tions, rich human resources, and the rel­a­tive size and qual­i­ty of Chinese muse­ums, inter­na­tion­al­ly promi­nent trav­el­ling exhi­bi­tions still very rarely orig­i­nate in Chinese muse­ums. China's rep­u­ta­tion in this sphere also relies on the sat­is­fac­tion of museum vis­i­tors from abroad — an aspect which is still under­em­pha­sized.
How does this lack of empha­sis on inter­na­tion­al vis­i­tors to Chinese muse­ums man­i­fest? Are muse­ums them­selves large­ly inac­ces­si­ble to for­eign audi­ences who may lack prior knowl­edge of China or Mandarin?
Inaccessibility is omnipresent and can man­i­fest itself in dif­fer­ent ways. For exam­ple, lan­guage bar­ri­ers or lack of famil­iar­i­ty with cul­tur­al codes are inevitable and nat­ur­al. It is more inter­est­ing how new­com­ers to the Chinese sphere are affect­ed by the social embrace of tech­no­log­i­cal devel­op­ments. Numerous invis­i­ble walls stand between new­com­ers and a fully nor­mal­ized expe­ri­ence in China, and the vari­ety of Chinese apps which have become an inte­gral part of daily life — shop­ping, reviews, pay­ment, social media — are still con­sid­er­ably inac­ces­si­ble because they are only offered in Mandarin. Didi, China's most pop­u­lar ride-shar­ing appli­ca­tion, only recent­ly released English-lan­guage adver­tise­ment cam­paigns and pro­mo­tions in 2019. Such ini­tia­tives def­i­nite­ly have a trial-and-error com­po­nent to them, which demon­strates that inac­ces­si­bil­i­ty doesn't begin or end with lan­guage skills but has many subtle layers, from mar­ket­ing strate­gies to cul­tur­al pref­er­ences.
What are some of the chal­lenges faced by inter­na­tion­al vis­i­tors to China?
Visitors to China are likely to be sur­round­ed by a head-spin­ning col­lec­tion of attrac­tions — includ­ing muse­ums — with­out quite know­ing their scope and qual­i­ty. International vis­i­tors often face a lack of online infor­ma­tion, unestab­lished rep­u­ta­tion and gen­er­al out­sider dis­ori­en­ta­tion within the Chinese museum ecosys­tem. Challenges can include advance ticket pur­chas­es with­out access to plat­forms like WeChat or Alipay, out­dat­ed infor­ma­tion, or even locat­ing and get­ting to attrac­tions. In 2019, Google Maps, which had pre­vi­ous­ly fallen out of favor in China, even stopped offer­ing public trans­port instruc­tions in mul­ti­ple cities.
What role do offi­cial sources, such as muse­ums' web­sites, play in pro­vid­ing infor­ma­tion to inter­na­tion­al vis­i­tors?
Museum web­sites are doing poorly, with the choice to either con­tin­ue to be neglect­ed or adapt to an increas­ing­ly online audi­ence. Surprising issues include extreme­ly slow web­site load­ing speed, cases of "retired" web­sites which are no longer updat­ed, and numer­ous cases of offi­cial museum web­sites which cannot be found through English lan­guage search­es on Google. Directions and trans­lat­ed con­tent were fully present in only 86 per­cent and 66 per­cent of Shanghai's top museum web­sites, respec­tive­ly. Promotional videos, photo gal­leries and exhi­bi­tion reviews that may fur­ther attract and inform vis­i­tors were only fully present in about one half of all web­sites (55 per­cent for both). Finally, ded­i­cat­ed ticket pur­chase and reser­va­tion sys­tems were only fea­tured in 14 per­cent of web­sites.
These online issues sug­gest that the web­sites of lead­ing muse­ums are plagued by com­mon­place care­less­ness or con­scious neg­li­gence.
Are there Chinese muse­ums who do not fall short in this cat­e­go­ry?
Museums that reg­u­lar­ly involve for­eign exhi­bi­tions, such as modern and con­tem­po­rary art muse­ums, are more likely to have updat­ed con­tent and gen­er­al­ly higher levels of web­site main­te­nance. Shanghai's West Bund Museum Project — a col­lec­tion of art muse­ums and gal­leries mostly launched last year — is a great exam­ple, coop­er­at­ing with the Parisian Centre Pompidou or the Japanese high-pro­file art col­lec­tive TeamLab. It is, how­ev­er, some­what ironic that art muse­ums — which need the least amount of addi­tion­al effort in order to be made acces­si­ble and fully appre­ci­at­ed — seem to do the most in this regard, while muse­ums deal­ing with the city's unique his­to­ry (e.g. Shikumen, Postal Museum, Sun Yat Sen's res­i­dence, etc.) are far less acces­si­ble. This gap leaves por­tions of the city's story tucked away from most vis­i­tors.
How are users fill­ing in these infor­ma­tion gaps?

My text analy­sis of thou­sands of user reviews for Shanghai's top 50 muse­ums revealed that user reviews may inci­den­tal­ly serve as a sub­sti­tute for offi­cial sources. They may actu­al­ly prove more useful in pro­vid­ing gen­er­al prac­ti­cal infor­ma­tion, albeit more lim­it­ed in terms of site-spe­cif­ic or user expe­ri­ence.
So are unof­fi­cial sources like user reviews prefer­able to offi­cial sources?
Reviews are large­ly in a per­pet­u­al limbo between dis­re­pair and func­tion­al­i­ty and, as a result, cur­rent­ly fail to cap­ture and reflect China's bustling museum ecosys­tem. Museums' rep­u­ta­tions on review sites are neg­a­tive­ly affect­ed by a lack of insti­tu­tion­al engage­ment, insuf­fi­cient user involve­ment and poor response man­age­ment.
This great divide in inac­ces­si­bil­i­ty can be clear­ly seen on TripAdvisor. As one of the world's largest travel web­sites serv­ing close to half a bil­lion users per month, TripAdvisor offers an incom­plete view of Shanghai's museum scene. For exam­ple, the Shanghai Development Exhibition Hall's name is notice­ably mis­spelled on Tripadvisor ("Developemt"), and despite its rel­a­tive high rank­ing (#6) and a large number of reviews, this error has not been cor­rect­ed. The Shanghai Natural History Museum has two sep­a­rate and pop­u­lar list­ings (ranked #2 and #11). The Shanghai Propaganda Poster Art Center, the third most pop­u­lar museum on TripAdvisor, cannot be found on Google Maps, and only alter­na­tive sources detail its recent relo­ca­tion. In addi­tion, museum pages on TripAdvisor do not fea­ture the rel­e­vant web­sites, although this option exists and is widely used else­where.
Even though TripAdvisor's Chinese offer­ings are out­dat­ed, this does not signal user inac­tiv­i­ty, utter irrel­e­vance or demise. For the top ranked muse­ums, users are still adding new reviews and upload­ing photos (inter­rupt­ed by their tem­po­rary clo­sure fol­low­ing the COVID-19 out­break). What we see is a clear case of inac­ces­si­bil­i­ty in the making. TripAdvisor is sort of a living-dead; it gave way to local review aggre­ga­tion alter­na­tives like Ctrip or Dianping, but it still oper­ates and serves as a go-to source for inter­na­tion­al audi­ences.

It sounds like the dis­par­i­ty fun­da­men­tal­ly lies in con­nect­ing the high qual­i­ty of Chinese muse­ums to inter­na­tion­al acces­si­bil­i­ty of those muse­ums. But is this more of a trans­la­tion issue or a man­age­r­i­al issue?
While inac­ces­si­bil­i­ty can be easily attrib­uted to the lan­guage bar­ri­er, more needs to be done than simply pro­vid­ing infor­ma­tion online in more lan­guages than just Mandarin. As a whole, man­age­r­i­al per­spec­tives within the Chinese museum ecosys­tem can and should devel­op a much more inter­na­tion­al — and maybe more ambi­tious — out­look. The modern museum indus­try in China devel­oped quick­ly and with­out a sys­temic devel­op­ment of cura­to­r­i­al and man­age­r­i­al tra­di­tions in com­par­i­son to other major coun­tries. Industry crit­ics blame inef­fi­cient bureau­cra­cy, cura­to­r­i­al monop­oly over exhi­bi­tions and a lack of inter-depart­men­tal coop­er­a­tion between research, edu­ca­tion and exhi­bi­tion depart­ments.
Who is typ­i­cal­ly respon­si­ble for strate­gic changes in a Chinese museum?
21st cen­tu­ry "muse­u­mi­fi­ca­tion" — the rela­tion­ship between art and wealth as reflect­ed in museum devel­op­ment and eco­nom­ic devel­op­ment — has result­ed in a net­work of stake­hold­ers who influ­ence strate­gic changes in muse­ums. This con­test­ed land­scape involves investors, gov­ern­ment offi­cials, founders and mul­ti­ple other stake­hold­ers. Accumulated wealth, assem­bled muse­ol­o­gy prac­tices, self-pro­mo­tion and grow­ing expo­sure now often go hand in hand to form a new dis­cur­sive cul­tur­al power. So even in cases of large­ly pri­vate fund­ing, local stake­hold­ers — in the form of gov­ern­ment, munic­i­pal­i­ty and others — may still have a say. Depending on whether an insti­tu­tion is formal or infor­mal, or inter­na­tion­al­ly net­worked or local­ly focused, one thing holds true: Whoever holds the power influ­ences the direc­tion of muse­ums.
In Chinese muse­ums, the ques­tion of nar­ra­tive com­mon­ly resur­faces. A main theme in con­tem­po­rary Chinese muse­ol­o­gy is the refram­ing of past inter­pre­ta­tions and cul­tur­al or polit­i­cal her­itage, often in the con­text of stan­dard­iz­ing Chinese his­to­ry and a strong sense of con­nec­tion between past, present and future. Maybe this means that stan­dard­iza­tion of other aspects in the museum ecosys­tem, if desired by the right people, can also be achieved.
So is China a "museum coun­try"?
Potentially, very much so, and right now, still more domes­ti­cal­ly than inter­na­tion­al­ly. But this can be attrib­uted to the exis­tence of a great divide and a double tra­jec­to­ry between the devel­op­ment of the Chinese museum ecosys­tem and its inter­na­tion­al per­cep­tion and rep­u­ta­tion. On the one hand, muse­ums in China, like in Shanghai, are pros­per­ous, plen­ti­ful and increas­ing­ly inno­v­a­tive. They enjoy rel­a­tive strong state sup­port, quick­ly adapt to local tech­no­log­i­cal changes and are not overly stub­born in their prac­tices. On the other hand, their rep­u­ta­tion and per­cep­tion from inter­na­tion­al per­spec­tives still lag behind and suffer from unequal stan­dards.
Significant changes need to take place for China to become inter­na­tion­al­ly rec­og­nized as a museum pow­er­house. The post-COVID-19 global land­scape is bound to rein­tro­duce ques­tions of China's soft power, open­ness, and over­all role in the inter­na­tion­al com­mu­ni­ty. Travel and tourism are impor­tant eco­nom­ic dri­vers and will pro­vide new oppor­tu­ni­ties for China's museum ecosys­tem to deter­mine its future path.
This inter­view has been edited for length.
For more infor­ma­tion on Data Science research and the Chinese museum indus­try, con­tact Harel Sholovitz via email or LinkedIn.