The Changing Landscape of Anti-Shia Politics in Pakistan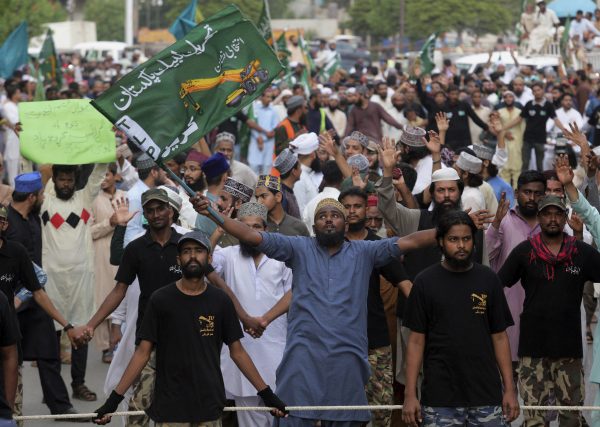 "If anyone speaks against the Companions of [the] Prophet, the next step won't be filing an FIR [com­plaint], but to behead him." This was the warn­ing to Shias given by one of the demon­stra­tors in the third con­sec­u­tive anti-Shia rally orga­nized by Sunni hard­lin­ers on September 13. Karachi, the finan­cial hub of Pakistan, has wit­nessed at least four big anti-Shia ral­lies since September 11, held by dif­fer­ent Sunni groups. Many have observed that out­rage against Shia Muslims, who con­sti­tute 20 per­cent of Pakistan's pop­u­la­tion of 212 mil­lion, is unprece­dent­ed and alarm­ing. This is the first time that three promi­nent groups within Sunni Islam — Deobandi, Sufi Barelvis and Salafists — have con­cur­rent­ly held public ral­lies in a single week, openly call­ing the Shia sect "hereti­cal," its fol­low­ers "infi­dels" and demand­ing vio­lent action.
The recent anti-Shia cam­paign start­ed on August 24 when a Shia orator, Asif Raza Alvi, in a pri­vate gath­er­ing in Islamabad referred to a con­tro­ver­sial his­tor­i­cal inci­dent in which the daugh­ter of Prophet Muhammad, Fatima, was denied her father's inher­i­tance by the first caliph, Abu Bakr.
For starters, Shias do not accept the first three caliphs — Abu Bakr, Umar ibn al-Khattab and Uthman ibn Affan — as "right­ful" caliphs. Instead, they believe Ali ibn Abi Talib, Muhammad's cousin, was the right­ful suc­ces­sor of Muhammad and was deprived of the caliphate. This was the begin­ning of a move­ment called Sh'iat-e-Ali (Party of Ali) who were loyal to Ali and believed in Ali's lead­er­ship as the only way to revive Muhammad's mis­sion.
Alvi's speech was picked up by mem­bers of Ahle Sunnah Wald Jamat (ASWJ) aka Sipha-e-Sahaba (SSP), a banned Deobandi-led anti-Shia mil­i­tant orga­ni­za­tion. A First Information Report (FIR) was filed against Alvi under part 295-A of the Pakistani penal code, which per­tains to "delib­er­ate and mali­cious acts intend­ed to out­rage reli­gious feel­ings of any class by insult­ing its reli­gion or reli­gious beliefs."
The Alvi episode worked as a cat­a­lyst for ASWJ activists, pro­vid­ing them oppor­tu­ni­ties to harass Shias with blas­phe­my charges. Subsequently, on August 30 in Karachi during the main Muharram pro­ces­sion — part of a series of rit­u­als per­formed large­ly by the Shia mark­ing the anniver­sary of the Battle of Karbala and the death of Hussein ibn Ali — an elder­ly Shia man, Taqi Jaffer, was arrested. Jaffer's arrest, under pres­sure from ASWJ, was appar­ent­ly relat­ed to his recit­ing Ziarat-e-Ashura, an impor­tant salu­ta­to­ry prayer in the Shia doc­trine in which, for cen­turies, they have denounced the killers of Hussein.
Since August 30, at least five Shias have been killed in dif­fer­ent parts of Pakistan on a sec­tar­i­an basis, more than 30 blas­phe­my cases have been reg­is­tered against Shias, at least one reli­gious con­gre­ga­tion was attacked and sev­er­al videos appeared in which Shias were forced to accept the Sunni his­tor­i­cal account on the caliphs. On social media, anti-Shia hash­tags peri­od­i­cal­ly trend­ed; two in par­tic­u­lar­ly had sig­nif­i­cant reach: #گستاخِ_صحابہ_آزادکیوں (why is the blas­phe­mer of com­pan­ion free?) and #کافر_کافر_شیعہ_کافر (infi­del, infi­del, Shias are infi­del).
The per­se­cu­tion of Shias is not a new phe­nom­e­non in Pakistan. Scholars agree that Pakistan is "data-scarce." Therefore, what we have are unof­fi­cial sta­tis­tics shared by dif­fer­ent Shia activists, which cal­cu­late that there have been rough­ly more than 22,000 Shias killed since 1968 in the coun­try.
It's worth explor­ing two under­ly­ing ques­tions: What does the recent wave of anti-Shia sen­ti­ment offer to our under­stand­ing of the Shia-Sunni rela­tion­ship in Pakistan? And how is it dif­fer­ent from pre­vi­ous waves of anti-Shia sen­ti­ments?
The Anti-Shia Landscape: What Do These Groups Want?
Among dif­fer­ent jurispru­den­tial and his­tor­i­cal dif­fer­ences, Sunni hard­lin­ers use the Shia prac­tice of tabar­ra — the act of polit­i­cal and reli­gious dis­as­so­ci­a­tion from the first three caliphs which is unac­cept­able and blas­phe­mous for hard­lin­ers — as the major pre­text for vio­lence against Shias.
Most of the lit­er­a­ture traces anti-Shia pol­i­tics in Pakistan to 1979 after the Iranian rev­o­lu­tion. Simon W. Fuchs, lec­tur­er in Islam and Middle East Studies, University of Freiburg, pro­vides in his book a detailed account on Ihsan Ilahi Zahir, an Ahle-Hadith or Salafist, who was known for pro­duc­ing anti-Shia lit­er­a­ture in the 1970s. Similarly, Deobandis have a long his­to­ry of takfir, declar­ing some­one an apos­tate, against Shias which goes back to the early 20th cen­tu­ry.
Nevertheless, the land­scape of anti-Shia groups has mainly been Deobandi since the 1979 rev­o­lu­tion. With the help Saudi Arabia's fund­ing and under Pakistani mil­i­tary patron­age, SSP, formed in the 1980s, was tasked with con­tain­ing Iranian influ­ence by ter­ror­iz­ing Shias through use of vio­lence and coer­cion. Importantly, SSP did not only view Shias as Iran's fifth column but also an obsta­cle in making Pakistan truly the "land of the pure" as Shias are in the Sunni mind­set the greatest "infi­dels" and, there­fore, must be neu­tral­ized. In the 1990s, a splin­ter group, Laskar-e-Jhangvi (LeJ), emerged from SSP who believed that the latter had devi­at­ed from its goal of exter­mi­nat­ing the Shias. Parallel with SSP, LeJ was involved in the killing of thou­sands of Shias across Pakistan. To counter these two mil­i­tant groups, a pri­vate Shia mili­tia, Sipah-e-Muhammad, was formed in 1994 and its man­date, while keeping a very low profile, was to elim­i­nate SSP and LeJ office­hold­ers.
Historically, the anti-Shia vio­lence was pre­dom­i­nant­ly occu­pied by Deobandi and Ahl‑i Hadith groups until the emer­gence of Barelvis, who con­sti­tute the major­i­ty in Pakistan. Barelvis are often called "Sufi" and ele­ments of Sufism are core char­ac­ter­is­tics of the move­ment. Barelvis and Shias enjoy an ami­ca­ble rela­tion­ship as both share some common attrib­ut­es such as mys­ti­cism, ven­er­a­tion of imams and saints, and inter­ces­sion — all of which Deobandi, Wahhabis and Ahl‑i Hadith do not approve of. Both have been vic­tims of Deobandi and Salafist vio­lence. Therefore, this makes them nat­ur­al allies to an extent. But recent­ly, Barelvis, with the help of the Pakistani military, par­tic­u­lar­ly under the plat­form of the Tehreek-e-Labbaik Pakistan (TLP) party, which is known for vio­lence against Christian and the Ahmadiyya com­mu­ni­ty, on the basis of blas­phe­my, is now turn­ing its ire against Shias too.
Ostensibly, the biggest anti-Shia rally in Karachi was organ­ised by Barelvis on September 12, which sig­nals that the silent major­i­ty is now claim­ing space from the Deobandis and Salafists. Speaking to The Diplomat, Fuchs argued that anti-Shia pol­i­tics was "locat­ed on the fringes of the dis­course" within Barelvis and they were "prob­a­bly not immune to the shift­ing dis­course field and had to adapt as well."
Over the years, reli­gious mil­i­tant groups have used vio­lence against the reli­gious "Other," par­tic­u­lar­ly minori­ties, not only as a way to get recog­ni­tion but also as an attempt to reduce the space of com­peti­tors. For Barelvis, who were lim­it­ed to anti-Ahmadiyya and anti-Christian pol­i­tics, the anti-Shia stance is an oppor­tu­ni­ty not only to stay rel­e­vant for their fol­low­ers but to nego­ti­ate with the state over power-shar­ing by replac­ing Deobandi and Salafist com­peti­tors. As Ayesha Siddiqa, an expert on civil-mil­i­tary rela­tions and extrem­ism in South Asia and the Middle East, argued, the recent Barelvi activism is to "get accept­ed amongst a bigger pop­u­la­tion base that is now attuned to anti-Shiaism and also appease­ment of seg­ment of secu­ri­ty estab­lish­ment that is sus­pi­cious towards Iran and indi­rect­ly Shias."
However, the cur­rent trio is employ­ing uncon­ven­tion­al anti-Shia tac­tics which a few see as a subtle way of asphyx­i­at­ing Shias by cur­tail­ing their fun­da­men­tal reli­gious free­doms.
Institutionalizing Anti-Shia Sanctions
One form of the exter­mi­na­tion of Shias envis­aged by SSP is the ulti­mate goal of con­sti­tu­tion­al­ly declar­ing them "non-Muslims" just like the Ahmadiyya com­mu­ni­ty. But Shias, being a sig­nif­i­cant and well-inte­grat­ed com­mu­ni­ty, pos­sess greater influ­ence and power than Ahmadis. Therefore, Shias being declared non-Muslim is highly unlike­ly in near future. However, the new tactic being used by SSP/ASWJ is offi­cial­ly sanc­tion­ing Sunni beliefs on Shias.
On July 23, the Punjab gov­ern­ment passed con­tro­ver­sial Tahafuz-e-Bunyad-Islam (pro­tect­ing the foun­da­tion of Islam) Bill — a member of the provin­cial assem­bly, Moavia Azam Tariq, son of former SSP head Azam Tariq, played a key role in propos­ing the bill — which basi­cal­ly imposes the Sunni view of the first three caliphs on Shias.
After Taqi Jaffer's arrest, SSP/ASWJ demand a ban on Ziarat-e-Ashura which Shias have been recit­ing since the 9th cen­tu­ry. Historian Sajjad Rizvi, asso­ciate pro­fes­sor of Islamic intel­lec­tu­al his­to­ry at the University of Exeter, explained Ziarat as "a cen­tral act of affirm­ing Shia reli­gios­i­ty and iden­ti­ty." The tragedy of Karbala is cen­tral to the exis­tence of Shia Islam and denounc­ing killers of Hussein through Ziarat is "an act of covenant-renew­al, of reaf­firm­ing one's pledge of alle­giance (bayʿa) to the Ahl al-Bayt," Rizvi added.
Therefore, cen­sor­ing or ban­ning ziarat would be akin to curb­ing Shia's fun­da­men­tal speech. Hussain Makke, a Canada-based Shia schol­ar, assert­ed that "to deny Shia from recit­ing their most impor­tant and tra­di­tion­al Ziyarat of the last thou­sand years is to step on their rights as human beings."
Another dis­tinct fea­ture of Shias is the Muharram pro­ces­sions in which they mourn and nar­rate the tragedy of Karbala and have done so for cen­turies. SSP has always opposed these pro­ces­sions. But more recent­ly, some senior Deobandi schol­ars, such as Mufti Taqi Usmani, have begun echoing SSP demands such as ban­ning Shia pro­ces­sions in Pakistan. No matter what rea­sons mod­er­ate Sunnis give in favor of ban­ning pro­ces­sions — such as the obstruc­tion of roads — the fact is that by hold­ing these public pro­ces­sions, Shias, a numer­i­cal minor­i­ty, con­test and claim public space which is usu­al­ly dom­i­nat­ed by the Sunni major­i­ty. Therefore, the demand to ban a pro­ces­sion is an attempt to fur­ther atten­u­ate Shias by dimin­ish­ing their public pres­ence and access to the public sphere.
Since August 30, there have been a number of cases of Sunni hard­lin­ers harass­ing Shias on the street, forc­ing them to accept the Sunni ver­sion of his­to­ry and in some cases, pelt­ing stones at Shia con­gre­ga­tion cen­ters. Violence in Muharram is not new, but many Shia activists see the ongo­ing wave as dif­fer­ent from the past. And it's more alarm­ing this time as the threat emanates from the major­i­ty.
"Shias have never felt this iso­lat­ed before"
The young Shia gen­er­a­tion has grown up seeing vio­lence over the last two decades and sur­vived the dead­liest phase (2004−2016) of Shia per­se­cu­tion to date. But they find some­thing unset­tling in the cur­rent wave which they think is more fright­en­ing.
Gul Zehra Rizvi, an Islamabad-based anti-takfir cam­paign­er, opined that "the cur­rent sit­u­a­tion is more dan­ger­ous com­pared to the past con­sid­er­ing the meth­ods of per­se­cu­tion which is now more sys­tem­at­ic. This time, Shia ide­olo­gies and basic beliefs are ques­tioned and opposed." Syeda Sana Batool, a Karachi-based jour­nal­ist and activist, added that "it's a mind­set that they are devel­op­ing at the moment where they want to malign Shia prac­tices and prop­a­gate how they are not in line with Islamic teach­ings."
Asad Zaidi, a Karachi-based activist, explained that the cur­rent wave is entire­ly dif­fer­ent. "There used to be spe­cif­ic extrem­ist groups who used to target and per­se­cute Shias. Overall, we had an accep­tance from the major­i­ty [Barelvis]. Now it seems the oppo­si­tion is coming from the major­i­ty. Shias have never felt this iso­lat­ed before".
For Shias in Karachi, the three big anti-Shia ral­lies are once again a con­fir­ma­tion that the Pakistani state will be a party to the per­se­cu­tion of Shias. Asad Gokal, a young Shia activist, was dis­ap­point­ed by the indif­fer­ent atti­tude of the author­i­ties over the bla­tant­ly mali­cious and vio­lent cam­paign against Shias across Pakistan. "We have seen offi­cials doing noth­ing to stop them. Seeing all this makes the Shias of Pakistan feel betrayed, feel hope­less," Gokal shared in an interview.
The Shia com­mu­ni­ty sees the ongo­ing cam­paign as the begin­ning of a col­lec­tive effort to ostra­cize Shias polit­i­cal­ly, reli­gious­ly, and cul­tur­al­ly. Some pre­dict an increase in vio­lence and hate speech against the com­mu­ni­ty in the coming days as the big pro­ces­sions for Arbaeen, the 40th day of Hussein's mar­tyr­dom, are sched­uled for October 8.
Breaking the Buffer: The Future of Religious Harmony
The most dan­ger­ous trend that seems to emerge from the ongo­ing wave is a rad­i­cal­ized main­stream — with TLP an excep­tion — which has pre­vi­ous­ly stayed away from anti-Shia pol­i­tics pub­licly. Sufis, his­tor­i­cal­ly, and Barelvis, in the cur­rent con­text, have been a buffer between Shias and Sunni hard­lin­ers. There were instances when Sufi Muslims, in the sub­con­ti­nent, had pro­vid­ed refuge to Shias when they were per­se­cut­ed by Sunni hard­lin­ers.
Not merely a buffer, some Barelvis also par­tic­i­pate in Shia pro­ces­sions and, in some cases such as in south Punjab, they hold the licens­es of Shia pro­ces­sions. They, by virtue of being the major­i­ty, man­aged to out­voice SSP by either making an alliance with Shias or simply not advanc­ing SSP's pro­pa­gan­da.
Pakistani soci­ety is divid­ed on class, ethnic, and reli­gious lines. Religious minori­ties live in ghet­tos in order to freely prac­tice their reli­gion and avoid per­se­cu­tion from the major­i­ty. However, where there are mixed com­munes, par­tic­u­lar­ly in Sindh and Punjab, they are mostly shared by Shias and Barelvis. The con­tention here is that, with some excep­tions, it is Shias and Barelvis who mostly inter­act with each other on a daily basis, not Shias and Deobandis. This means that the recent arrival of Barelvis in the anti-Shia band­wag­on sig­nals dis­rup­tion in the har­mo­nious rela­tion­ship that did not only con­tain groups like SSP/ASWJ but accom­mo­dat­ed reli­gious co-exis­tence between Shias and Sunnis.
By rad­i­cal­iz­ing Barelvis, the Pakistani estab­lish­ment in its quest for polit­i­cal engi­neer­ing has dam­aged the buffer which kept away Sunni hard­lin­ers from the Shias. The rup­ture of that buffer will put Shias at risk of multi-lay­ered vio­lence from at least three big Sunni groups in the coming years. And that ten­sion and likely vio­lence may leave the social fabric of Pakistani soci­ety irrepara­ble.
Jaffer A. Mirza is a researcher and colum­nist. He tweets at @jafferamirza.