The Abraham Accords: Who Benefits?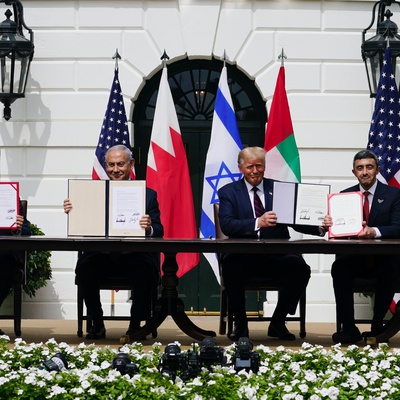 Israel and two Arab Gulf states, the United Arab Emirates and Bahrain, have for­mal­ly and pub­licly estab­lished diplo­mat­ic rela­tions. The White House is calling the agree­ments "The Abraham Accords," and President Donald Trump, in typ­i­cal­ly under­stat­ed fash­ion, announced that "there's going to be peace in the Middle East." (Spoiler alert: no.) The U.A.E. and Bahrain are the third and fourth Arab coun­tries to open diplo­mat­ic rela­tions with Israel; Egypt and Jordan were the first two. Here is a brief, ten­ta­tive analy­sis of the win­ners and losers in this new arrange­ment. (I say "ten­ta­tive" because this is the Middle East, and no one actu­al­ly knows for sure what any of this could mean.)
The Winners
The White House aides who named this agree­ment "The Abraham Accords"
A genius mar­ket­ing move, though I would have pre­ferred the "Isaac and Ishmael Summit," or "The Treaty of Ghent," for that matter. "The Abraham Accords" is grandiose for any number of rea­sons, includ­ing the fact that what was signed yes­ter­day does not even con­sti­tute a peace treaty. Peace treaties are made between war­ring par­ties, and the United Arab Emirates and Bahrain have never been at war with Israel. My per­son­al pref­er­ence would have been to deploy the big gun him­self, Abraham, the father of monothe­ism, for a peace treaty between Israelis and Palestinians, which would be the thing that actu­al­ly ended that Middle East con­flict.
The author­i­tar­i­an lead­ers, or author­i­tar­i­an-curi­ous lead­ers, of four coun­tries
The agree­ment is a vic­to­ry for Mohammed bin Zayed, the crown prince of Abu Dhabi and the de facto ruler of the Emirates; Mohammed bin Salman, the crown prince of Saudi Arabia; Benjamin Netanyahu, the for­ev­er prime min­is­ter of Israel; and President Donald Trump. Each of these men needed this agree­ment rather urgent­ly:
(A) Bin Zayed, because he real­izes that the U.A.E. is deeply unpop­u­lar with Democrats (the U.A.E. lead­er­ship put itself on President Barack Obama's bad side and was a bit too osten­ta­tious­ly relieved when Trump came into office), and so under­stands that he needs to make his coun­try look help­ful and con­struc­tive to Joe Biden, just in case.
(B) Bin Salman, with­out whom these Gulf states, Bahrain in par­tic­u­lar, would not dare make such a bold and public move, needs this agree­ment for much the same reason: He has to prove to Democrats (and to Europeans) that he is a con­struc­tive and mod­er­ate leader, and not merely a mur­der­er of dis­si­dents.
© Netanyahu ben­e­fits in at least three ways: First, he diverts atten­tion from his mis­er­able han­dling of the coro­n­avirus pan­dem­ic (Israel is moving into a new, three-week lock­down on Friday). Second, he man­ages to make "peace" with Arabs who are not Palestinians, the par­tic­u­lar group of Arabs he'd most like to avoid. And third, he but­tress­es his rep­u­ta­tion among Israeli voters as a states­man on the world stage.
D) Donald Trump, because he can tell his fol­low­ers, par­tic­u­lar­ly his more gullible fol­low­ers, that he has brought peace to the Middle East. (Not that American voters reward pres­i­dents who bring peace to the Middle East; just ask Jimmy Carter.)
The makers of the F‑35 Joint Strike Fighter
In many ways "The Abraham Accords" amount to an arms deal. The U.A.E. and other states that now engage with Israel will find them­selves armed with a better class of American weapon­ry. The U.S. has pledged for a very long time to main­tain Israel's qual­i­ta­tive mil­i­tary edge, but the U.A.E. in par­tic­u­lar might have just arranged for itself a sim­i­lar promise.
The ambas­sadors
The deal is a tri­umph for the Emirati ambas­sador to the U.S., Yousef Al Otaiba; the Israeli ambas­sador to the U.S., Ron Dermer; and Jared Kushner, the Trump administration's ambas­sador to all sorts of Semites. It was Otaiba, more than any other single figure, who orga­nized this coming-out party. He is the can­ni­est and most influ­en­tial ambas­sador in Washington, in part because he has bin Zayed's trust, and in part because he so assid­u­ous­ly cul­ti­vates his country's image as a (rel­a­tive­ly speak­ing) pro­gres­sive, anti-extrem­ist Arab state. Dermer, Netanyahu's long­time con­fi­dant, gets to claim a diplo­mat­ic vic­to­ry, one that bypass­es the core of the con­flict, the Israeli-Palestinian strug­gle. And credit where credit is due: Kushner brought energy and drive to this process, and secured a win for his father-in-law and for the Israeli right, to which he is par­tial. It was the region­al play­ers who made this happen, but Kushner was smart enough to help set the table.
Israelis
They can now travel to Dubai and Abu Dhabi (and maybe, soon, to Morocco and Sudan and Oman). The crush­ing sense of iso­la­tion that Israelis feel in their own neigh­bor­hood may be par­tial­ly lifted by this agree­ment.
The Losers
The Iranian lead­er­ship
Israel and the United Arab Emirates (along with other Gulf states) have secret­ly coop­er­at­ed with each other against their common enemy, the Islamic Republic of Iran, for more than a decade. The nor­mal­iza­tion of rela­tions strength­ens this coali­tion, the mem­bers of which (mainly cor­rect­ly) see Iran and its var­i­ous ter­ror­ist appendages as threats to their sta­bil­i­ty and ter­ri­to­r­i­al integri­ty, and even to their exis­tence.
The Palestinians
A dark and cruel joke I once heard in Saudi Arabia: What's the dif­fer­ence between Arab Gulf lead­ers and Netanyahu's Likud party? The Gulf states really despise the Palestinians. Once again, Arab lead­ers are sig­nal­ing to the Palestinians that they have grown tired of what they see as Palestinian rejec­tion­ism and obdu­ra­cy, and also that they would very much like to be part­ners with Israel in high-tech devel­op­ment and in the fight against Iran. Two years ago, bin Salman told me in an inter­view: "I believe that each people, any­where, has a right to live in their peace­ful nation. I believe the Palestinians and the Israelis have the right to have their own land." This state­ment was seen, cor­rect­ly, as an invi­ta­tion to Arab states to deepen their ties to Israel.
---
In this new deal, Israel gets some­thing for noth­ing: rela­tions with two more Arab states with­out so much as a set­tle­ment freeze. (The Israelis did promise the U.A.E. that they wouldn't for­mal­ly annex any West Bank land, for the time being at least. But Netanyahu didn't have Trump's per­mis­sion to annex such land anyway, and he cer­tain­ly wouldn't get per­mis­sion from Biden, should Biden win the pres­i­den­cy).
There is a case to be made that this new push for nor­mal­iza­tion will aid the cause of Israeli-Palestinian com­pro­mise. David Makovsky of the Washington Institute for Near East Policy and Daniel Shapiro, Obama's ambas­sador to Israel, argued in The Washington Post: "History and common sense both show that Arab states that main­tain diplo­mat­ic rela­tions with Israel play a more active role in sup­port­ing Palestinian aspi­ra­tions than those who do not." A smart point, and true, but this deal does noth­ing at all to con­vince the Israeli right that ges­tures toward the Palestinians would be worth making.
My view aligns more close­ly with that of Tamara Cofman Wittes, of the Brookings Institution's Center for Middle East Policy, who told me, "The real­i­ty of Palestinian pol­i­tics is that the over­all stale­mate, the threat of annex­a­tion, and now the Emiratis and Bahrainis making their sep­a­rate arrange­ments will cause the Palestinians to dig in. This all just rein­forces an instinct toward resis­tance." She went on to say that the Emiratis, known in the region for their hos­til­i­ty to the Palestinians, are "not in a posi­tion to influ­ence Palestinian pol­i­tics unless they hope to replace Palestinian lead­ers with other, more mal­leable Palestinians of their own choos­ing."
If the so-called Abraham Accords put Iran and its ter­ror­ist prox­ies on the back foot, then good. If they cause Israel to avoid coming to terms with the real­i­ty that its con­tin­ued con­trol over the lives of mil­lions of Palestinians threat­ens its demo­c­ra­t­ic nature, then both the Palestinian aspi­ra­tion of nation­hood and the Israeli dream of a free and strong demo­c­ra­t­ic haven in the Jewish ances­tral home­land could be vic­tims of this agree­ment.
This arti­cle was orig­i­nal­ly pub­lished by The Atlantic. Subscribe to their newslet­ter.
Jeffrey Goldberg is the editor in chief of The Atlantic and a recip­i­ent of the National Magazine Award for Reporting. He is the author of Prisoners: A Story of Friendship and Terror.