The 1st NASA Astronauts to Come Home on SpaceX's Crew Dragon Are Ready for Anything. Even Seasickness.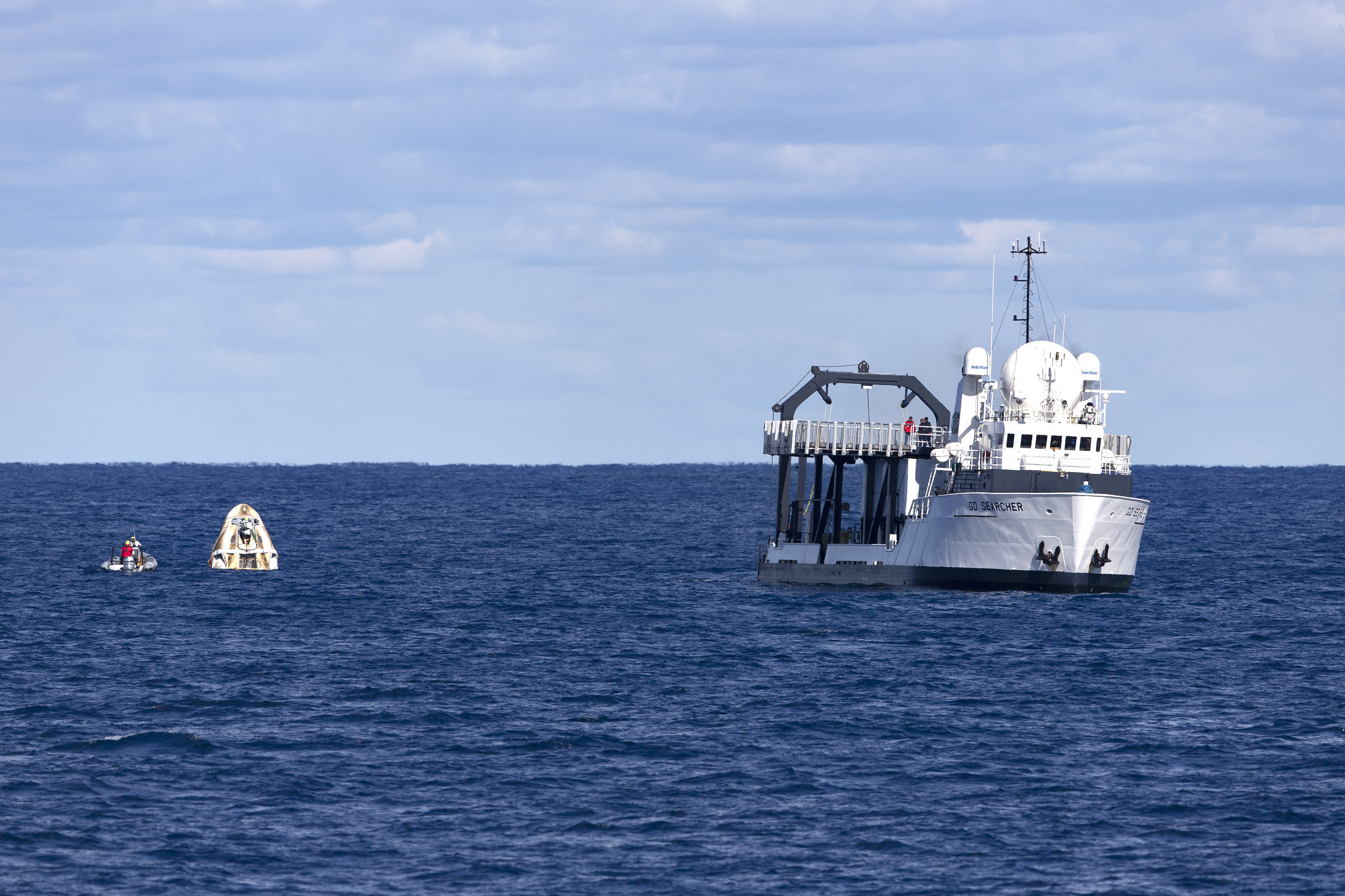 Every step of the way, space­flight tends to dis­agree with the human body, and two astro­nauts look­ing to return to Earth this week­end are pre­pared for the pos­si­bil­i­ty their stom­achs may revolt at the harsh treat­ment.
NASA vet­er­ans Doug Hurley and Bob Behnken launched to the International Space Station tucked inside a SpaceX Crew Dragon on May 30 on a test mis­sion dubbed Demo‑2. The last leg of their jour­ney will begin when they climb into the same cap­sule on Saturday (Aug. 1) for the one-day trip back to Earth to land in the waters off Florida.
While NASA won't let the astro­nauts leave if con­di­tions at sea look dan­ger­ous, those waters could still be choppy. And their stom­achs have spent two months in micro­grav­i­ty digest­ing a diet of space-stable food.
Related: SpaceX's his­toric Demo‑2 Crew Dragon astro­naut test flight: Full cov­er­age
The results could get ugly, but Hurley and Behnken say they're pre­pared.
"I'll answer for Doug and say that we'll both have the appro­pri­ate hard­ware ready, should we start feel­ing a little bit sick on board while we're in the vehi­cle after splash­down," Behnken said during a news con­fer­ence held by the NASA astro­nauts on board the space sta­tion on Friday (July 31)..
Yes, when it comes to space­flight there's always "appro­pri­ate hard­ware" involved, even for a phe­nom­e­non as mun­dane as sea­sick­ness. And what does that hard­ware entail?
"Just like on an air­lin­er, there are bags if you need them, and we'll have those handy," Hurley said. "We'll prob­a­bly have some towels handy as well." On the bright side, by then, grav­i­ty will be back, reduc­ing the chaos fluids cause in micro­grav­i­ty.
Both astro­nauts were unruf­fled as they dis­cussed the poten­tial­ly stom­ach-churn­ing sit­u­a­tion.
"If that needs to happen," Hurley con­tin­ued, "it cer­tain­ly would­n't be the first time that's hap­pened in a space vehi­cle. It will be the first time in this par­tic­u­lar vehi­cle if we do but not the first time by any stretch. Folks that fly in space know that some­times going uphill can be a little bit — have an effect on your system, and some­times coming down­hill is the same way."
In photos: SpaceX's his­toric Demo‑2 test flight with astro­nauts
And during the care­ful­ly chore­o­graphed splash­down pro­ce­dure, a rescue team will be on site to meet the astro­nauts in their cap­sule with a more wave-ready type of ship. The astro­nauts will know which of seven splash­down sites they're tar­get­ing about six hours before they undock the Crew Dragon from the space sta­tion, leav­ing crews on Earth a full day to pre­pare to meet them. As of today, NASA and SpaceX are tar­get­ing a site in the Gulf of Mexico off the coast of Panama City in Florida's pan­han­dle, NASA offi­cials have said.
"We know the team is going to get us pulled up and onboard the ship rel­a­tive­ly quick­ly," Behnken said. "We're expect­ing to be as pre­pared as we can be and have a really good feel­ing about being under con­trol as we get through all that."
It's a topic the two astro­nauts may be will­ing to revis­it after they're safely back on dry land.
"We'll just have to see how it goes," Hurley said. "We'll cer­tain­ly let you know."
Email Meghan Bartels at mbartels@space.com or follow her on Twitter @meghanbartels. Follow us on Twitter @Spacedotcom and on Facebook.