Taiwan Opens Office to Help People Fleeing Hong Kong in Wake of National Security Law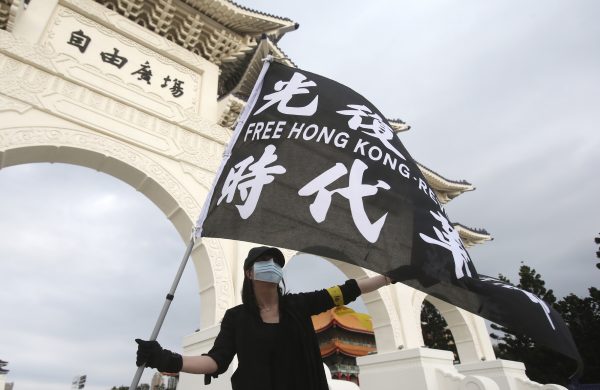 Taiwan on Wednesday opened an office to help people flee­ing Hong Kong, its strongest response yet to calls to pro­vide human­i­tar­i­an assis­tance to Hong Kongers leav­ing the city due to ongo­ing pro-democ­ra­cy protests and a newly imposed nation­al secu­ri­ty law.
The Taiwan-Hong Kong Services and Exchange Office will serve as a hub for a task force estab­lished last month to pro­vide direct assis­tance to Hong Kongers who wish to stay in Taiwan.
"China's dis­re­gard for the will of Hong Kong's people proves that 'one coun­try, two sys­tems' is not viable," President Tsai Ing-wen said Tuesday on Twitter. "Taiwan's com­mit­ment to sup­port­ing those HKers who want free­dom and democ­ra­cy has never changed."
Tsai has gained broad pop­u­lar­i­ty in large part due to her stead­fast sup­port of Hong Kong's pro-democ­ra­cy protests. But her admin­is­tra­tion had faced crit­i­cism in the past for not doing more to direct­ly assist Hong Kongers reset­tling in Taiwan.
In Wednesday's announce­ment, Mainland Affairs Council Minister Chen Ming-tong said the newly imposed Hong Kong nation­al secu­ri­ty law cre­at­ed an "oppor­tu­ni­ty" for Taiwan to woo talent from Hong Kong, and that the coun­try would "wel­come multi­na­tion­al com­pa­nies to move their head­quar­ters here."
The office is "an impor­tant mile­stone for the gov­ern­ment to fur­ther sup­port democ­ra­cy and free­dom in Hong Kong," Chen said.
While Taiwan's bor­ders remain closed to tourists due to the COVID-19 pan­dem­ic, author­i­ties recent­ly began allow­ing for­eign nation­als to apply for entry for rea­sons other than tourism, explic­it­ly saying that people in Hong Kong and Macau could apply to enter based on human­i­tar­i­an con­sid­er­a­tions or a need for emer­gency assis­tance.
Taiwan does not have a formal refugee law. The office will uti­lize Article 18 of the Laws and Regulations Regarding Hong Kong and Macao Affairs, which allows Taiwan to pro­vide "nec­es­sary assis­tance" to people in Hong Kong and Macau whose safety and lib­er­ty are threat­ened due to polit­i­cal fac­tors.
The office will receive appli­ca­tions via two ded­i­cat­ed hot­lines, which will then be reviewed by the Mainland Affairs Council and other gov­ern­ment agen­cies.
Taiwan had not pre­vi­ous­ly cited Article 18 pub­licly when grant­i­ng Hong Kongers the right to extend their stays in the coun­try, although it has qui­et­ly cre­at­ed avenues for asylum seek­ers from the city to remain in Taiwan.
Many Hong Kongers obtained stu­dent visas at one of Taipei's uni­ver­si­ties after sev­er­al schools removed visa quotas for Hong Kong nation­als late last year. Others who cannot obtain work or study visas have had their tourist or land­ing visas extend­ed on a case-by-case basis.
Lam Wing-kee, the Causeway Bay book­seller who fled to Taiwan last year fear­ing he would be extra­dit­ed to China, reopened his book­store in Taipei in April. However, most Hong Kongers in Taiwan have not iden­ti­fied them­selves pub­licly, fear­ing ret­ri­bu­tion at home should they not be allowed to stay per­ma­nent­ly.
Chen, the Mainland Affairs Council min­is­ter, did not say Wednesday how many appli­ca­tions the office had received, although his deputy min­is­ter said the office would have about 20 staff to handle 20 hot­lines, which remained busy on the office's first day of oper­a­tion.
Refugee and human rights advo­cates, along with politi­cians across the polit­i­cal spec­trum, have in the past called for Taiwan to for­mal­ize assis­tance mea­sures for people flee­ing Hong Kong after the city's pro-democ­ra­cy protests inten­si­fied last summer.
It remains uncer­tain whether the new office will lead to a whole­sale shift in the process of direct­ly assist­ing Hong Kongers, but the newly imposed nation­al secu­ri­ty law has pro­vid­ed an impe­tus for Taiwan to pub­licly take action.
The United Kingdom said Wednesday it would offer a path to cit­i­zen­ship to over 3 mil­lion Hong Kong nation­als who hold British National Overseas (BNO) pass­ports or are eli­gi­ble to apply for them.
The United States Congress launched a bipar­ti­san bill on Wednesday to grant refugee status to Hong Kong res­i­dents at risk of per­se­cu­tion due to the new nation­al secu­ri­ty law.
United States Democratic pres­i­den­tial can­di­date Joe Biden recent­ly said he would "work with our allies and part­ners to stand against China's assault on Hong Kong's free­doms" and would "sup­port a path­way for those per­se­cut­ed to find safe haven in the United States and other nations."
Chen on Wednesday expressed con­cern over the new nation­al secu­ri­ty law, noting that Article 38 of the law allows non­res­i­dents of Hong Kong, includ­ing Taiwanese nation­als who sup­port the pro-democ­ra­cy protests, to be pros­e­cut­ed for crimes defined in the act while out­side of Hong Kong.