Taiwan Bars Children of Taiwanese-Chinese Couples From Repatriation Amid Coronavirus Outbreak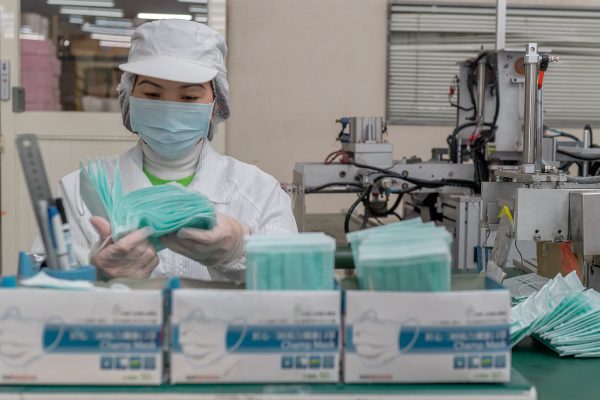 Taiwan has a fre­quent­ly acri­mo­nious rela­tion­ship with the gov­ern­ment of China, but the country's response to the novel coro­n­avirus out­break has almost entire­ly steered clear of the dis­crim­i­na­tion toward Chinese nation­als seen in coun­tries through­out the world.
Taiwan's gov­ern­ment has also shied away from politi­ciz­ing the virus, focus­ing mainly on a suc­cess­ful domes­tic con­tain­ment strat­e­gy and call­ing on the inter­na­tion­al com­mu­ni­ty to back its inclu­sion in the World Health Organization (WHO). A Taiwanese pres­ence at the WHO is sup­port­ed by many coun­tries but staunch­ly opposed by Beijing.
This week, how­ev­er, there was a domes­tic uproar over a controversial decision by Taiwan's Central Epidemic Command Center (CECC) not to allow the chil­dren of Taiwanese and Chinese cou­ples to be repa­tri­at­ed to Taiwan from China.
The deci­sion, made on Wednesday and defend­ed by promi­nent fig­ures in the ruling Democratic Progressive Party (DPP), reversed a deci­sion made one day ear­li­er by Taiwan's Mainland Affairs Council (MAC), which over­sees cross-strait affairs.
The MAC deci­sion to repa­tri­ate the chil­dren of Taiwanese and Chinese cou­ples – who are Chinese nation­als, as the People's Republic of China does not allow dual cit­i­zen­ship – had also drawn harsh crit­i­cism among those believ­ing Taiwan nation­als should be repa­tri­at­ed first.
DPP chair­man Cho Jung-tai told reporters Wednesday that "the public believes that the gov­ern­ment must pri­or­i­tize pro­tec­tion of its cit­i­zens, and that their wel­fare must come first."
Wang Ting-yu, a DPP leg­is­la­tor, said the MAC had been "fool­ish" in its Tuesday announce­ment.
"Right now, most Taiwanese are very wor­ried about the 'Wuhan virus' and they are dis­trust­ful of the Chinese gov­ern­ment," Wang said, using a term for the coro­n­avirus that has fallen out of favor among those wor­ried it con­tributes to the stigma­ti­za­tion of people from Wuhan, but is still used by others who believe it is impor­tant to remem­ber the source of the virus.
(Taiwan's CECC said Wednesday it would con­tin­ue to use the term "Wuhan coro­n­avirus" rather than COVID-19, the offi­cial name given to the virus this week by the WHO, in order to min­i­mize public con­fu­sion – a deci­sion that itself drew a polar­ized reac­tion.)
"People were riled up and crit­i­cized MAC offi­cials," Wang said of the ini­tial deci­sion to allow chil­dren of Taiwanese-Chinese cou­ples to be evac­u­at­ed. "I see this reac­tion as a very good thing for Taiwan."
The CECC jus­ti­fied its deci­sion to bar those chil­dren from being evac­u­at­ed to Taiwan by saying it could place a greater burden on Taiwan's domes­tic resources to fight the coro­n­avirus.
Taiwan has con­firmed 18 cases of the virus, and no people have died. The number of con­firmed cases has remained static since late last week, a pos­si­ble indi­ca­tion that con­trol mea­sures, such as entry bans for trav­el­ers from China, Hong Kong, and Macau, have been effec­tive.
The spat over the chil­dren of Taiwanese-Chinese cou­ples, how­ev­er, became a polit­i­cal debate and drew crit­i­cism from a vocal minor­i­ty insist­ing that the chil­dren should be con­sid­ered Taiwanese nation­als, despite not hold­ing Taiwanese nation­al­i­ty.
Taiwanese people have crit­i­cized the par­ents of the chil­dren for not pre­vi­ous­ly ensur­ing they would be con­sid­ered Taiwan nation­als. But this is easier said than done in China, and the par­ents surely did not antic­i­pate having an urgent need to evac­u­ate to Taiwan.
Fear of the coro­n­avirus has grad­u­al­ly sub­sided in Taiwan due to the lack of new con­firmed cases and a public health response widely per­ceived as robust and effi­cient. After an ini­tial short­age of face masks, the gov­ern­ment imple­ment­ed a rationing system and this week said it had a sur­plus of masks.
The dis­agree­ment over repa­tri­a­tion, along with the CECC's insis­tence on using the term "Wuhan coro­n­avirus," indi­cate a risk of the virus becom­ing politi­cized should the domes­tic health fear con­tin­ue to sub­side.
President Tsai Ing-wen, re-elect­ed with a record number of votes last month, retains a man­date to counter Chinese aggres­sion. And the Chinese gov­ern­ment has not endeared itself to the Taiwanese public during the coro­n­avirus out­break.
Earlier this week, China's People's Liberation Army flew mil­i­tary air­craft near Taiwanese air­space. China had also pre­vi­ous­ly refused to allow Taiwan to send planes to evac­u­ate its cit­i­zens for Wuhan, although it later reversed that deci­sion.
Taiwanese people hold dis­dain­ful views toward the Chinese Communist Party, but gen­er­al­ly do not have animosity toward the people of China. Taiwan's gov­ern­ment has said it would allow Chinese nation­als cur­rent­ly in Taiwan to stay beyond the expi­ra­tion dates of their travel per­mits as the out­break con­tin­ues.
Taiwan's public atti­tude in the days and weeks to come will indi­cate whether the virus becomes a polit­i­cal issue, or whether pol­i­tics are side­lined in favor of empa­thy for the people of Wuhan.
Source: The Diplomat