Supreme Court Shows Interest in Clash Over Pipeline Builders Seizing State Land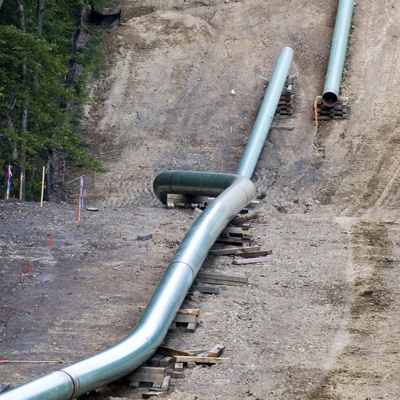 A legal dis­pute over whether nat­ur­al gas pipeline devel­op­ers can use emi­nent domain power grant­ed to them by the fed­er­al gov­ern­ment to seize state land is get­ting atten­tion from the U.S. Supreme Court.
The court on Monday asked the Trump admin­is­tra­tion to weigh in on the case, which pits the PennEast Pipeline Company against the state of New Jersey. The com­pa­ny is seek­ing to build a rough­ly $1 bil­lion nat­ur­al gas pipeline project. If com­plet­ed in its entire­ty as planned, the pipeline would be about 120 miles long and would carry gas across Pennsylvania, from a region where it is mined, into New Jersey.
Under the fed­er­al Natural Gas Act, com­pa­nies that receive cer­tain approvals from the Federal Energy Regulatory Commission to build inter­state nat­ur­al gas pipelines are able to exer­cise the fed­er­al government's power of emi­nent domain to "con­demn" prop­er­ty in order to gain nec­es­sary rights-of-way for con­struc­tion.
At issue in the pipeline case now pend­ing before the Supreme Court is whether this emi­nent domain author­i­ty extends to the seizure of land that a state has a stake in. PennEast holds that it does. But New Jersey has argued that the Constitution's 11th Amendment pre­vents pri­vate par­ties from taking this sort of legal action against a state.
A fed­er­al dis­trict court sided with the com­pa­ny, saying that it had been vested with the fed­er­al government's emi­nent domain powers, which would trump the 11th Amendment pro­tec­tion. But the 3rd U.S. Circuit Court of Appeals over­turned the lower court ruling. After that, PennEast ear­li­er this year asked the Supreme Court to hear the case.
The com­pa­ny argues that the lower court applied a flawed inter­pre­ta­tion of the Natural Gas Act, and warns that if the 3rd Circuit ruling holds, it threat­ens to dis­rupt the con­struc­tion of pipelines and other energy infra­struc­ture, grant­i­ng states a way to effec­tive­ly veto inter­state gas projects.
PennEast in 2018 sought to use the emi­nent domain power grant­ed to pipeline builders under the Natural Gas Act to con­demn 42 prop­er­ties that the state of New Jersey claims an inter­est in.
Most of that prop­er­ty involves ease­ments requir­ing land to be pre­served for recre­ation­al, con­ser­va­tion or agri­cul­tur­al uses. New Jersey's lawyers have said in court fil­ings that the state has spent con­sid­er­able effort and bil­lions of dol­lars to pre­serve open space and farm­land in the state.
In urging the Supreme Court to not hear the case, the state argues that the dis­pute does not present a sit­u­a­tion where fed­er­al appeals courts are split on how to inter­pret the law. The state's lawyers also say warn­ings about the appeals court ruling inter­fer­ing with future pipeline con­struc­tion are overblown.
And they note that the pipeline devel­op­ers face hur­dles beyond the case pend­ing before the Supreme Court in that they haven't received all of the required reg­u­la­to­ry approvals they need to build the pipeline. Conservationists are also fight­ing the project in court.
The 3rd Circuit ruling raised the pos­si­bil­i­ty of a workaround, where the fed­er­al gov­ern­ment could con­demn state prop­er­ty and then trans­fer it to pipeline builders in cir­cum­stances like the New Jersey case. But FERC has since said that it does not have any power to carry out this kind of emi­nent domain action.
PennEast is just one of the con­tro­ver­sial gas pipeline projects pend­ing in the east­ern U.S. The Trump admin­is­tra­tion has pro­mot­ed the con­struc­tion of pipelines and other fossil fuel-relat­ed devel­op­ment through­out the president's time in office.
In early June, the Environmental Protection Agency final­ized a rule that weak­ened the abil­i­ty states have to deny crit­i­cal approvals under the Clean Water Act that projects like pipelines and coal ter­mi­nals need in order to pro­ceed.
About two weeks later, the Supreme Court issued a 7 – 2 deci­sion that favored energy com­pa­nies in a per­mit­ting dis­pute that called into ques­tion whether they could con­struct a pipeline cross­ing under the Appalachian Trail on nation­al forest land in Virginia.
Enbridge Inc., South Jersey Industries Inc., New Jersey Resources, Southern Company Gas, and UGI Corporation are among the com­pa­nies back­ing the PennEast project.
There are now plans in the works to con­struct it in two phases, with a 68-mile seg­ment entire­ly in Pennsylvania con­struct­ed first and the New Jersey sec­tion com­plet­ed at a later time.