'Success Addicts' Choose Being Special Over Being Happy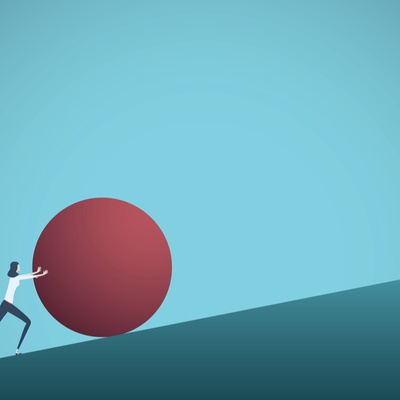 Imagine read­ing a story titled "The Relentless Pursuit of Booze." You would likely expect a depress­ing story about a person in a down­ward alco­holic spiral. Now imag­ine instead read­ing a story titled "The Relentless Pursuit of Success." That would be an inspir­ing story, wouldn't it?
Maybe — but maybe not. It might well be the story of some­one whose never-ending quest for more and more suc­cess leaves them per­pet­u­al­ly unsat­is­fied and inca­pable of hap­pi­ness.
Physical depen­den­cy keeps alco­holics com­mit­ted to their vice, even as it wrecks their hap­pi­ness. But arguably more pow­er­ful than the phys­i­cal addic­tion is the sense that drink­ing is a rela­tion­ship, not an activ­i­ty. As the author Caroline Knapp described alco­holism in her memoir Drinking: A Love Story, "It hap­pened this way: I fell in love and then, because the love was ruin­ing every­thing I cared about, I had to fall out." Many alco­holics know that they would be hap­pi­er if they quit, but that isn't the point. The deci­sion to keep drink­ing is to choose that intense love — twist­ed and lonely as it is — over the banal­i­ty of mere hap­pi­ness.
Though it isn't a con­ven­tion­al med­ical addic­tion, for many people suc­cess has addic­tive prop­er­ties. To a cer­tain extent, I mean that lit­er­al­ly — praise stim­u­lates the neu­ro­trans­mit­ter dopamine, which is impli­cat­ed in all addic­tive behav­iors. (This is basi­cal­ly how social media keeps people hooked: Users get a dopamine hit from the "likes" gen­er­at­ed by a post, keep­ing them coming back again and again, hour after mis­er­able hour.)
But suc­cess also resem­bles addic­tion in its effect on human rela­tion­ships. People sac­ri­fice their links with others for their true love, suc­cess. They travel for busi­ness on anniver­saries; they miss Little League games and recitals while work­ing long hours. Some forgo mar­riage for their careers — earn­ing the appel­la­tion of being "mar­ried to their work" — even though a good rela­tion­ship is more sat­is­fy­ing than any job.
[
Read: Workism is making Americans mis­er­able
]
Many schol­ars, such as the psy­chol­o­gist Barbara Killinger, have shown that people will­ing­ly sac­ri­fice their own well-being through over­work to keep get­ting hits of suc­cess. I know a thing or two about this: As I once found myself con­fess­ing to a close friend, "I would prefer to be spe­cial than happy." He asked why. "Anyone can do the things it takes to be happy — going on vaca­tion with family, relax­ing with friends … but not every­one can accom­plish great things." My friend scoffed at this, but I start­ed asking other people in my cir­cles and found that I wasn't unusu­al. Many of them had made the suc­cess addict's choice of spe­cial­ness over hap­pi­ness. They (and some­times I) would put off ordi­nary delights of relax­ation and time with loved ones until after this project, or that pro­mo­tion, when final­ly it would be time to rest.
But, of course, that day never seemed to arrive.
The desire for suc­cess may be inher­ent to human nature. The great American psy­chol­o­gist William James once noted, "We are not only gre­gar­i­ous ani­mals, liking to be in sight of our fel­lows, but we have an innate propen­si­ty to get our­selves noticed, and noticed favor­ably, by our kind." And suc­cess makes us attrac­tive to others (that is, until we ruin our mar­riages).
But spe­cial­ness doesn't come cheap. Apart from some real­i­ty-TV stars and other acci­den­tal celebri­ties, suc­cess is brutal work, and it requires sac­ri­fices. In the 1980s, the physi­cian Robert Goldman famous­ly found that more than half of aspir­ing ath­letes would be will­ing to take a drug that would kill them in five years in exchange for win­ning every com­pe­ti­tion they entered today, "from the Olympic decathlon to the Mr. Universe." Later research found that up to 14 per­cent of elite per­form­ers would accept a fatal car­dio­vas­cu­lar con­di­tion in exchange for an Olympic gold medal — still a shock­ing­ly high number, in my esti­ma­tion.
We can find this choice in ancient myth, as well. In Homer's Iliad, Achilles must decide whether to fight in the Trojan War — promis­ing cer­tain phys­i­cal death but a glo­ri­ous legacy — or return to his home to live a long and happy life with his loved ones but die in obscu­ri­ty. He describes his choice thusly:
That two fates bear me on to the day of death.
If I hold out here and I lay siege to Troy,
my jour­ney home is gone, but my glory never dies.
If I voyage back to the father­land I love,
my pride, my glory dies …
Achilles, suc­cess addict par excel­lence, choos­es death.
Unfortunately, suc­cess is Sisyphean (to mix my Greek myths). The goal can't be sat­is­fied; most people never feel "suc­cess­ful enough." The high only lasts a day or two, and then it's on to the next goal. Psychologists call this the hedo­nic tread­mill, in which sat­is­fac­tion wears off almost imme­di­ate­ly and we must run on to the next reward to avoid the feel­ing of falling behind. This is why so many stud­ies show that suc­cess­ful people are almost invari­ably jeal­ous of people who are more suc­cess­ful.
[
Read: Kids don't need to stay "on track" to suc­ceed
]
They should get off the tread­mill. But quit­ting isn't easy for addicts. For people hooked on sub­stances, with­draw­al can be an ago­niz­ing expe­ri­ence, both phys­i­cal­ly and psy­cho­log­i­cal­ly. Anxiety and depres­sion are very common after one quits alco­holic drink­ing, for exam­ple. Indeed, the nov­el­ist William Styron famous­ly cited the ces­sa­tion of his life­long heavy drink­ing as part of the onset of the clin­i­cal depres­sion he chron­i­cled in his book Darkness Visible: A Memoir of Madness. Some chalk this up to lone­li­ness in the absence of alco­hol — remem­ber, it's a rela­tion­ship.
Success addicts giving up their habit expe­ri­ence a kind of with­draw­al as well. Research finds that depres­sion and anx­i­ety are common among elite ath­letes after their careers end; Olympic ath­letes, in par­tic­u­lar, suffer from the "post-Olympic blues." I saw this with­draw­al all the time in my years as the pres­i­dent of a think tank in Washington, D.C. Prominent people in pol­i­tics and media would step back from the lime­light — some­times of their own voli­tion, some­times not — and suffer might­i­ly. They talked of vir­tu­al­ly noth­ing but the old days. Many suf­fered from depres­sion and anx­i­ety.
"Unhappy is he who depends on suc­cess to be happy," wrote Alex Dias Ribeiro, a former Formula 1 race-car driver. "For such a person, the end of a suc­cess­ful career is the end of the line. His des­tiny is to die of bit­ter­ness or to search for more suc­cess in other careers and to go on living from suc­cess to suc­cess until he falls dead. In this case, there will not be life after suc­cess."
American cul­ture val­orizes over­work, which makes it easy to slip into a mind­set that can breed suc­cess addic­tion. But if you've seen your­self in my descrip­tion, don't lose hope. There is plenty you can do to retrain your­self to chase hap­pi­ness instead of suc­cess, no matter where you are in your life's jour­ney. Let me sug­gest that you con­sid­er three steps, whether you are at the peak of your career, trying to work your way up the ladder, or look­ing at suc­cess in the rearview mirror.
The first step is an admis­sion that as suc­cess­ful as you are, were, or hope to be in your life and work, you are not going to find true hap­pi­ness on the hedo­nic tread­mill of your pro­fes­sion­al life. You'll find it in things that are deeply ordi­nary: enjoy­ing a walk or a con­ver­sa­tion with a loved one, instead of work­ing that extra hour, for exam­ple. This is extreme­ly dif­fi­cult for many people. It feels almost like an admis­sion of defeat for those who have spent their lives wor­ship­ping hard work and striv­ing to out­per­form others. Social com­par­i­son is a big part of how people mea­sure world­ly suc­cess, but the research is clear that it strips us of life sat­is­fac­tion.
The second step is to make amends for any rela­tion­ships you've com­pro­mised in the name of suc­cess. This is com­pli­cat­ed, obvi­ous­ly. "Sorry about choos­ing tedious board meet­ings — which I don't even remem­ber now — over your ballet recitals" prob­a­bly won't get the job done. More effec­tive is simply to start show­ing up. With rela­tion­ships, actions speak louder than words, espe­cial­ly if your words have been fairly empty in the past.
The last step is to find the right met­rics of suc­cess. In busi­ness, people often say, "You are what you mea­sure." If you mea­sure your­self only by the world­ly rewards of money, power, and pres­tige, you'll spend your life run­ning on the hedo­nic tread­mill and com­par­ing your­self to others. I sug­gest­ed better met­rics in the inau­gur­al "How to Build a Life" column, among them faith, family, and friend­ship. I also includ­ed work — but not work for the sake of out­ward achieve­ment. Rather, it should be work that serves others and gives you a sense of per­son­al mean­ing.
Success in and of itself is not a bad thing, any more than wine is a bad thing. Both can bring fun and sweet­ness to life. But both become tyran­ni­cal when they are a sub­sti­tute for — instead of a com­ple­ment to — the rela­tion­ships and love that should be at the center of our lives.
"How to Build a Life" is a biweek­ly column by Arthur C. Brooks, tack­ling ques­tions of mean­ing and hap­pi­ness.