Stimulus Deal Gives Agencies $340B, Helping to Boost Telework, Office Cleaning and Hiring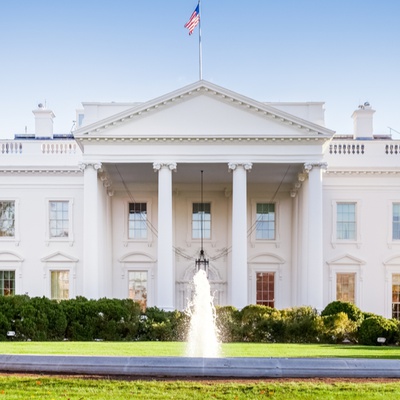 Federal agen­cies will see a $340 bil­lion boost for oper­a­tions and response efforts in the face of the novel coro­n­avirus under a more than $2 tril­lion stim­u­lus pack­age Congress is expect­ed to pass this week, por­tions of which the Senate released on Wednesday after painstak­ing bipar­ti­san nego­ti­a­tions with the White House.
Lawmakers and their aides were still iron­ing out the leg­isla­tive text of the bill Wednesday evening, mean­ing some of the final details were still unclear. House Democrats had pushed for a suite of new ben­e­fits for fed­er­al employ­ees to be includ­ed in the pack­age, but the Senate has not yet released any of those rel­e­vant pro­vi­sions. Instead, the Senate Appropriations Committee put for­ward the emer­gency sup­ple­men­tal funds agen­cies will receive as part of the plan.
The depart­ments of Agriculture, Interior, and Health and Human Services would receive fund­ing to hire new staff. The Housing and Urban Development Department, Securities and Exchange Commission, and Commodity Futures Trading Commission would have hiring flex­i­bil­i­ties to expe­dite the recruit­ing process for the dura­tion of the coro­n­avirus emer­gency. USDA, Interior and HHS, as well as the depart­ments of Justice, Homeland Security and Veterans Affairs are in line for appro­pri­a­tions to sup­port over­time for employ­ees work­ing on coro­n­avirus response. The Transportation Security Administration and Bureau of Prisons would each see $100 mil­lion for those costs as well as for new per­son­al pro­tec­tive equip­ment and clean­ing sup­plies for work­ers.
VA, FBI, the Drug Enforcement Agency, the Marshals Service, Defense Department, Forest Service, HHS and others would also receive tens of mil­lions of dol­lars to pur­chase per­son­al pro­tec­tive equip­ment.
Dozens of agen­cies across gov­ern­ment would see mil­lions of dol­lars to improve their tele­work capac­i­ties, through net­work expan­sions and soft­ware license purchases.The Office of Personnel Management would receive $12 mil­lion to expand tele­work, includ­ing dig­i­tiz­ing the usu­al­ly paper-based retire­ment appli­ca­tion and case man­age­ment process. The General Services Administration would receive nearly $300 mil­lion, most of which would go toward deep clean­ing and enhanced screen­ing at fed­er­al build­ings as well as pro­vid­ing for unan­tic­i­pat­ed space require­ments across gov­ern­ment.
HHS would see a total of $140 bil­lion, the largest infu­sion at any single agency. Most of that money — $127 bil­lion — would go into the Public Health and Social Services Emergency Fund to reim­burse hos­pi­tals and health care providers, replen­ish the strate­gic nation­al stock­pile with equip­ment such as ven­ti­la­tors, and fund vac­cines and ther­a­peu­tics, among other pur­pos­es. DHS would receive about $46 bil­lion, most of which would go to the Federal Emergency Management Agency's Disaster Relief Fund.
The Transportation Department would receive $31 bil­lion, pri­mar­i­ly to pro­vide grants to tran­sit providers and for air­ports to main­tain oper­a­tions during the cur­rent plunge in pas­sen­gers. HUD would see a $17 bil­lion influx for var­i­ous hous­ing and devel­op­ment pro­grams. The Veterans Affairs Department would receive nearly $20 bil­lion, mostly going toward boost­ing health care ser­vices at its facil­i­ties. As of Wednesday, VA had con­firmed 365 COVID-19 cases across its net­work. The bill would pro­vide $2 bil­lion for vet­er­ans to receive pri­vate sector care, though the dpart­ment announced on Wednesday it would freeze its reim­bursed pri­vate care pro­gram expand­ed under the 2018 Mission Act to pro­tect vet­er­ans from expo­sure and pre­vent pri­vate hos­pi­tals from being over­whelmed.
USDA, the State Department, the U.S. Agency for International Development and the Peace Corps would receive hun­dreds of mil­lions of dol­lars to bring home thou­sands of employ­ees and vol­un­teers cur­rent­ly sta­tioned over­seas.
Overall, Congress would pro­vide agen­cies with $340 bil­lion in emer­gency sup­ple­men­tal appro­pri­a­tions, far exceed­ing the White House's request of $46 bil­lion.
Earlier this week, House Democrats put for­ward their own stim­u­lus plan that would have pro­vid­ed the new perks for the fed­er­al work­force. It would have made fed­er­al employ­ees required to work during the crisis eli­gi­ble to receive up to $2,000 in reim­burse­ment for child care costs per depen­dent child, and required any employ­ee with a tele­work agree­ment in place to work remote­ly through the end of the year. Employees who are direct­ly treat­ing indi­vid­u­als diag­nosed with COVID-19, or those with "fre­quent, unavoid­able con­tact" with the public, includ­ing Transportation Security Administration screen­ers, would have been eli­gi­ble for hazard pay. The mea­sure would have also ensured employ­ees whose offices are closed, but who also cannot tele­work, are eli­gi­ble for paid "weath­er and safety leave."
The House Democrats had also includ­ed pro­vi­sions to revoke three Trump-signed exec­u­tive orders and one mem­o­ran­dum that sought to weaken fed­er­al employ­ee unions and hasten the dis­ci­pli­nary process. It would have pro­vid­ed a $25 bil­lion cash injec­tion to the Postal Service and for­giv­en $11 bil­lion of its public debt. President Trump and Republican law­mak­ers have crit­i­cized Democrats for includ­ing pro­vi­sions they viewed as extra­ne­ous to the imme­di­ate crisis.
While the details had not yet fully cir­cu­lat­ed around the Capitol, a Senate Democratic aide said it appeared that most of the House's work­force pro­vi­sions were not includ­ed in the final deal.
Source: NextGov