Sputnik: The Space Race's Opening Shot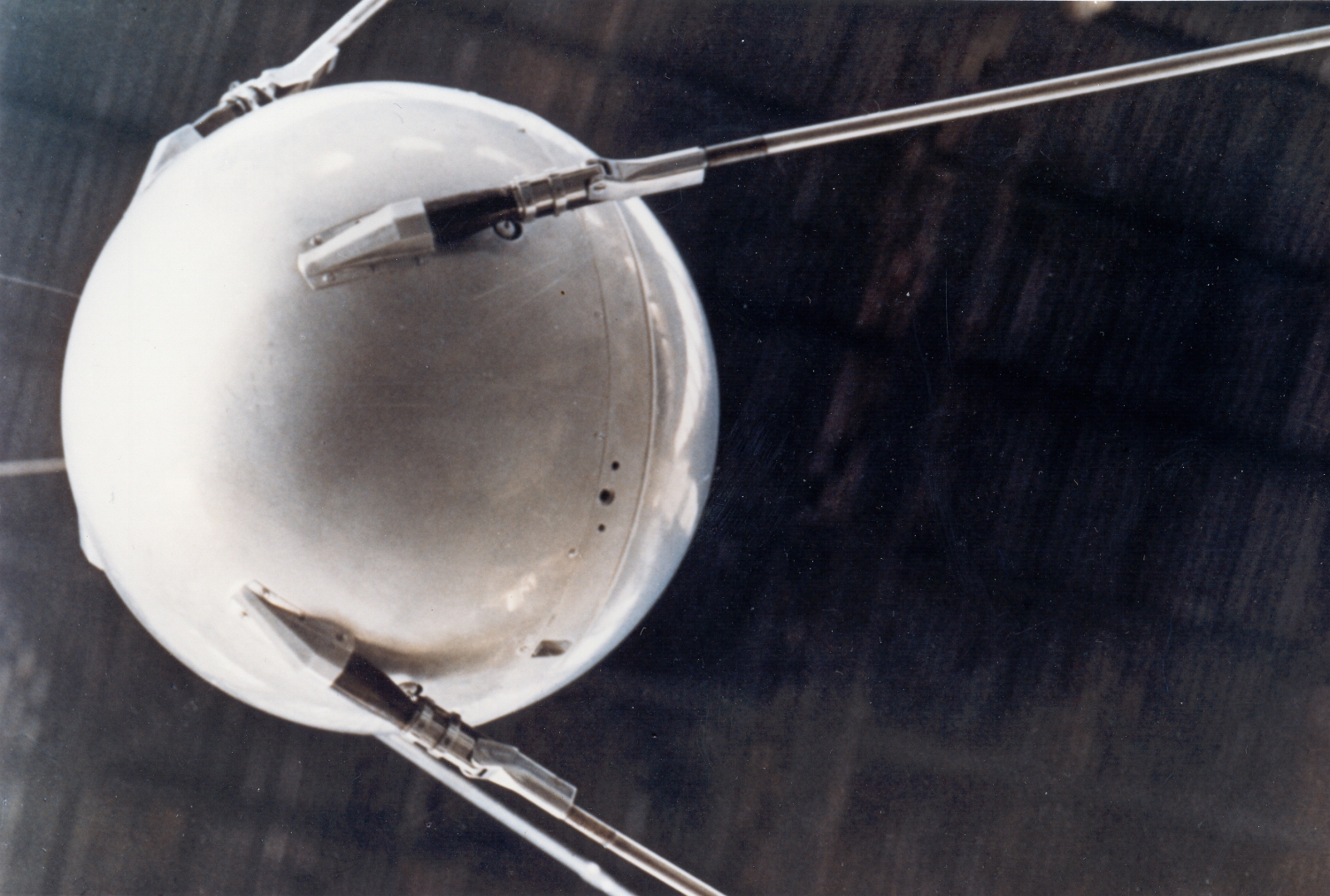 World Space Week 2020 will cel­e­brate the impact of satel­lites on human­i­ty from Oct. 4 to Oct. 10. Find out how to celebrate here and check out the his­to­ry of Sputnik, the Soviet satel­lite that kicked off the Space Age below!
With a single shot, the Soviet Union not only launched the first arti­fi­cial satel­lite but also offi­cial­ly inau­gu­rat­ed a "space race" with the United States.
Sputnik – some­times called Sputnik 1 – went into space on Oct. 4, 1957. The achieve­ment sent a shock­wave through the American public, who had felt a sense of tech­no­log­i­cal supe­ri­or­i­ty amid a post-war eco­nom­ic boom. Was the United States falling behind? Could Sputnik be a play on the part of the Soviets to put arms in space? Is space a worthy place to com­pete for world pres­tige? These were all questions Americans asked in the months fol­low­ing the beach ball-sized satel­lite's trip into Earth orbit.
"The American public felt echoes of the Japanese attack on Pearl Harbor less than 16 years before," NASA wrote on the 60th anniver­sary of Sputnik's launch in 2017. "Americans feared that the Soviets — whom they believed were behind the U.S. tech­no­log­i­cal­ly after the dev­as­ta­tion of World War II — could launch bal­lis­tic mis­siles armed with nuclear weapons at the United States."
Both nations were soon locked in a com­pe­ti­tion to reach mile­stones in space first.
Beginning of the space race
Both the Americans and the Soviet Union start­ed satel­lite devel­op­ment short­ly after World War II, according to Russian space expert Anatoly Zak on his web­site, Russian Space Web. The satel­lite projects took place under the back­drop of the Cold War, a lengthy time — from the late 1940s to at least the late 1980s, his­to­ri­ans gen­er­al­ly say — when rela­tions were tense between the Soviet Union and its allies and the United States and its allies (includ­ing the North Atlantic Treaty Organization).
The Soviets and the Americans worked on their rocket pro­grams with the help of sep­a­rate groups of German engi­neers. During World War II, the Germans had devel­oped bal­lis­tic mis­siles, which were used to lob attacks on London, so their exper­tise in rocket work was valu­able. At the war's end, both coun­tries scooped up as many of these rocket sci­en­tists as they could. The United States' most famous German engi­neer was Wernher Von Braun, who later was chief archi­tect of the Saturn V rocket that sent Apollo astro­nauts to the moon between 1968 and 1972.
In the United States, satel­lite devel­op­ment start­ed as early as 1945, when the Navy's Bureau of Aeronautics began work­ing on a satel­lite design to send aloft sci­en­tif­ic hard­ware; a year later, the RAND Corporation (under com­mis­sion from the Air Force) began research on a "World-Circling Space Ship" that could have taken a satel­lite into space as early as 1951, Zak wrote. However, Zak added, the U.S. admin­is­tra­tion ini­tial­ly had "little enthu­si­asm" for such projects, because they "were rest­ing on the lau­rels of per­ceived air force and nuclear suprema­cy in the Cold War with the USSR."
In the Soviet Union, the first rocket efforts came under the lead­er­ship of Mikhail Tikhonravov, Zak wrote. Tikhonravov was deputy chief of the top-secret NII‑4 research insti­tu­tion in Moscow, which was formed short­ly after World War II to start work on a Soviet satel­lite project. Tikhonravov's team's work drew little atten­tion when he made pre­sen­ta­tions on it within NII‑4 and at the Soviet Union's Academy of Artillery Sciences, but Tikhonravov per­sist­ed with the work.
However, Tikhonravov's efforts did get the atten­tion of Sergei Korolev, a famous Soviet rocket design­er who was work­ing on the R‑3 rocket. Korolev, Tikhonravov and others in the team con­tin­ued devel­op­ment and pre­sen­ta­tions through the early 1950s. In 1953, long-time Soviet leader Joseph Stalin died, and Nikita Khrushchev came to power. Khrushchev empha­sized rocket devel­op­ment as one of his poli­cies to show supe­ri­or­i­ty over the United States in aero­space, Zak said.
The Soviet Academy of Sciences and sev­er­al Soviet min­is­ters for­mal­ly approved the satel­lite pro­gram in 1954, laying the ground­work for more focused devel­op­ment, Zak said. The satel­lite project received even more sup­port after U.S. President Dwight Eisenhower announced in 1955 that the Americans would send a satel­lite into space during IGY, which lasted from July 1, 1957, to December 31, 1958. The Sputnik project was for­mal­ly approved by the Soviet min­istry on Jan. 30, 1956, also receiv­ing the per­son­al approval of Khrushchev a few weeks later. The Soviets con­tin­ued refin­ing their design for launch on an R‑7 rocket.
Compromise satellite
Sputnik ("trav­el­ing com­pan­ion" in Russian) was a silver sphere with four long anten­nas. It was about 22 inches (56 cen­time­ters) in diam­e­ter and weighed 183 lbs. (83 kilo­grams). Circling the Earth every 98 min­utes, it used a radio beacon that was able to pin­point spots on the Earth's sur­face. [Infographic: Sputnik: How the World's 1st Artificial Satellite Worked]
"Sputnik itself was nei­ther the satel­lite that the USSR [Soviet Union] had intend­ed to launch, nor was it built to sur­vive for very long," Smithsonian space his­to­ri­an Cathy Lewis reflected on the 60th anniversary of the launch. She said the Soviet plans for a "sophis­ti­cat­ed" satel­lite "fell by the way­side, while the Americans per­sist­ed in their deter­mi­na­tion to launch an exclu­sive­ly civil­ian satel­lite system."
Sputnik may have been a com­pro­mise, but in the eyes of the world it was a large feat. The beep­ing noise it played from space echoed in world­wide radio broad­casts, as well as on tele­vi­sion sets. The satel­lite con­tin­ued trans­mit­ting sig­nals for 22 days until its bat­ter­ies died; it fell back into the atmos­phere and was destroyed in early 1958. The upper stage of the rocket was vis­i­ble with the naked eye, Lewis added, while the satel­lite itself was vis­i­ble in tele­scopes.
U.S. response, and Sputnik's legacy
Even before the United States had a chance to launch its own satel­lite, the Soviets moved anoth­er step ahead. They launched Sputnik 2 on Nov. 3, 1957, car­ry­ing a dog, named Laika, on board. (In the United States, she was nick­named "Muttnik," accord­ing to NASA.) Since the early 1950s, both coun­tries had been launch­ing ani­mals into space — mainly mon­keys, chimps and dogs — in order to test their abil­i­ty to launch a living organ­ism into space and bring it back alive and unharmed.
Unfortunately, Laika's trip into space was one-way only. A re-entry strat­e­gy could not be worked out in time for the launch. It is unknown exact­ly how long Laika lived in orbit — per­haps a few hours or a few days — until the power to her life-sup­port system gave out. Sputnik 2 burned up in the upper atmos­phere in April 1958.
The United States' attempt to launch its satel­lite for IGY failed pub­licly on Dec. 6, 1957, while launch­ing the Vanguard TV3 satel­lite on board the Vanguard launch vehi­cle, Lewis said. So the Americans turned to a par­al­lel rocket devel­op­ment pro­gram at the Army's Ballistic Missile Agency, which includ­ed par­tic­i­pa­tion from von Braun. That project — Explorer 1 — suc­cess­ful­ly launched on board the Juno 1 rocket on Feb. 1, 1958. Explorer 1 dis­cov­ered the Van Allen Belts, a radi­a­tion field that sur­rounds the Earth.
Both the United States and the Soviet Union heav­i­ly invest­ed in space­craft devel­op­ment in the coming decade, send­ing robot­ic explor­ers to the moon, Venus, Mars in the 1960s. Eight more Sputnik satel­lites fol­lowed and sev­er­al other ani­mals were flown into space, test­ing out space­craft para­me­ters such as life sup­port and re-entry, and to help researchers better under­stand how the space envi­ron­ment (includ­ing radi­a­tion) would affect ani­mals and humans.
Both coun­tries start­ed astro­naut pro­grams as well. The first human in space also hap­pened to be Soviet — Yuri Gagarin, who launched on April 12, 1961. The first American, Alan Shepard, launched three weeks later on May 5. A race for astro­naut mile­stones quick­ly ensued, with the coun­tries com­pet­ing to be first to do things such as send­ing two people into space simul­ta­ne­ous­ly, send­ing three people into space simul­ta­ne­ous­ly, per­form­ing a space­walk, or dock­ing two space­craft in space.
The Soviet Union and the United States also devel­oped human moon pro­grams, but the Soviet Union aban­doned the effort after sev­er­al fail­ures of its moon rocket, the N-1. America's Apollo 11 touched down suc­cess­ful­ly on the moon's Sea of Tranquility on July 20, 1969, and Neil Armstrong was the first to alight on the sur­face. Meanwhile, the Soviet Union launched the first space sta­tion, Salyut 1, on April 19, 1971, and devel­oped exper­tise in long-term space­flight across sev­er­al space sta­tions — most notably, space station Mir of the 1980s and 1990s. Russian cos­mo­naut Valery Polyakov set a record on Mir for longest consecutive stay in space from January 1994 to March 1995, rack­ing up 438 days.
Eventually, the two coun­tries agreed to co-oper­ate in space­flight as the Cold War thawed and even­tu­al­ly dis­si­pat­ed. The first joint astro­naut flight between the nations was the Apollo-Soyuz project of 1975. After the Soviet Union dis­solved in 1991, the United States tasked NASA with sev­er­al space shut­tle flights to Mir, which was now run by Russia. Shuttle-Mir includ­ed having sev­er­al American astro­nauts live on the space sta­tion for months at a time. This pro­gram laid the ground­work for Russian and American coop­er­a­tion, which lives on today in the International Space Station pro­gram.
Additional resource