SpaceX's Toasted Crew Dragon Returns Home After Historic NASA Astronaut Splashdown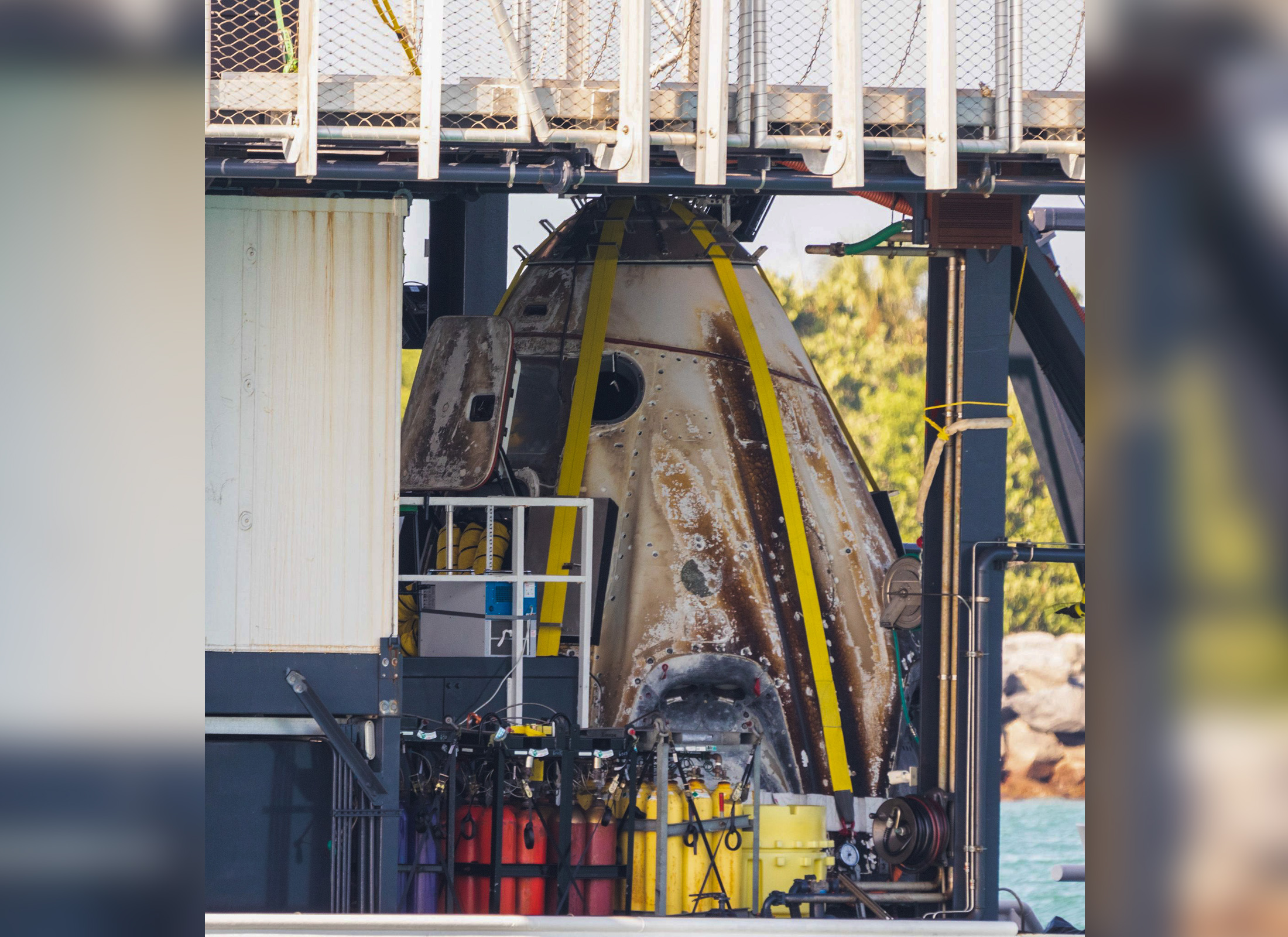 CAPE CANAVERAL, Fla. — SpaceX's Crew Dragon capsule cruised into its home port Friday evening (Aug. 7), secured to one of the company's recov­ery ves­sels.
Onlookers gath­ered at Jetty Park (while social dis­tanc­ing) in antic­i­pa­tion of the Crew Dragon's arrival after the capsule's historic splashdown on Aug. 2 that returned NASA astro­nauts Bob Benken and Doug Hurley to Earth. The mis­sion, SpaceX's first crewed flight, was NASA's first orbital crewed flight from U.S. soil since 2011.
Jetty Park — a pop­u­lar launch view­ing loca­tion — is locat­ed at the mouth of the port, and all marine traf­fic comes through this point. Typically packed with excit­ed space fans wait­ing to see a launch, Jetty Park has been closed during most of the pan­dem­ic, but recent­ly reopened in phases.
Related: 'It sounds like an animal': NASA astronauts describe Crew Dragon reentry
The SpaceX recov­ery ship car­ry­ing Crew Dragon, named GO Navigator, pulled into port just after 5:30 p.m. EST (2130 GMT) on Friday. Crew mem­bers on board the ship waved at onlook­ers as the vessel made its short trek through the chan­nel.
The ship and Crew Dragon were quick­ly moved into a U.S. Navy sub­ma­rine basin, where the vehi­cle would be offloaded and trans­port­ed to SpaceX's Cape Canaveral facil­i­ties. (Typically, when SpaceX's Falcon 9 rocket first stages arrive in port after land­ing on one of the company's drone ships, the boost­ers are towed to SpaceX's dock, fur­ther into the port).
Friday's arrival wrapped up SpaceX's historic first crewed mission, that began when astro­nauts Behnken and Hurley blast­ed off from Pad 39A at NASA's Kennedy Space Center on May 30. Just over two months ago, a shiny new Falcon 9 rocket, adorned with NASA's retro worm logo, lofted the cap­sule into orbit. Crew Dragon then spent about a day chas­ing down the International Space Station, before deliv­er­ing Behnken and Hurley to the orbit­ing out­post.
Full cov­er­age: SpaceX's historic Demo-2 Crew Dragon astronaut test flight
The duo spent a total of 63 days on sta­tion, assist­ing fellow NASA astro­naut, Chris Cassidy, with sta­tion main­te­nance, research exper­i­ments, and even a series of space­walks.
Crew Dragon depart­ed the space sta­tion Saturday evening (Aug. 1), splash­ing down off the coast of Pensacola, in the Gulf of Mexico at 2:48 p.m. EST (1848 GMT) on Sunday (Aug. 2). Recovery crews were wait­ing to pluck the cap­sule — its pre­vi­ous stark white exte­ri­or now resem­bling a toasted marshmallow — out of the water and haul it back to shore.
GO Navigator met the Dragon and hoist­ed the cap­sule aboard short­ly after splash­down. After a series of check­outs, recov­ery teams opened the craft's hatch at 3:59 p.m. EDT (1959 GMT), extract­ing the two astro­nauts about 10 min­utes later.
Once the astro­nauts were safely offloaded, GO Navigator began its jour­ney back to Port Canaveral. The craft sailed around the Florida penin­su­la, arriv­ing back at its home dock five days later. With the help of marine traf­fic sites, space enthu­si­asts were able to track Dragon on its jour­ney home.
In photos: A behind-the-scenes look at SpaceX's Crew Dragon spaceship
It was a bright, beau­ti­ful Florida after­noon as SpaceX's Dragon-toting vessel appeared on the hori­zon, it'' white paint gleam­ing in the sun­light. As the dis­tance between GO Navigator and her await­ing fans closed, Crew Dragon came into view. Peeking out from the stern of the ship, Dragon's scorched appear­ance was vis­i­ble as the vessel approached the Navy basin.
Once Dragon is offloaded, SpaceX engi­neers will take it apart so they can ana­lyze how it per­formed. The craft is sched­uled to fly again next spring, and this time with a crew of four. NASA offi­cials expect to cer­ti­fy the craft for regular astronaut flights as soon as the end of this month. That cer­ti­fi­ca­tion will green­light SpaceX's next crew of astro­nauts to fly on a long-dura­tion mis­sion to the space sta­tion.
In the mean­time, SpaceX's drone ship, Of Course I Still Love You, is expect­ed to return to port in a few days. Early Friday (Aug. 7), the com­pa­ny launched one of its Falcon 9 rockets, car­ry­ing a stack of Starlink satel­lites into space along with two small satel­lites for Black Sky Global.
Follow Amy Thompson on Twitter @astrogingersnap. Follow us on Twitter @Spacedotcom or Facebook.