SpaceX Encounters Problem Just Before Crew Dragon Parachute Test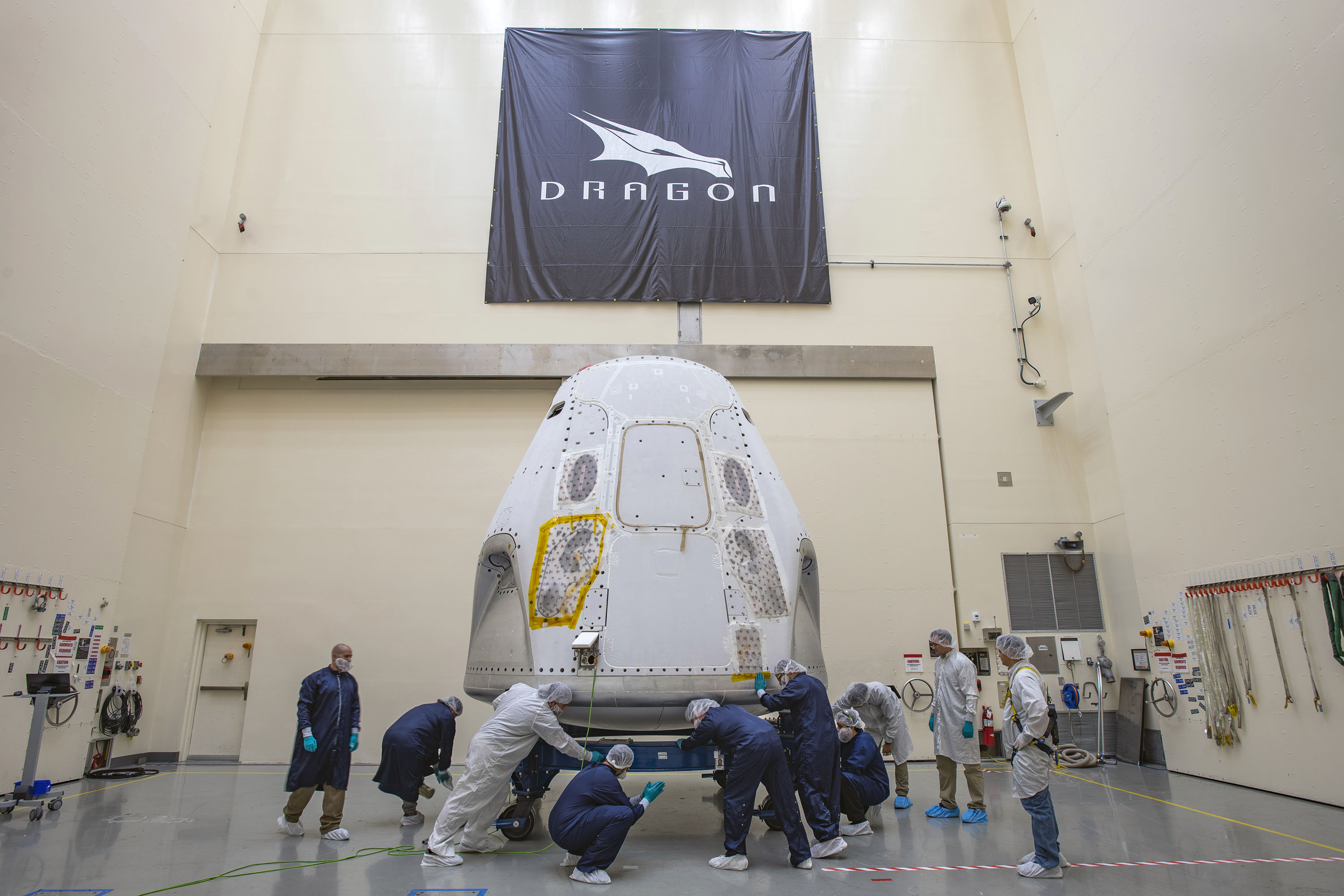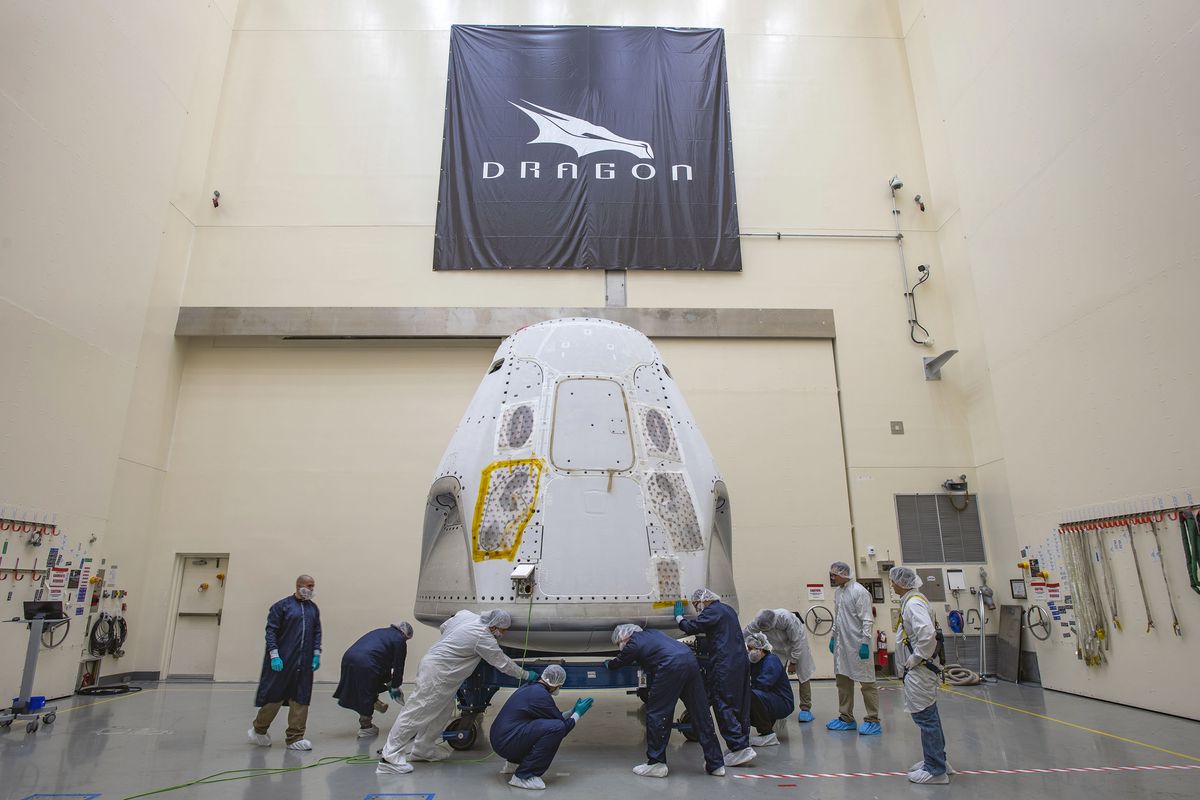 SpaceX just expe­ri­enced a hiccup in the lead-up to its first crewed flight.
The California-based com­pa­ny hauled a test arti­cle of its Crew Dragon cap­sule sky­ward with a heli­copter on Tuesday (March 24), to help prove out the vehi­cle's para­chute system ahead of the his­toric Demo‑2 mis­sion.
Demo‑2, which is cur­rent­ly sched­uled to launch in mid- to late May, will carry NASA astro­nauts Bob Behnken and Doug Hurley to the International Space Station (ISS). It will be the first crewed orbital flight to launch from U.S. soil since NASA's space shut­tle fleet retired in July 2011.
But the para­chutes never got a chance to show their stuff.
"During a planned para­chute drop test today, the test arti­cle sus­pend­ed under­neath the heli­copter became unsta­ble," SpaceX said Tuesday in an emailed state­ment.
"Out of an abun­dance of cau­tion and to keep the heli­copter crew safe, the pilot pulled the emer­gency release," the state­ment added. "As the heli­copter was not yet at target con­di­tions, the test arti­cle was not armed, and as such, the para­chute system did not ini­ti­ate the para­chute deploy­ment sequence. While the test arti­cle was lost, this was not a fail­ure of the para­chute system, and most impor­tant­ly, no one was injured. NASA and SpaceX are work­ing togeth­er to deter­mine the test­ing plan going for­ward in advance of Crew Dragon's second demon­stra­tion mis­sion."
Video: Watch SpaceX's Demo‑2 Crew Dragon spin in a crit­i­cal prelaunch test
SpaceX has been devel­op­ing Crew Dragon under mul­ti­ple NASA con­tracts, the most recent of which, a $2.6 bil­lion deal, was announced in September 2014. NASA signed a sim­i­lar, $4.2 bil­lion deal with Boeing at the same time to finish work on its crew cap­sule, called CST-100 Starliner.
As the SpaceX state­ment noted, Crew Dragon has already flown once. In March 2019, the cap­sule aced an uncrewed demon­stra­tion mis­sion to the ISS called Demo‑1. Starliner flew its ver­sion of Demo‑1, called Orbital Flight Test (OFT), this past December. But things didn't go as planned; Starliner failed to reach the ISS, cir­cling Earth by itself for two days before coming down for a safe land­ing in New Mexico. Subsequent analy­ses of OFT data have revealed sev­er­al Starliner soft­ware issues that Boeing must address, NASA offi­cials have said.
Yesterday's anom­aly was the second in a week that could affect the timing of Demo‑2. The other involved a Falcon 9 rocket, the work­horse SpaceX boost­er that launch­es Crew Dragon (and many other pay­loads).
On March 18, one of the nine engines on a Falcon 9 first stage suf­fered a prob­lem during the launch of 60 of the com­pa­ny's Starlink inter­net satel­lites. The rocket man­aged to deliv­er the satel­lites to orbit just fine; the Falcon 9 is designed to over­come engine fail­ures, SpaceX founder and CEO Elon Musk has stressed.
But SpaceX won't launch anoth­er Falcon 9 before con­duct­ing an anom­aly inves­ti­ga­tion, Musk said. And NASA is par­tic­i­pat­ing in that inves­ti­ga­tion.
The boost­er that expe­ri­enced the engine issue, by the way, was launch­ing for a record fifth time. (Extensive and rapid reuse is key to SpaceX's vision of slash­ing the cost of space­flight.) The Falcon 9 rock­ets that launch Crew Dragons with astro­nauts aboard will all be new vehi­cles.
Mike Wall is the author of "Out There" (Grand Central Publishing, 2018; illus­trat­ed by Karl Tate), a book about the search for alien life. Follow him on Twitter @michaeldwall. Follow us on Twitter @Spacedotcom or Facebook.