SpaceX Crew Dragon Undocks From Space Station to Bring NASA Astronauts Home for 1st Time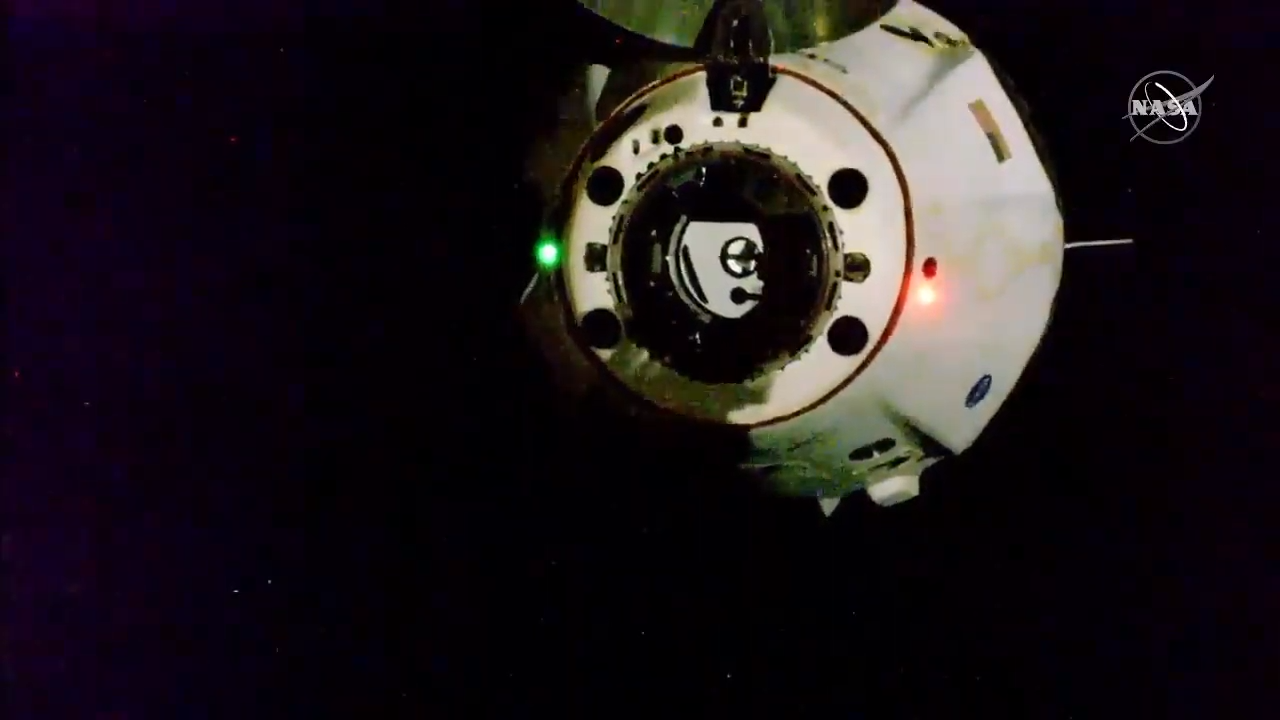 The first astro­nauts to fly in SpaceX's Crew Dragon space­craft are on their way back to Earth from the International Space Station.
NASA astro­nauts Bob Behnken and Doug Hurley, who spent about two months at the space sta­tion fol­low­ing the his­toric launch of the Demo‑2 mis­sion on May 30, climbed aboard their Crew Dragon space­craft today (Aug. 1) and began their 19-hour trip home with a smooth undock­ing at 7:35 p.m. EDT (2335 GMT). Both craft were sail­ing nearly 270 miles (430 kilo­me­ters) above Johannesburg, South Africa at the time.
"It's been a great two months and we appre­ci­ate all you've done as a crew to help us prove out Dragon on its maiden flight," Hurley told the sta­tion's crew just after undock­ing. "We look for­ward to splash­down tomor­row."
"Safe trav­els and have a suc­cess­ful land­ing," sta­tion com­man­der Chris Cassidy of NASA replied. He rang the a "ship's bell" on the sta­tion as they depart­ed. "Endeavour's a great ship. Godspeed."
Video: SpaceX Demo-2's Crew Dragon undocks from space station
Full cov­er­age: SpaceX's historic Demo-2 Crew Dragon astronaut test flight
Image 1 of 8
Image 2 of 8
Image 3 of 8
Image 4 of 8
Image 5 of 8
Image 6 of 8
Image 7 of 8
Image 8 of 8
The Crew Dragon space­craft, called Endeavour, should splash down off the coast of Pensacola, Florida on Sunday at approx­i­mate­ly 2:41 p.m. EDT (1841 GMT). But that land­ing site is not set in stone; NASA and SpaceX have select­ed seven dif­fer­ent pos­si­ble splash­down sites for the crew's return, with four sites locat­ed in the Gulf of Mexico and three off of Florida's east coast.
The ground teams select the splash­down site based on the local weath­er con­di­tions and other fac­tors, like the amount of time it will take Crew Dragon to reach the area and the time of day that a splash­down might occur. According to a NASA fact sheet, the teams will "pri­or­i­tize loca­tions which require the short­est amount of time between undock­ing and splash­down based on orbital mechan­ics, and splash­down oppor­tu­ni­ties that occur in day­light hours."
About six hours before splash­down — and five hours before the space­craft con­ducts a deor­bit burn that will send it plum­met­ing through the atmos­phere — NASA and SpaceX will decide whether the weath­er is accept­able for a water land­ing. You can watch the landing live here on Space.com, cour­tesy of NASA TV.
If the weath­er isn't good enough, NASA and SpaceX will post­pone the deor­bit burn until it's safe to land. The Endeavour cap­sule has three days' worth of sup­plies before it has to come home, NASA offi­cials have said.
Along with the two astro­nauts, there are 330 lbs. (150 kilo­grams) of cargo return­ing on the Crew Dragon. About 200 lbs. of that is sci­ence sup­plies, par­tic­u­lar­ly bio­log­i­cal sam­ples that have been packed away into freez­ers.
"These sam­ples are from a range of bio­log­i­cal research exper­i­ments on the sta­tion ded­i­cat­ed to improv­ing our under­stand­ing of how the human body adapts to micro­grav­i­ty or look­ing at ways to use space to improve life back here on Earth," NASA TV com­men­ta­tor Gary Jordan said in a live web­cast of the undock­ing.
The astro­nauts have also captured an American flag, one left on the sta­tion by NASA's last space shut­tle crew in July 2011 as a goal for the first com­mer­cial crew flight. They are also expect­ed to return a small plush Earth toy, called "Earthie," that arrived on SpaceX's first unpilot­ed Crew Dragon test flight Demo‑1 in 2019.
Behnken and Hurley are also bringing home Tremor the Apatosaurus, a toy dinosaur that the astro­nauts used as their zero‑g indi­ca­tor when they launched on May 30. The dinosaur was select­ed by Behnken's 6‑year-old son Theo and Hurley's son Jack, who is 10.
"As I look for­ward to head­ing back home for the splash­down, I do think that from a family per­spec­tive, my son and Doug's son are really excit­ed not only to get their fathers back but to get our apatosaurus, our 'zero‑g indi­ca­tor' that they nom­i­nat­ed to go with us on this his­toric mis­sion to the International Space Station," Behnken said early Saturday before undock­ing.
"So, for Jack and Theo, Tremor the Apatosaurus is headed home soon and he'll be with your dads," Behnken added. "You'll have to pick which one of us is your favorite."
Related: How NASA's Demo-2 astronauts will make a historic splashdown
If all goes well with Sunday's land­ing, SpaceX will be poised to start launch­ing oper­a­tional crewed mis­sions to the International Space Station later this year. The Demo‑2 mis­sion, as its name sug­gests, was only a test flight to demon­strate that SpaceX's new vehi­cle can safely ferry astro­nauts to and from orbit.
SpaceX's first oper­a­tional Crew Dragon mis­sion, called Crew-1, is cur­rent­ly sched­uled to launch in September, with four crewmem­bers on board: NASA astro­nauts Michael Hopkins, Victor Glover and Shannon Walker, and Japan's Soichi Noguchi.
Email Hanneke Weitering at hweitering@space.com or follow her @hannekescience. Follow us on Twitter @Spacedotcom and on Facebook.