SpaceX Crew Dragon Carrying NASA Astronauts to Depart Space Station Today. Here's How to Watch It Live.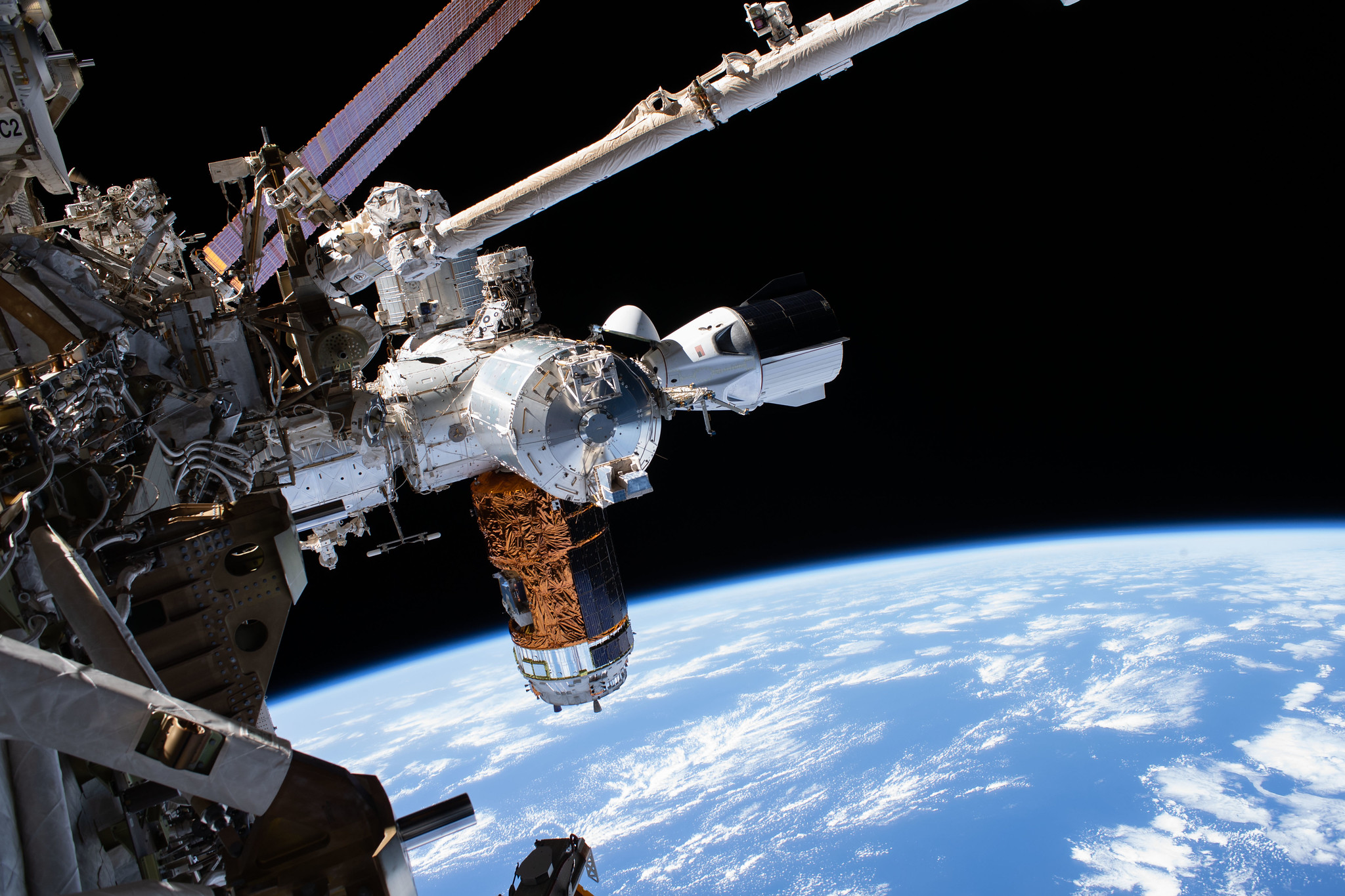 SpaceX's first Crew Dragon cap­sule to carry NASA astro­nauts will undock from the International Space Station tonight (Aug. 1), set­ting the stage for a his­toric week­end splash­down.
The SpaceX Crew Dragon cap­sule Endeavour is sched­uled to undock from the sta­tion tonight at 7:34 p.m. EDT (2334 GMT) as its Demo‑2 test flight enters its final stage. The space­craft is expect­ed to return to Earth with NASA astro­nauts Bob Behnken and Doug Hurley on Sunday (Aug. 2).
Behnken and Hurley are flying on SpaceX's first-ever crewed space­flight. They launched to the sta­tion May 30 and are expect­ed to spend just under a day in orbit before return­ing to Earth Sunday after­noon, NASA offi­cials said.
You can watch the SpaceX undocking live here and on Space.com's home­page, cour­tesy of NASA TV. You can also watch it directly from NASA here. NASA's web­cast will begin at 5:15 p.m. EDT (2115 GMT) tonight.
Full cov­er­age: SpaceX's historic Demo-2 Crew Dragon astronaut test flight
Image 1 of 3
Image 2 of 3
Image 3 of 3
The astro­nauts got an early start on their depar­ture with a farewell cer­e­mo­ny this morn­ing to mark the upcom­ing undock­ing.
"It's hard to put into words just what it was like to be a part of this Expedition 63," Hurley said of the last two months work­ing with the sta­tion's crew. "It'll be kind of a memory that will last a life­time for me."
Behnken said it's been a great test flight with SpaceX's Crew Dragon, the first com­mer­cial space­craft every to carry astro­nauts in orbit, but there's still a big trial ahead.
Launching into space may have been the hard­est part of this test flight, "but the most impor­tant part is bring­ing us home," Behnken said.
Behnken and Hurley, or "Bob and Doug" as they've been affec­tion­ate­ly dubbed by the public, launched to the space sta­tion May 30 as part of SpaceX's his­toric first crewed mis­sion to space. The launch, which is part of NASA's Commercial Crew Program, also marks the first crewed com­mer­cial mis­sion for NASA.
SpaceX's Demo‑2 mis­sion will con­clude with the crew's return to Earth, which will be the first U.S. splashdown in nearly 45 years. The pair of vet­er­an astro­nauts are set to splash down in the Gulf of Mexico off the coast of Panama City, Florida, one of seven options avail­able, at 2:42 p.m. EDT (1842 GMT) if weath­er con­di­tions are favor­able.
This could prove tricky, as the National Oceanic and Atmospheric Administration's (NOAA) National Hurricane Center is con­tin­u­ing to Hurricane Isais which is cur­rent­ly headed towards Florida.
NASA offi­cials have said they plan to make a final deci­sion on whether to pro­ceed with undock­ing about six hours before the event is sched­uled to occur. That will come at about 1:30 p.m. EDT (1730 GMT). The target land­ing site could also change depend­ing on weath­er con­di­tions, they added.
Related: SpaceX's historic Demo-2 crewed test flight in photos
A final land­ing site, and whether or not the splash­down will be delayed, will be decid­ed upon based on a number of key fac­tors includ­ing wind speed, the slope of the ocean waves, rain, light­ning, avail­abil­i­ty of nearby recov­ery heli­copters, the ves­sel's pitch and roll, the vis­i­ble ceil­ing and over­all vis­i­bil­i­ty.
Visit Space.com today for com­plete cov­er­age of the Crew Dragon land­ing.
Email Chelsea Gohd at cgohd@space.com or follow her on Twitter @chelsea_gohd. Follow us on Twitter @Spacedotcom and on Facebook.