Sorry, Trump: Why It's Pointless to Compare Coronavirus Cases Worldwide
Suppose we wanted to esti­mate how many car owners there are in the UK and how many of those own a Ford Fiesta, but we only have data on those people who vis­it­ed Ford car show­rooms in the last year. If 10% of the show­room vis­i­tors owned a Fiesta, then, because of the bias in the sample, this would cer­tain­ly over­es­ti­mate the pro­por­tion of Ford Fiesta owners in the coun­try.
Estimating death rates for people with COVID-19 is cur­rent­ly under­tak­en large­ly along the same lines. In the UK, for exam­ple, almost all test­ing of COVID-19 is per­formed on people already hos­pi­talised with COVID-19 symp­toms. At the time of writ­ing, there are 29,474 con­firmed COVID-19 cases (anal­o­gous to car owners vis­it­ing a show­room) of whom 2,352 have died (Ford Fiesta owners who vis­it­ed a show­room). But it misses out all the people with mild or no symp­toms.
Concluding that the death rate from COVID-19 is on aver­age 8% (2,352 out of 29,474) ignores the many people with COVID-19 who are not hos­pi­talised and have not died (anal­o­gous to car owners who did not visit a Ford show­room and who do not own a Ford Fiesta). It is there­fore equiv­a­lent to making the mis­take of con­clud­ing that 10% of all car owners own a Fiesta.
There are many promi­nent exam­ples of this sort of con­clu­sion. The Oxford COVID-19 Evidence Service have under­tak­en a thor­ough sta­tis­ti­cal analy­sis. They acknowl­edge poten­tial selec­tion bias, and add con­fi­dence inter­vals show­ing how big the error may be for the (poten­tial­ly highly mis­lead­ing) pro­por­tion of deaths among con­firmed COVID-19 patients.
They note var­i­ous fac­tors that can result in wide nation­al dif­fer­ences – for exam­ple the UK's 8% (mean) "death rate" is very high com­pared to Germany's 0.74%. These fac­tors include dif­fer­ent demo­graph­ics, for exam­ple the number of elder­ly in a pop­u­la­tion, as well as how deaths are report­ed. For exam­ple, in some coun­tries every­body who dies after having been diag­nosed with COVID-19 is record­ed as a COVID-19 death, even if the dis­ease was not the actual cause, while other people may die from the virus with­out actu­al­ly having been diag­nosed with COVID-19.
However, the models fail to incor­po­rate explic­it causal expla­na­tions in their mod­el­ling that might enable us to make more mean­ing­ful infer­ences from the avail­able data, includ­ing data on virus test­ing.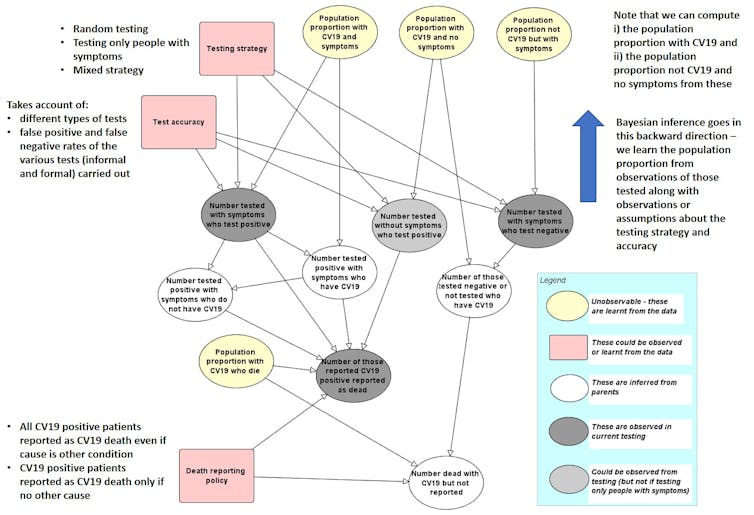 What a causal model would look like. Author pro­vid­ed
We have devel­oped an ini­tial pro­to­type "causal model" whose struc­ture is shown in the figure above. The links between the named vari­ables in a model like this show how they are depen­dent on each other. These links, along with other unknown vari­ables, are cap­tured as prob­a­bil­i­ties. As data are entered for spe­cif­ic, known vari­ables, all of the unknown vari­able prob­a­bil­i­ties are updat­ed using a method called Bayesian infer­ence. The model shows that the COVID-19 death rate is as much a func­tion of sam­pling meth­ods, test­ing and report­ing, as it is deter­mined by the under­ly­ing rate of infec­tion in a vul­ner­a­ble pop­u­la­tion.

Therefore, dif­fer­ent coun­tries may appear to have dif­fer­ent death rates, but only because they have applied dif­fer­ent sam­pling and report­ing poli­cies. It is not nec­es­sar­i­ly because they are man­ag­ing the virus any better or that the virus has infect­ed fewer or more people.
With a causal model that explains the process by which the data is gen­er­at­ed, we can better account for these dif­fer­ences between coun­tries. We can also more accu­rate­ly learn the under­ly­ing true pop­u­la­tion infec­tion and death rates from the observed data. Such a model could be extend­ed to include demo­graph­ic fac­tors, as well as social dis­tanc­ing and other pre­ven­tion poli­cies. We have devel­oped such models for many sim­i­lar prob­lems and are cur­rent­ly gath­er­ing data required for pop­u­lat­ing the kind of model that we out­line in the above figure.
Random test­ing
In the absence of com­mu­ni­ty-wide test­ing, only random test­ing applied through­out the pop­u­la­tion will enable us to learn about the number of people with COVID-19 who are asymp­to­matic or have already recov­ered. Only when we know how many people don't show symp­toms, will we know the under­ly­ing infec­tion and death rate. It will also enable us to learn about the accu­ra­cy of the tests (false pos­i­tive and false neg­a­tive rates).
Random test­ing there­fore remains the most effec­tive strat­e­gy to avoid selec­tion bias and reduce the dis­tor­tions in report­ed sta­tis­tics. Ideally, this should be com­bined with a causal model.
Currently it seems there are no state-wide pro­to­cols in place in any coun­try for ran­domised com­mu­ni­ty test­ing of cit­i­zens for COVID-19. Spain did attempt it. But that involved pur­chas­ing large vol­umes of rapid COVID-19 tests, and they soon dis­cov­ered that some Chinese-sourced tests had poor valid­i­ty and reli­a­bil­i­ty deliv­er­ing only 30% accu­ra­cy – result­ing in high num­bers of false pos­i­tives.
Countries like Norway have pro­posed intro­duc­ing such tests, but there is uncer­tain­ty around how to leg­isla­tive­ly compel cit­i­zens to test – and what might con­sti­tute an appro­pri­ate ran­domi­sa­tion pro­to­col. In Iceland, they have vol­un­tary sam­pling which has cov­ered 3% of the pop­u­la­tion, but this isn't random. Some coun­tries with large scale test­ing, like South Korea, might get closer to being random.
The reason it is so hard to achieve random test­ing is that you have to account for sev­er­al prac­ti­cal and psy­cho­log­i­cal fac­tors. How does one col­lect sam­ples ran­dom­ly? Gathering sam­ples from vol­un­teers may not be suf­fi­cient as it does not pre­vent self-selec­tion bias.
During the H1N1 influen­za pan­dem­ic of 2009 – 2010, there was a lot of anx­i­ety about the dis­ease that cre­at­ed "mass psy­chogenic ill­ness". This is when hyper­sen­si­tiv­i­ty to par­tic­u­lar symp­toms leads to healthy people self-diag­nos­ing as having a virus – mean­ing they would be highly incen­tivised to get tested. This could, in part, fur­ther con­tribute to false pos­i­tive rates if the sen­si­tiv­i­ty and speci­fici­ty of the tests are not fully under­stood.
While self-selec­tion bias is not going to be elim­i­nat­ed, it could be reduced by run­ning field tests. This could involve asking the public to vol­un­teer sam­ples in loca­tions where, even in a lock­down state, they might be expect­ed to attend and also from those in self-imposed iso­la­tion or quar­an­tine.
In any event, when sta­tis­tics are com­mu­ni­cat­ed at press con­fer­ences or in the media, their lim­i­ta­tions should be explained and any rel­e­vance to the indi­vid­ual or pop­u­la­tion should be prop­er­ly delin­eat­ed. It is this which we con­tend is lack­ing in the cur­rent crisis.

Norman Fenton, Professor of Risk and Information Management, Queen Mary University of London; Magda Osman, Reader in Experimental Psychology, Queen Mary University of London; Martin Neil, Professor in Computer Science and Statistics, Queen Mary University of London, and Scott McLachlan, Postdoctoral Researcher in Computer Science, Queen Mary University of London
This arti­cle is repub­lished from The Conversation under a Creative Commons license. Read the orig­i­nal arti­cle.
Image: Reuters