Social Reformers Challenge Malaysia's Islamic Hardliners Over Headwear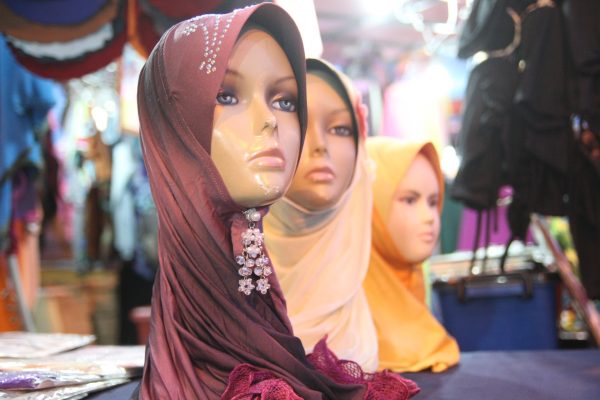 Under Taliban rule of Afghanistan in the late 1990s, the hard­line Islamic mili­tia weaponized the burqa, turn­ing the head-to-toe cov­er­ing — often referred to in the main­stream media as a potato sack for women — into a symbol of oppres­sion and con­trol.
The burqa was taxed, cost­ing more than an aver­age month's wage of about $30, so women were forced to share. Thus only one woman could afford to leave the home at any given time, and always accom­pa­nied by a male rel­a­tive.
But the burqa had its sup­port­ers, who argued the over­all with veiled holes was a status symbol for the middle class­es. It pro­tect­ed women from the sun.
They had whiter skin and this helped to dif­fer­en­ti­ate them from the peas­antry whose skin was darker from years of toil in the fields.
Their deci­sion, these sup­port­ers claimed, was based on choice.
But old argu­ments die hard, and 20 years later, hard­lin­ers in Malaysia are again demand­ing that Islamic women wear a hijab or tudung, which close­ly resem­bles a burqa, to sat­is­fy their designs on female fash­ion.
Malaysia does not war­rant com­par­isons with Afghanistan. It is a modern nation where women hold senior posi­tions in the judi­cia­ry, the cab­i­net and inter­na­tion­al busi­ness.
Traditionally, Malaysian Muslims have fol­lowed a mod­er­ate form of Islam. Many are happy to wear the tudung, cov­er­ing the neck, head and face if required, but it is not manda­to­ry under law.
But the advance of shari­ah law in parts of Malaysia and a rising Islamic con­ser­vatism have unnerved many, includ­ing the writer and activist Maryam Lee, who recent­ly made a name for her­self as a social reformer.
She argues that wear­ing a tudung should simply be a matter of choice.
"The real prob­lem here is that Islam has become an instru­ment of power and con­trol by Malay Muslim men," she told The Diplomat.
"Any devi­a­tion or chal­lenge to this is con­sid­ered a crim­i­nal offense, result­ing in con­se­quences that escape their imag­i­na­tion because they don't even allow women's voices/perspectives to be heard at the deci­sion-making level."
Her new book "Unveiling Choice" deals with just that, and as one critic wrote, Maryam is a woman "who agonized long and hard on the sub­jects that court­ed her her unde­served infamy."
"Until today, we still inher­ent­ly believe that women can never become ulamas or imams, because lead­er­ship roles are deemed exclu­sive to men," Maryam said.
"A lot of fatwas would be very dif­fer­ent if women were actu­al­ly given the oppor­tu­ni­ty to govern our own bodies," she said, adding this would not be favor­able for men in power.
Muslims make up about 61 per­cent of Malaysia's pop­u­la­tion, an absolute major­i­ty but still a long way short of the num­bers nec­es­sary to call itself an Islamic repub­lic as the Taliban once did. Christians, Hindus and Buddhists all make up siz­able minori­ties.
Yet, with con­ser­v­a­tive Islam on the rise across Malaysia, Muslims are increas­ing­ly exposed to inter­pre­ta­tions of shari­ah law in addi­tion to the reg­u­lar laws of the coun­try.
"I don't think con­ser­vatism is even the right word to use here," Maryam said.
"There is noth­ing wrong with 'con­ser­vatism' per se, what's wrong is when these values are con­sid­ered immutable in the eyes of the law, and the pos­si­bil­i­ty of crim­i­nal­iza­tion when we 'stray away' from these values."
Shariah courts can jail, fine and impose the lash for vio­la­tions of Islamic law, with inves­ti­ga­tions often launched from the Islamic Affairs Department in the cen­tral state of Selangor.
Public pres­sure is intense. Malaysian enter­tain­ers, sports stars and rights activists are often bullied for de-hijabing. The singer Zizi Kirana recently asked Malaysians "to stop bash­ing her on social media" after she decid­ed to stop wear­ing a tudung.
Maryam is also under inves­ti­ga­tion, ini­tial­ly for hold­ing a public forum on the sub­ject and again fol­low­ing the release of her book. The rea­sons were the same: poten­tial­ly insult­ing Islam.
"Malaysian Muslims are unfor­tu­nate­ly sub­ject­ed to arbi­trary rules like this due to our dual legal system," she said, adding that Muslims should be allowed to opt-out of the Shariah legal system.
She said there was no end date for such inves­ti­ga­tions, which can be re-opened when­ev­er the reli­gious author­i­ties see fit, "even if it's 10 or 20 years down the road."
"When women are not at places where we can make laws and poli­cies, soci­ety diverts — visu­al­ly and social­ly — fur­ther and fur­ther away from the idea that women have just as much rights as men.
"This 'invis­i­ble' effect on women is hard to mea­sure, par­tic­u­lar­ly in the eco­nom­ic sense, but I am sure it is not too dif­fi­cult to imag­ine how this can be destruc­tive," she said.
If only Malaysia's Islamic hard­lin­ers could see it that way.
Luke Hunt can be fol­lowed on Twitter @lukeanthonyhunt