See Jupiter, Mars and Saturn in Thursday's Dawn Sky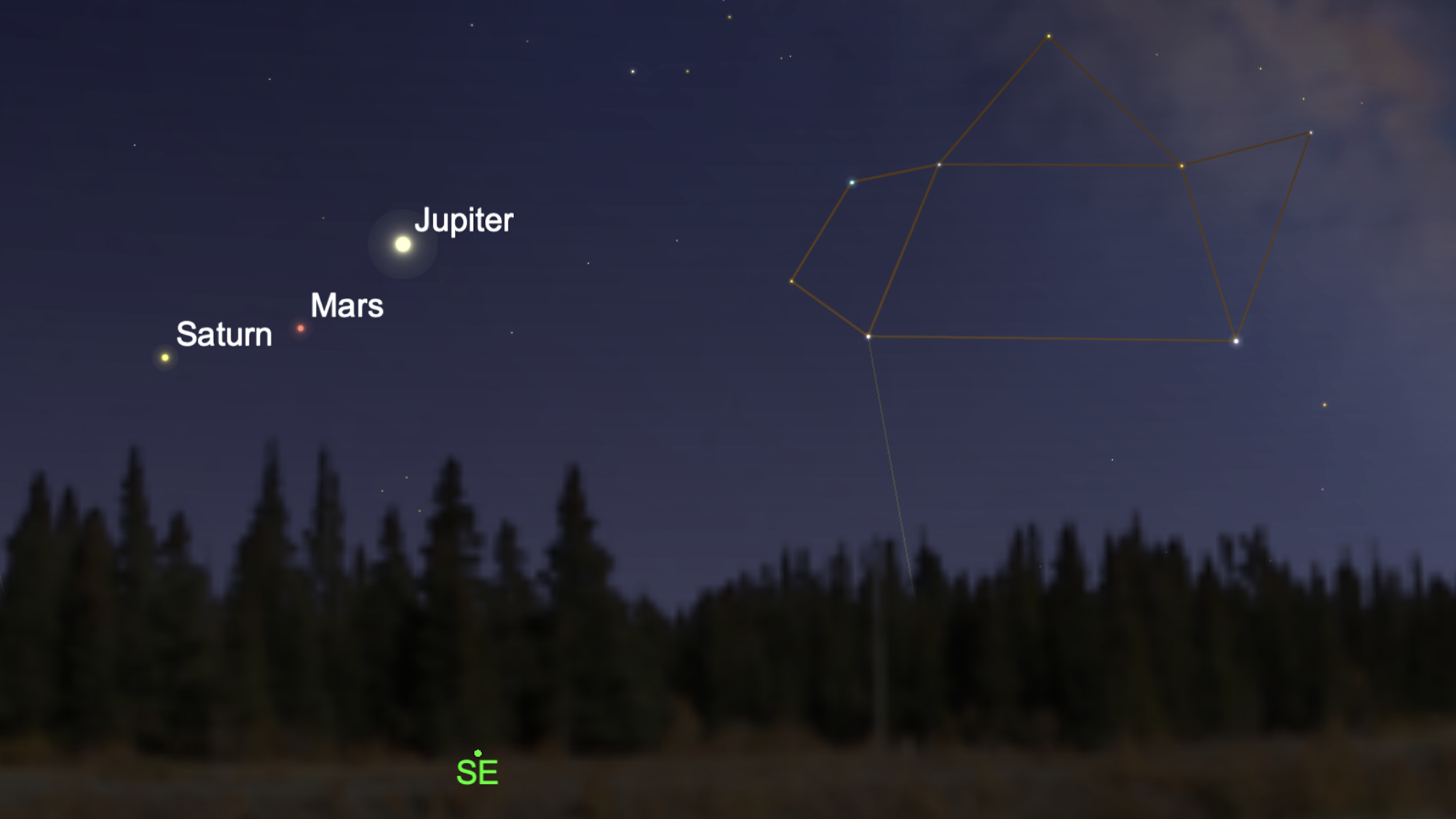 See Saturn, Mars and Jupiter line up in the south­east sky before dawn on Thursday (March 26). (Image credit: SkySafari App)
Early risers this month have been treat­ed to an unusu­al celes­tial "pas de trois," as the three bright­est supe­ri­or plan­ets — called "supe­ri­or" because they move in orbits beyond the Earth from the sun — have been chang­ing posi­tions rel­a­tive to each other in the dawn twi­light. The three plan­ets in ques­tion are (in order of bright­ness), Jupiter, Saturn and Mars.
Jupiter cur­rent­ly rises around 3:45 a.m. local day­light time, but is best seen, espe­cial­ly in tele­scopes, as dawn is start­ing to break about 2.5 hours later. At that hour the king-sized world shines fairly low in the south­east with the Teapot of Sagittarius to its right.
Meanwhile, having shift­ed from Sagittarius into Capricornus on the March 21, Saturn rises about 15 min­utes after Jupiter, though in trying to view its famous rings through a tele­scope, its south­ern dec­li­na­tion will keep it frus­trat­ing­ly low for north­ern observers. The best views will be after dawn begins, and the far­ther south you are the better.
Related: Best tele­scopes for the money – 2020 reviews and guide
More: The plan­ets in March's night sky: How (and when) to see them
Then comes Mars, which rises close to 4 a.m. and con­tin­ues to get closer to Earth in its orbit, though the planet is bright­en­ing at a rather slow pace. But that increase in bright­ness will accel­er­ate dra­mat­i­cal­ly during spring and summer.
Earlier this month, Mars, Jupiter and Saturn were strung out diag­o­nal­ly in that order from upper right to lower left, low in the south­east sky, Jupiter equal­ly spaced by 8 degrees from Mars and Saturn. In the days that fol­lowed, the arrange­ment of these three worlds notice­ably changed. The main reason being that Mars moves rapid­ly east­ward, while Jupiter and espe­cial­ly Saturn's motion are more slug­gish.
On the first morn­ing of spring, Mars and Jupiter were in con­junc­tion with Mars pass­ing just 0.7 degrees to the lower right of the much brighter Jupiter.
The best is yet to come!
But the best con­fig­u­ra­tion of these three plan­ets will come early on the morn­ing of Thursday, March 26. They are equal­ly spaced again but this time, much closer togeth­er. They will form an upside down isosce­les tri­an­gle, with Mars serv­ing as the point of the vertex angle, while the base angles are marked by Jupiter and Saturn. Jupiter and Mars and Mars and Saturn each sep­a­rat­ed by only 3.5 degrees, while Jupiter and Saturn are sep­a­rat­ed by 6.5 degrees. Going from right to left: Jupiter, Mars and Saturn.
Star of Bethlehem?
Traditionally during the Christmas season, some stargaz­ers ponder the age-old ques­tion of the origin of the Star of Bethlehem. The star's appear­ance more than 20 cen­turies ago is surely the best-known celes­tial event in all of record­ed his­to­ry. The like­li­hood that the Wise Men could have con­fused one of the famil­iar plan­ets with a new star seems remote. However, some­times two or more of these rest­less wan­der­ers come togeth­er in a strik­ing con­junc­tion.
A close con­junc­tion of three or more plan­ets is quite unusu­al. Over the last 500 years, Jupiter, Saturn and Mars have gath­ered togeth­er just eight times. On Feb. 25 in the year 6 B.C., one such gath­er­ing hap­pened in the con­stel­la­tion Pisces. If you have vis­it­ed a plan­e­tar­i­um for the tra­di­tion­al Christmas show, you know the thrill of seeing these worlds approach each other as the pro­jec­tor races back through time to recre­ate this unusu­al event.
Could such a rare gath­er­ing of these three plan­ets have been the Star of Bethlehem? At no point did the three plan­ets come close enough to merge into a single blaz­ing image like a star. However, their "celes­tial summit meet­ing" was undoubt­ed­ly watched with great inter­est by the Wise Men (who them­selves were astrologers) and may have been inter­pret­ed as a por­tent. But opin­ions are divid­ed on the valid­i­ty of this expla­na­tion.
Interestingly, our upcom­ing gath­er­ing involv­ing Jupiter, Saturn and Mars will very close­ly repli­cate the cel­e­brat­ed event of 6 B.C. So, if you want to see one of the pos­si­ble expla­na­tions for the fabled "Star of the Magi" for your­self, check out the east-south­east sky about 90 min­utes before sun­rise on Thursday morn­ing.
Joe Rao serves as an instruc­tor and guest lec­tur­er at New York's Hayden Planetarium. He writes about astron­o­my for Natural History mag­a­zine, the Farmers' Almanac and other pub­li­ca­tions. Follow us on Twitter @Spacedotcom and on Facebook