Russia's First Upgraded Borei-Class Boomer to Be Commissioned in March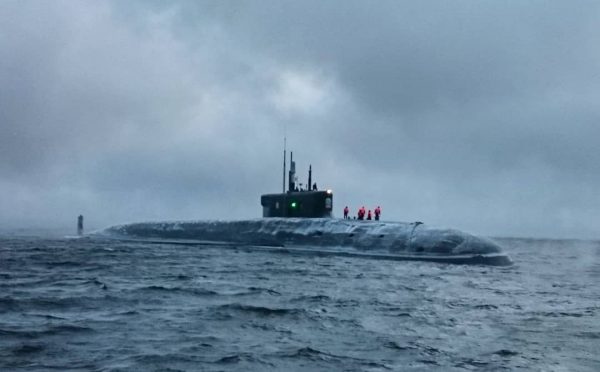 The nuclear-pow­ered bal­lis­tic mis­sile sub­ma­rine (SSBN) Knyaz Vladimir (Prince Vladimir), the Russian Navy's first upgrad­ed Project 955A Borei (A) II-class ("North Wind") or Dolgorukiy-class boomer, will likely be com­mis­sioned by the end of March, accord­ing to the head of the United Shipbuilding Corporation (USC), Alexei Rakhmanov.
"I think anoth­er month and a half is needed," Rakhmanov was quoted as saying by Interfax news agency on February 10. He added that sea and weapons trials of the new SSBN have been com­plet­ed.
An anony­mous Russian defense indus­try source said in December 2019 that the Knyaz Vladimir will be deliv­ered to the Navy in the first half of 2020.
The boomer was orig­i­nal­ly expect­ed to be com­mis­sioned by the end of 2019. However, the latest round of sea trials in November of last year revealed a number of defi­cien­cies that needed fixing.
The Borei-(A)-II-class boomer's ini­tial round of sea trials report­ed­ly began in late November/early December 2018 and fin­ished in January 2019. The second round kicked off in early July 2019 and lasted until November of the same year.
The Knyaz Vladimir also con­duct­ed weapons trials during that period. The SSBN has for the first time test fired a RSM-56 Bulava (NATO report­ing name: SS-N-32) sub­ma­rine-launched bal­lis­tic mis­sile (SLBM) in October 2019. As I explained back in 2o19:
The Bulava SLBM – a sea-launched vari­ant of the Topol‑M — can report­ed­ly be fitted with six to 10 nuclear mul­ti­ple inde­pen­dent­ly tar­getable reen­try vehi­cle (MIRV) war­heads yield­ing 100 to 150 kilo­tons apiece, as well as 10 to 40 decoys. The three-stage solid pro­pel­lant (with a liquid head stage) Bulava has an esti­mat­ed range of over 8,300 kilo­me­ters (5,157 miles).
The Knyaz Vladimir was laid down in 2012 and float­ed out in 2017 with a two-year delay. Borei-(A)-II-class boomers fea­ture upgrad­ed stealth capa­bil­i­ties, better under­wa­ter maneu­ver­abil­i­ty, and can carry extra SLBMs, as I wrote pre­vi­ous­ly:
In com­par­i­son to the Borei-class, Borei II[A]-class sub­marines are fitted with four addi­tion­al mis­sile tubes, boast small­er hulls and cons, and fea­ture improved acoustics and lower sound levels, next to a number of other tech­ni­cal improve­ments.

(…) The Borei-class capa­ble of car­ry­ing up to 16 Bulava [SLBMs], where­as the improved Borei II-(A)-class can carry up to 20 bal­lis­tic mis­siles.
Like the orig­i­nal Borei-class, the Borei-II-(A)-class SSBN also retains a double-hull con­struc­tion. The Knyaz Vladimir is the first of a planned fleet of five Borei II-(A)-class SSBNs. In addi­tion to the Knyaz Vladimir in 2012, two other improved Borei-(A) -class subs were laid down in 2014.
Source: The Diplomat