Russian Disinformation Networks Detailed in New State Department Report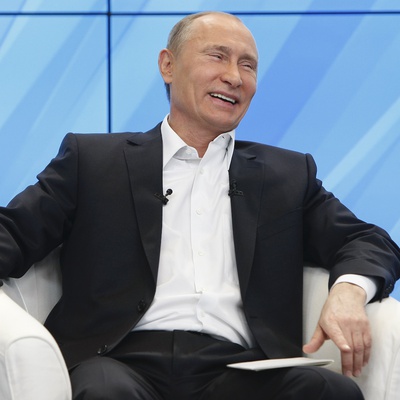 Russian dis­in­for­ma­tion appear­ing on English-lan­guage news web­sites spiked at the begin­ning of the coro­n­avirus pan­dem­ic, accord­ing to a new State Department report that reveals new details about how pro-Russian web­sites work with one anoth­er to ampli­fy spe­cif­ic sto­ries and nar­ra­tives.
Between February and April, sites that carry Russian dis­in­for­ma­tion and pro-Kremlin arti­cles may have reached as many as 350,000 read­ers per arti­cle from one site alone. A new report from the State Department's Global Engagement Center, which tracks for­eign influ­ence efforts, looks at how Russia uses a net­work of sites, and those sites' affil­i­a­tions with other online orga­ni­za­tions, to spread mis­lead­ing infor­ma­tion or infor­ma­tion that's designed to ampli­fy Kremlin talk­ing points.
"Senior Russian offi­cials and pro-Russian media sought to cap­i­tal­ize on the fear and con­fu­sion sur­round­ing the COVID-19 pan­dem­ic by active­ly pro­mul­gat­ing con­spir­a­cy the­o­ries. For exam­ple, they pro­mot­ed con­spir­a­cy the­o­ries cen­tered around false U.S. bioweapon infra­struc­ture. We observed five of the seven out­lets pro­mot­ing this nar­ra­tive across 30 arti­cles. On 20 February, New Eastern Outlook pub­lished an arti­cle in both Russian and English claim­ing that the U.S. deployed a bio­log­i­cal weapon against China," notes the report released on Wednesday.
The center's find­ings echo pre­vi­ous find­ings on Russian dis­in­for­ma­tion tac­tics to spread false infor­ma­tion and con­spir­a­cy the­o­ries around COVID-19 that Defense One has reported.
Four out­lets, Global Research (which the State Department has deter­mined has the most reach), New Eastern Outlook, SouthFront, and Strategic Culture Foundation, shared 141 arti­cles between two sites within the group during the period in ques­tion. "Of par­tic­u­lar note, Global Research re-posted 50 videos orig­i­nal­ly pub­lished by SouthFront. Because of this pat­tern of cross-post­ing con­tent, these four out­lets formed an espe­cial­ly inter­con­nect­ed set of nodes within the broad­er net­work of the seven web­sites exam­ined," said the State Department, in its report.
U.S. offi­cials esti­mate the size of Global Research's audi­ence as more than 12 mil­lion visits during the review time, ) with more than 4 mil­lion visits for Southfront, one mil­lion for the Strategic Culture Foundation; and 540,000 for New Eastern Outlook. Some of the sites are more spe­cif­ic than others in terms of target audi­ence, but there is over­lap. SouthFront, for instance, "com­bines Kremlin talk­ing points with detailed knowl­edge of mil­i­tary sys­tems and ongo­ing con­flicts. It attempts to appeal to mil­i­tary enthu­si­asts, vet­er­ans, and con­spir­a­cy the­o­rists, all while going to great lengths to hide its con­nec­tions to Russia," where­as New Eastern Outlook shares con­tent with the mil­i­tary-focused site Veterans Today, "whose man­ag­ing editor said NEO has been a 'won­der­ful part­ner' and described their coop­er­a­tion as 'a mar­riage made in heaven,'" the report says.
Michael Averko, who is listed as a contributor to the site Strategic Culture Foundation, also pub­lish­es in other sites and main­stream U.S. out­lets, push­ing pro-Kremlin talk­ing points and work­ing to under­mine the bipar­ti­san, intel­li­gence com­mu­ni­ty con­sen­sus on Russian inter­fer­ence in the 2016. He's been paying par­tic­u­lar atten­tion to the can­di­da­cy of former Deputy Assistant Secretary of Defense for Russia/Ukraine/Eurasia Evelyn Farkas, who served under Obama and is run­ning for Congress in New York's 17th District. In addi­tion to the Strategic Culture Foundation, Averko has also landed arti­cles tar­get­ing Farkas in The Yonkers Tribune. In July, Averko received a visit from FBI agents who asked about links between the Strategic Culture Foundation and Russian Intelligence. "The only ques­tion I answered was on whether the SCF has any ties to Russian mil­i­tary intel­li­gence. I answered by saying I can't say for sure and doubt it. I added that my impres­sion is that the SCF com­pris­es polit­i­cal­ly inter­est­ed Russians, who want to be involved with the issues they cover. I added that if anyone has issues with my com­men­tary, they should deal with it in a direct manner," he said in an unso­licit­ed email sent to Defense One and other recipients. (Defense One has not inde­pen­dent­ly ver­i­fied this claim.)
Cybersecurity com­pa­ny FireEye published a report on July 28 out­lin­ing a Russian dis­in­for­ma­tion group tar­get­ing east­ern Europe that rou­tine­ly poses as legit­i­mate jour­nal­ists, some­times by stealing the password credentials for legitimate news sites and then posing dis­in­for­ma­tion.
We are releas­ing report­ing on Ghostwriter, IO activ­i­ty focused on Poland, Lithuania, and Latvia, which lever­ages false nar­ra­tives and fab­ri­cat­ed con­tent often plant­ed on com­pro­mised media sites. The activ­i­ty is con­sis­tent with Russian inter­ests. 1/x https://t.co/qE19m4GYbn

— John Hultquist (@JohnHultquist) July 29, 2020
The extent of Russian dis­in­for­ma­tion going into the 2020 elec­tion remains hidden from the public, accord­ing to mul­ti­ple law­mak­ers who have been briefed by U.S. intel­li­gence offi­cials. On Tuesday, sen­a­tors were briefed on threats to the elec­tion during a clas­si­fied ses­sion. Sen. Richard Blumentha, D‑Conn, remarked on Twitter that he was "Shocked & appalled" by what he had seen. "From spying to sab­o­tage, Americans need to see & hear these reports," he said.
Shocked & appalled — I just left a 90 minute clas­si­fied brief­ing on for­eign malign threats to our elec­tions. From spying to sab­o­tage, Americans need to see & hear these reports.

— Richard Blumenthal (@SenBlumenthal) August 5, 2020
On Wednesday, the State Department announced that it was offer­ing a $10 mil­lion bounty for "infor­ma­tion lead­ing to the iden­ti­fi­ca­tion or loca­tion of any person who works with or for a for­eign gov­ern­ment for the pur­pose of inter­fer­ing with U.S. elec­tions through cer­tain ille­gal cyber activ­i­ties" through a pro­gram called Rewards for Justice.