Report on Iraq and U.S. Policy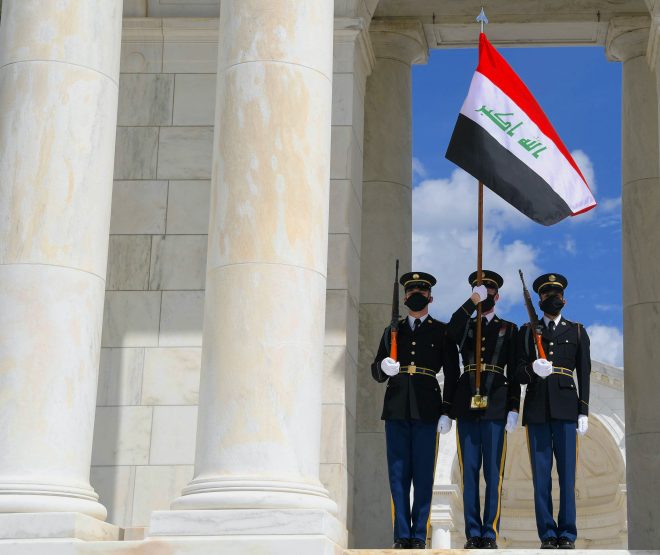 The fol­low­ing is the Sept. 29, 2020 Congressional Research Service In Focus report, Iraq and U.S. Policy
From the report
Al Kadhimi Government Facing Numerous Challenges
In May 2020, Iraq's par­lia­ment con­firmed Iraqi National Intelligence Service direc­tor Mustafa al Kadhimi as Prime Minister, and in June fin­ished con­fir­ma­tion of his cab­i­net mem­bers, bring­ing months of polit­i­cal dead­lock over gov­ern­ment lead­er­ship to a close. Upon taking office, Al Kadhimi declared that his gov­ern­ment would serve in a tran­si­tion­al capac­i­ty and would work to improve secu­ri­ty and fight cor­rup­tion while prepar­ing for early elec­tions. Iraqi author­i­ties have insti­tut­ed cur­fews and travel restric­tions in response to the Coronavirus Disease-2019 (COVID-19) pan­dem­ic, which threat­ens public health, the econ­o­my, and public finances.
Prime Minister Al Kadhimi's pri­or­i­ties include:
mobi­liz­ing resources to fight the COVID-19 pan­dem­ic;
"restrict­ing weapons to state and mil­i­tary insti­tu­tions";
address­ing what he calls "the worst eco­nom­ic sit­u­a­tion since the for­ma­tion of the Iraqi state"; and
"pro­tect­ing the sov­er­eign­ty and secu­ri­ty of Iraq, con­tin­u­ing to fight ter­ror­ism, and pro­vid­ing a nation­al vision on the future of for­eign forces in Iraq."
Al Kadhimi has called for early elec­tions in June 2021 under a revamped elec­toral system, but fiscal pres­sures, polit­i­cal rival­ries, and lim­it­ed insti­tu­tion­al capac­i­ty present seri­ous hur­dles to reform. A series of high pro­file assas­si­na­tions in 2020 of protest lead­ers and of a promi­nent secu­ri­ty researcher have inten­si­fied public scruti­ny of Al Kadhimi's cred­i­bil­i­ty and his government's abil­i­ty to act against armed groups oper­at­ing out­side state author­i­ty. Ongoing rocket and impro­vised explo­sive device (IED) attacks against U.S. and Iraqi facil­i­ties and con­voys fur­ther under­score these con­cerns. Islamic State insur­gents also remain active, espe­cial­ly in rural areas.
To date, Al Kadhimi's admin­is­tra­tion has focused on COVID-19 risks and respond­ing to relat­ed eco­nom­ic and fiscal fall­out. The Prime Minister vis­it­ed the United States in August 2020 for strate­gic dia­logue talks. Throughout September 2020, resur­gent reform demands from Iraqi activists and U.S. pres­sure for action against Iran-backed armed groups dom­i­nat­ed the policy agenda in Iraq, as COVID-19 infec­tion rates con­tin­ued to rise.
Download doc­u­ment here.