Reopening Schools Was Just an Afterthought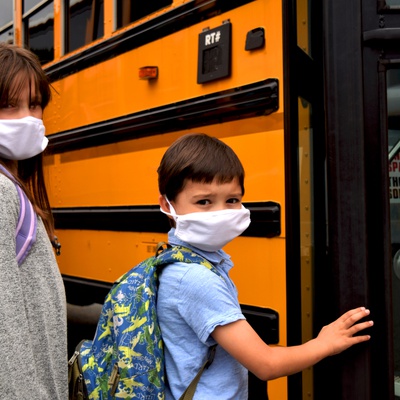 If American soci­ety is going to take one major risk in the name of reopen­ing, ide­al­ly it should be to send chil­dren back to school. This issue is per­son­al for me. I have three kids, one in col­lege and two in a local public high school. It's now early July, and we still have no idea whether or how they will be return­ing to class­es that, ordi­nar­i­ly, would resume just weeks from now. My children's summer has been idle. They have no jobs and not much summer pro­gram­ming to keep them busy. I try to con­vince myself they aren't miss­ing out on much. Hey, I grew up in the '80s, I think, and all we did during the summer was hang out at the beach. Most days, I make it to about 10 a.m. before I rouse them.
I'm lucky, at least in com­par­i­son with work­ing par­ents who have younger kids, because my teenagers are mostly coping and don't need me — or want me — to keep them occu­pied. Our stress­es as a family are merely those of incon­ve­nience, and we still find our cur­rent sit­u­a­tion unsus­tain­able. Parents who have no con­trol over their own work sched­ule are far worse off, as are younger chil­dren for whom an indef­i­nite absence from the class­room holds many dan­gers — the mental-health and emo­tion­al risks of long-term iso­la­tion, the greater like­li­hood of abuse and neglect going unde­tect­ed, the inter­net-access dis­par­i­ties that turn some of the most vul­ner­a­ble stu­dents into vir­tu­al dropouts.
In the past week or so, more and more Americans have sud­den­ly remem­bered that fall comes after summer. Recent head­lines have heaped scorn upon the values of a soci­ety that seem­ing­ly pri­or­i­tized inessen­tial busi­ness­es over schools. "We Have to Focus on Opening Schools, Not Bars," The New York Times declared. "Close the Bars. Reopen the Schools," a piece in Vox implored. The hash­tag #schools­be­fore­bars is trend­ing.
Reopening indoor bars — closed spaces where wear­ing masks and main­tain­ing social dis­tanc­ing are dif­fi­cult — was clear­ly a mis­take. Yet approx­i­mate­ly zero public offi­cials believe that let­ting adults drink is more impor­tant than edu­cat­ing kids, and any impli­ca­tion that reopen­ing bars and reopen­ing schools are rough­ly equiv­a­lent tasks badly under­states the enor­mous bar­ri­ers to the latter. From the government's per­spec­tive, the only thing bars need is per­mis­sion to reopen. Once they get it, owners and employ­ees can go back to work, and the money starts flow­ing.
Schools do not have a simple on-off switch. To reopen schools will not just take a lot of money. Classroom lay­outs, build­ings, poli­cies, sched­ules, extracur­ric­u­lar activ­i­ties, teacher and staff assign­ments, and even cur­ric­u­la must all be altered to min­i­mize the risk of coro­n­avirus trans­mis­sion. Stakeholders — includ­ing teach­ers' unions, scared par­ents, and the col­leges and uni­ver­si­ties that will some­day enroll a por­tion of the 50 mil­lion stu­dents in the nation's public K – 12 schools — all have inter­ests, some not easily avoid­ed or ignored by a gov­er­nor. Assigning a young, healthy high-school math teacher to sub­sti­tute for a second-grade read­ing teacher with chron­ic health con­di­tions — or invit­ing idle recent col­lege grad­u­ates to sign on as teach­ing assis­tants — might sound easy on paper; in real­i­ty, the reg­u­la­tions meant to ensure that adults in class­rooms are appro­pri­ate­ly trained and vetted to work with chil­dren are also imped­i­ments to making rapid per­son­nel moves in a crisis. Without clear direc­tion and sub­stan­tial finan­cial sup­port from the state or fed­er­al agen­cies, the eas­i­est course for school admin­is­tra­tors is to say noth­ing. According to a survey in mid-June, 94 per­cent of K – 12 super­in­ten­dents weren't ready to announce when or how their schools would reopen.
Two things need to happen before stu­dents can go back to school: First, Americans and their elect­ed rep­re­sen­ta­tives must con­scious­ly decide that children's needs are worth accept­ing some addi­tion­al risk. Second, states and com­mu­ni­ties must commit the money and effort nec­es­sary to rein­vent edu­ca­tion under rad­i­cal­ly changed cir­cum­stances. Even in states where case counts have plunged, doing what's right for chil­dren will require a mas­sive civic mobi­liza­tion.
The prob­lem isn't that policy makers — many of them par­ents too — don't know what fam­i­lies are going through. It's that, fun­da­men­tal­ly, the way public offi­cials thought about the con­se­quences of this crisis was flawed. Early in the pan­dem­ic, author­i­ties viewed the clo­sure of schools as essen­tial to pre­vent­ing the spread of a deadly new dis­ease. The fed­er­al gov­ern­ment and the states have no firm plans for restart­ing school in August and September because they had no such plans in February and March; public offi­cials simply didn't clas­si­fy edu­ca­tion as a cru­cial form of infra­struc­ture in need of pro­tec­tion.
The Department of Homeland Security iden­ti­fies 16 infra­struc­ture sec­tors as "so vital to the United States that their inca­pac­i­ta­tion or destruc­tion, would have a debil­i­tat­ing effect on secu­ri­ty, nation­al eco­nom­ic secu­ri­ty, nation­al public health or safety." Those sec­tors include agri­cul­ture, com­mu­ni­ca­tions, elec­tric­i­ty, finan­cial ser­vices, health care, trans­porta­tion sys­tems, water, and even dams. The offi­cial list guides how local, state and fed­er­al home­land-secu­ri­ty experts spend their time and resources. For each sector, a major fed­er­al agency is in charge of deter­min­ing the best way to pre­vent essen­tial func­tions from harm and sup­port their recov­ery if nec­es­sary. (Water secu­ri­ty falls under the Environmental Protection Agency, for exam­ple, and finan­cial ser­vices under the Department of the Treasury.)
Bars are not on the list of essen­tial sec­tors. But nei­ther are schools. The lin­ger­ing uncer­tain­ty about whether in-person edu­ca­tion will resume isn't the result of malfea­sance, but utter non­fea­sance.
Four months of stay-at-home orders have proved that, if schools are unavail­able, a city cannot work, a com­mu­ni­ty cannot func­tion, a nation cannot safe­guard itself. That the fed­er­al gov­ern­ment deemed schools a poten­tial health threat to be shut down during a pan­dem­ic — but not an essen­tial ser­vice — may reflect the American view of edu­ca­tion as a state and local matter. More likely, the omis­sion reflects a lack of imag­i­na­tion. In March, few fore­saw that the shut­down mea­sures would go on this long, and almost every­one assumed that the U.S. gov­ern­ment in par­tic­u­lar would spend the time far more wisely.
While Americans closed down their busi­ness­es in the name of flat­ten­ing the curve, President Donald Trump pitted states against one anoth­er and drummed up oppo­si­tion to public-health guid­ance. Had he done his job prop­er­ly, the gov­er­nors who spent March and April trying to outbid one anoth­er for masks and ven­ti­la­tors could have devot­ed more energy to edu­ca­tion. Had Trump implored his sup­port­ers to wear masks and be patient, case counts might well be drop­ping across the coun­try. Instead, as many states expe­ri­ence an upswing in cases, plans to remake the edu­ca­tion system — con­tem­plat­ing changes of a mag­ni­tude that would ordi­nar­i­ly take years to imple­ment — are just now being writ­ten.
In my work in secu­ri­ty and dis­as­ter man­age­ment, I have advised a number of public and pri­vate enti­ties about how to move for­ward during a pan­dem­ic. I am cur­rent­ly part of a con­sult­ing team advis­ing the state of Massachusetts, where I live, specif­i­cal­ly on its school reen­try plans. As my chil­dren sleep in day after day, and their mem­o­ries of their most recent in-person class­es grow hazier and hazier, I am des­per­ate for my state to reopen schools and hope it gets the details right. Massachusetts seems to have weath­ered one of the nation's worst out­breaks rea­son­ably well; infec­tion rates have declined to the point that — with pro­to­cols in place to pro­tect chil­dren, teach­ers, and staff — stu­dents might be able to go back to at least some normal class­es. The harm they face from stay­ing home is enor­mous. I would accept addi­tion­al risk for the good of my three teenagers, and chil­dren younger than them would ben­e­fit even more from being in school.
The notion that schools can't open again to stu­dents until a vac­cine arrives should not be the guid­ing moral stan­dard. The vac­cine may never come, and the many other nations that han­dled their out­breaks far more suc­cess­ful­ly than the U.S. can show Americans what to do and what not to do when reopen­ing schools. Americans must learn to manage around the virus, to mit­i­gate its poten­tial for spread. Fall isn't far off, and school sys­tems nation­wide need to make up for lost time. A bar doesn't need a groundswell of public sup­port to reopen, but schools most cer­tain­ly do.
This arti­cle orig­i­nal­ly appeared in The Atlantic.