Renewing America's Commitment to the Indo-Pacific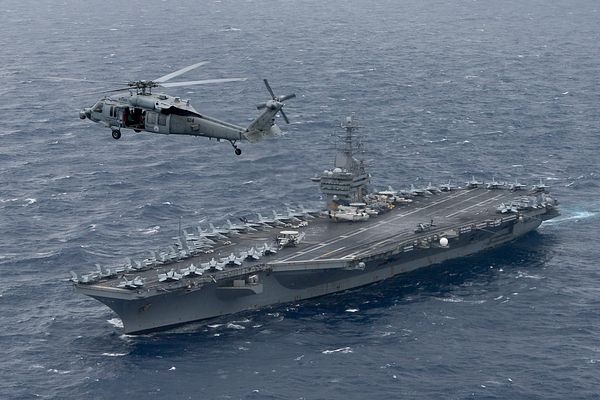 As China brash­ly tries to impose its own system of rules and order in the Pacific, the United States and our allies in the Indo-Pacific con­front a time for choos­ing. We must choose to advance our vision for a free and open Indo-Pacific. We must choose to ensure the suc­cess of the prin­ci­ples of region­al and global order that remain essen­tial to our shared secu­ri­ty and pros­per­i­ty. These are dif­fi­cult choic­es that will come at increas­ing­ly greater cost. Beijing will do its best to make sure that the right choice and the easy choice are never the same, but we believe Americans and our allies are up to the task.
For instance, U.S. allies like Australia are already making the tough choic­es, while brav­ing Beijing's blus­ter and bul­ly­ing. By stand­ing by its calls for an inde­pen­dent inquiry into the ori­gins of the coro­n­avirus and by remain­ing open to trade while refus­ing to trade away fun­da­men­tal values, Australia has set a proud exam­ple for all the world. As Beijing lashes out across the region from the Himalayan Mountains to the South China Sea, Australia's actions serve as a reminder for our other allies that in a free and open Indo-Pacific, right makes might — and not the other way around.
Australia should not be alone in this effort. The United States stands with our allies, and we are pre­pared to make our own tough choic­es.
In the United States, we have seen how even in the most ran­corous polit­i­cal times, Republicans and Democrats have joined togeth­er to renew the country's com­mit­ment to the Indo-Pacific region, like when the Asia Reassurance Initiative Act (ARIA) became law in December 2018. As was stated in the U.S. Department of Defense Indo-Pacific Strategy Report, released in July 2019: "This leg­is­la­tion enshrines a gen­er­a­tional whole-of-gov­ern­ment policy frame­work that demon­strates U.S. com­mit­ment to a free and open Indo-Pacific region and includes ini­tia­tives that pro­mote sov­er­eign­ty, rule of law, democ­ra­cy, eco­nom­ic engage­ment, and region­al secu­ri­ty."
In the coming days, the U.S. Senate will take the next step toward renew­ing the country's com­mit­ment to the Indo-Pacific region by pass­ing the National Defense Authorization Act for Fiscal Year 2021, which estab­lish­es a new Pacific Deterrence Initiative that will com­ple­ment ARIA and imple­ment its vision of a more robust U.S mil­i­tary pres­ence in the Indo-Pacific. This ini­tia­tive will enhance the secu­ri­ty com­mit­ments set forth in ARIA, and help guide Congress and the Pentagon in making the tough choic­es nec­es­sary to pri­or­i­tize the Indo-Pacific and extend crit­i­cal deter­rence ini­tia­tives to check our adver­saries.
Last year, a sem­i­nal report from the United States Studies Centre (USSC) at the University of Sydney pro­vid­ed one of the clear­est expla­na­tions of why the need for the Pacific Deterrence Initiative is both real and urgent. The report shows how China is attempt­ing to "under­cut America's mil­i­tary pri­ma­cy" and "sowing doubt about Washington's secu­ri­ty guar­an­tees in the process." In the face of this devel­op­ment, the report describes an "increas­ing­ly wor­ry­ing mis­match between America's strat­e­gy and resources," espe­cial­ly in the Indo-Pacific. Even as "America's mil­i­tary ser­vices have start­ed to imple­ment much-needed changes," the report warns, it's not clear that America will have the "bud­getary capac­i­ty or strate­gic focus to deliv­er these in a robust and timely way." We share these con­cerns, and the Pacific Deterrence Initiative is designed explic­it­ly to address them.
First, the Pacific Deterrence Initiative will enhance bud­getary trans­paren­cy and con­gres­sion­al over­sight by orga­niz­ing our defense budget around crit­i­cal Indo-Pacific pri­or­i­ties. The ini­tia­tive will make it easier to trans­late region­al pri­or­i­ties into budget pri­or­i­ties, and ensure that secu­ri­ty require­ments are being matched with the nec­es­sary resources.
Second, the Pacific Deterrence Initiative will focus resources on key capa­bil­i­ty gaps to give U.S. forces every­thing they need to com­pete, fight, and win in the Indo-Pacific. The ini­tia­tive would focus new resources in many of the areas rec­om­mend­ed by the USSC report, includ­ing a more dis­trib­uted region­al defense pos­ture, resilient logis­tics net­works, fuel and muni­tions stor­age, mis­sile defens­es for U.S. bases, and more exper­i­men­ta­tion to test and prove new oper­a­tional con­cepts.
Third, con­sis­tent with ARIA pro­vi­sions, the Pacific Deterrence Initiative will pri­or­i­tize coop­er­a­tion with allies and part­ners across the Indo-Pacific. The ini­tia­tive will increase secu­ri­ty assis­tance for our region­al allies and part­ners, and invest in inter­op­er­abil­i­ty. In the future, we expect the ini­tia­tive will pro­vide resources to sup­port new mech­a­nisms for deep­en­ing region­al defense coop­er­a­tion, includ­ing multi­na­tion­al fusion cen­ters and joint train­ing and exper­i­men­ta­tion.
Fourth, and final­ly, the Pacific Deterrence Initiative will help pre­serve peace in the Indo-Pacific by bol­ster­ing cred­i­ble deter­rence. The ini­tia­tive will focus resources on efforts to deny our adver­saries the pos­si­bil­i­ty of a quick, easy, or cheap vic­to­ry. By inject­ing uncer­tain­ty and risk into the cal­cu­la­tions of our adver­saries, we can dis­cour­age them from choos­ing the path of aggres­sion.
The Pacific Deterrence Initiative is by no means a cure-all. After all, achiev­ing cred­i­ble deter­rence in the Indo-Pacific region is not America's task alone. It can only be real­ized through a col­lec­tive effort with our allies and part­ners such as Australia. Moreover, the chal­lenges we face today are not lim­it­ed to, or even pri­mar­i­ly, mil­i­tary in char­ac­ter. As ARIA empha­sized, we must also step up our diplo­mat­ic and eco­nom­ic secu­ri­ty efforts while remain­ing true to our values. Nonetheless, we hope the Pacific Deterrence Initiative will serve as anoth­er demon­stra­tion to our mates in Australia, as well as our other allies and part­ners in the Indo-Pacific, that America's com­mit­ment to the region remains bipar­ti­san and endur­ing.
Jim Inhofe and Cory Gardner are U.S. Senators.