Religious Minorities in 'Naya Pakistan'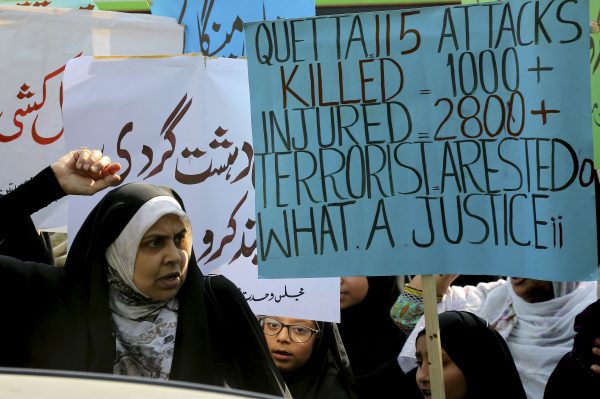 "I want to warn our people that anyone in Pakistan tar­get­ing our non-Muslim cit­i­zens or their places of wor­ship will be dealt with strict­ly. Our minori­ties are equal cit­i­zens of this coun­try," declared Pakistani Prime Minister Imran Khan on February 26, 2020.
The cur­rent ruling Pakistan Tehreek-e-Insaf (PTI) gov­ern­ment, under the lead­er­ship of Khan, vowed in their 2018 elec­tion manifesto that "PTI will pro­tect the civil, social and reli­gious rights of minori­ties; their places of wor­ship, prop­er­ty and insti­tu­tions as laid down in the Constitution." Among the list of promis­es for a "Naya Pakistan," there were two impor­tant vows that still require the government's atten­tion: ensur­ing equal jus­tice and pro­tect­ing minori­ties from vio­lence, hate speech, and dis­crim­i­na­tion.
Throughout 2019, Pakistan was mostly pre­oc­cu­pied with a con­sti­tu­tion­al crisis and civil-mil­i­tary rela­tions. However, behind the scenes, the state of reli­gious free­dom remained under con­stant threat. Religious minori­ties con­tin­ued to face dis­crim­i­na­tion and per­se­cu­tion, such as misuse of the anti-blas­phe­my law, forced con­ver­sions of non-Muslims girls, and enforced dis­ap­pear­ances. Before form­ing the gov­ern­ment, Khan promised, in par­tic­u­lar, the pro­tec­tion of minori­ties and equal jus­tice to every cit­i­zen regard­less of one's faith and eth­nic­i­ty. By list­ing the anti-minor­i­ty inci­dents that have taken place since August 2018, when the PTI came into power, this arti­cle seeks to remind the gov­ern­ment of what it has promised to its voters — specif­i­cal­ly mem­bers of reli­gious minori­ties.
This write­up pro­vides a 17-month review of the PTI's per­for­mance specif­i­cal­ly focus­ing on the state of free­dom of reli­gion or belief (FoRB). It covers events that took place from August 18, 2018 through February 29, 2020.
Pakistan is cul­tur­al­ly, eth­ni­cal­ly, lin­guis­ti­cal­ly, and religiously diverse. Muslims con­sti­tute 96.28 per­cent of the country's pop­u­la­tion, where­as Christians are 1.59 per­cent and Hindus 1.60 per­cent. Among Muslims, minor­i­ty sects include Shias, Ismailis, Ahmadis, and Bohris. Shias make up a size­able pro­por­tion of the Muslim pop­u­la­tion, rough­ly 15 to 20 per­cent; the Ahmadiyya com­mu­ni­ty con­sti­tutes just 0.22 per­cent. However, this figure could easily be con­test­ed as many fol­low­ers of the Ahmadiyya faith do not pub­licly iden­ti­fy them­selves as Ahmadis due to fear of per­se­cu­tion.
The data in this report heav­i­ly relies on online news sites, reports, and social media cov­er­age and covers only those inci­dents that were report­ed in the media. The selec­tion of rel­e­vant groups was based those who are con­sti­tu­tion­al­ly declared "minori­ties," with one excep­tion: though Shias are not con­sti­tu­tion­al­ly a minor­i­ty, the com­mu­ni­ty has been wit­ness­ing what the former chief jus­tice of Pakistan, Saqib Nisar, termed a vio­lence "tan­ta­mount to wiping out an entire gen­er­a­tion." Only inci­dents explic­it­ly linked to the tar­get­ed party's faith were includ­ed. Some inci­dents where mem­bers of minori­ties were attacked but the motive of the attack wasn't clear, there­fore, are not includ­ed in this report.
The State of Pakistan's Religious Minorities
There were some pos­i­tive devel­op­ments in this report­ing period. Aasia Bibi, a Christian woman who spent almost a decade in prison under false blas­phe­my charges, was final­ly acquit­ted and man­aged to leave the coun­try. In response to Aasia's acquit­tal in October 2018, there were vio­lent protests in November 2018 led by Tehrik-e-Labaik Pakistan (TLP), a group of hard­lin­ers under the lead­er­ship of Khadim Rizvi. The author­i­ties stood firm and arrested TLP lead­er­ship and work­ers for desta­bi­liz­ing Pakistan's law and order sit­u­a­tion.
In early 2019, the Supreme Court ruled that Christians would be able to reg­is­ter their mar­riages with an offi­cial mar­riage cer­tifi­cate.
In anoth­er devel­op­ment, Pakistan opened the Kartarpur Corridor, allow­ing Sikh pil­grims from around the world to visit Gurdwara Darbar Sahib, one of the holiest shrines in Sikhism.
Similarly, a judge nullified the "free-will" mar­riage of a Hindu girl, Mehik Kumari, and con­firmed that she was under­age when she "embraced" Islam and mar­ried a Muslim man. Activists had argued Kumari was abduct­ed and forcibly con­vert­ed to Islam.
While many com­mend­ed the government's strong stance on Aasia Bibi, it was dis­ap­point­ing to wit­ness that the gov­ern­ment had to backtrack from its deci­sion to appoint one of the country's lead­ing econ­o­mists, Atif Mian, as an eco­nom­ic advis­er to prime min­is­ter. The PTI caved to pres­sure from hard­lin­ers invok­ing Mian's faith, as he belongs to the Ahmadiyya com­mu­ni­ty, but it would be unfair to blame hard­lin­ers only for this inci­dent. In fact, the out­rage against Atif Mian was the nat­ur­al corol­lary of the hate speech used against the Ahmadiyya com­mu­ni­ty by some main­stream par­ties, includ­ing the PTI, during the 2018 general election cam­paign. Later, a PTI fed­er­al min­is­ter, Azam Swati, said on a TV show that he and Khan both sent a "curse" to the Ahmadiyya com­mu­ni­ty. Neither the PTI nor the prime min­is­ter have dis­as­so­ci­at­ed from or clar­i­fied their posi­tion on Swati's state­ment.
According to the Center for Research and Security Studies' "Annual Security Report 2019," in that year alone 28 Shias and two Ahmadis were killed in tar­get­ed attacks due to their faith. Another 57 Shias and one Christian were injured in 2019. According to this author's research, there have been at least five attacks on Ahmadiyya places of wor­ship since August 2018, two at Hindu tem­ples, and one at a Christian church. There have also been 13 blas­phe­my cases filed against Ahmadis, nine against Christians, two against Hindus, and one against a Shia in the same time period.
Shias
Shias have con­tin­ued to suffer vio­lent attacks in dif­fer­ent parts of Pakistan. In par­tic­u­lar, the Shia Hazara com­mu­ni­ty, mainly based in Quetta, Balochistan, was fre­quent­ly tar­get­ed by mil­i­tants. In April 2019, at least 24 Shia Hazaras were killed in a sui­cide attack in a veg­etable market in Quetta. According to one report, at least 509 Shia Hazaras have been killed since 2012.
Shias are also the first reli­gious minor­i­ty to wit­ness the enforced dis­ap­pear­ances of their com­mu­ni­ty mem­bers. The issue of enforced dis­ap­pear­ance, which has spread all over Pakistan, is not a new phe­nom­e­non. Political activists, mainly from the Baloch, Pashtun, Sindhi, and Muhajir ethnic groups, have been vic­tims of abduc­tion, but now for the first time mem­bers of a reli­gious minor­i­ty are being sub­ject­ed to this form of vio­lence. According to one report, an esti­mat­ed 144 of Shias are miss­ing across Pakistan. The abduct­ed Shias are accused of "fight­ing for Iran in Syria and Iraq." However, the author­i­ties have failed to pro­duce any evi­dence in courts.
Other forms of dis­crim­i­na­tion against Shias are also ram­pant. In early December, a group of hard­lin­ers held a demon­stra­tion in Charsadda, a dis­trict in Khyber Pakhtunkhwa province, to demand the removal of Bacha Khan University's vice chan­cel­lor, Saqlain Naqvi, invok­ing his Shia identity. In anoth­er inci­dent in the same month, a Shia boy died in a road acci­dent in Kharian, a city locat­ed in Gujrat dis­trict, Punjab. A cleric belong­ing to the Sunni sect refused to offi­ci­ate his funer­al just because of the Shia iden­ti­ty of the deceased.
Christians
Violence and dis­crim­i­na­tion against the Christian com­mu­ni­ty con­tin­ued in 2019 in the shape of casu­al­ties, harass­ment, and blas­phe­my cases. Pakistan Christian Post reported that in May 2019, a 35-year-old Christian rick­shaw driver, Sagheer Masih, was mugged and forced to drink poison. He later died. In anoth­er incident, a mob attacked a local church in Sheikhupura, Punjab, during prayer ser­vices.
In Bahawalnagar, Punjab, a 19-year-old boy named Sunny Waqas was accused of com­mit­ting blas­phe­my and pos­sess­ing "blas­phe­mous" mate­r­i­al about the Prophet Muhammad. In June 2019 he was booked for violating the blasphemy law (for­mal­ly, arti­cle 295‑C of the Pakistani Penal Code). However, his family claimed that Waqas had had a quar­rel with Muslim friends during a crick­et match. Nouman Asghar Masif, who hap­pens to be Sunny Waqas' cousin, was also booked under 295‑C in August 2019 in Bahawalpur for showing "blas­phe­mous" pic­tures to his friend on his phone.
In March 2019, a 42-year-old Christian, Stephen Masih, was booked for making "deroga­to­ry" remarks against the Prophet Muhammad. His nephew later revealed that Stephen has been men­tal­ly disabled since birth and insists he was wrong­ly accused.
Saleem Masih, a res­i­dent of Shanti Nagar, Punjab, was booked under false blas­phe­my charges on June 14, 2019. According to a news report, a group of people pushed the blas­phe­my accu­sa­tion as an excuse to seize land that belonged to Masih. Not just Masih, his family was being accused of the blas­phe­my charges.
On February 25, 2020, a 22-year-old Christian labor­er, Saleem Masih, was beaten and tor­tured in Chunian, Kasur District, Punjab, for "pol­lut­ing" a tube-well. Masih died on February 28 in a hos­pi­tal in Lahore. According to Pakistan Today, after fin­ish­ing his work, Masih was bathing in a tube-well when some local Muslims dragged him out and start­ed beat­ing him with an iron rod. The local police stood by as spec­ta­tors when Masih was being abused and cursed for being "filthy" and "pol­lut­ing" the tube-well.
Ahmadis
The Ahmadiyya com­mu­ni­ty has remained under con­stant attack, sub­ject­ed to vio­lence and dis­crim­i­na­tion. The author­i­ties were unable to stop the rising hatred against the com­mu­ni­ty even on dig­i­tal plat­forms. On July 19 2019, an anti-Ahmadiyya hashtag (#قادیانی_دنیاکابدترین_کافر or "Qadiani [a deroga­to­ry word for Ahmadis] is the worst infi­del in the world") was trend­ing on Twitter.
On December 12, an assis­tant com­mis­sion­er, Zeenat Hussain, was forced to apol­o­gize for her com­ments on the equal right of the reli­gious minori­ties after she said to a group of stu­dents that the rights of the Ahmadiyya com­mu­ni­ty, as cit­i­zens, should be respect­ed. Later, a group of pro­test­ers, mainly from Jamat-e-Islami, marched toward the assis­tant com­mis­sion­er office and asked her to explain her posi­tion on the Ahmadiyya com­mu­ni­ty. Hussain not only apol­o­gized, but she was also forced to call Ahmadis "kafir" (infi­del).
Ahmadiyya places of wor­ships remained under attack. On February 6, 2020, a group of people stormed and forcibly occu­pied a 100-year-old Ahmadiyya mosque in Kasur, Punjab. Succumbing to pres­sure, the local author­i­ties deprived Ahmadis and handed the mosque over to hard­lin­ers. In May 2018, anoth­er 100-year-old Ahmadi mosque was attacked and dam­aged in Sialkot.
Hindus and Sikhs
The vio­lence and dis­crim­i­na­tion against Pakistan's Hindu com­mu­ni­ty con­tin­ued under the PTI gov­ern­ment. According to the Human Rights Commission of Pakistan, around 1,000 young Hindu and Christian women who are forced to change their reli­gion each year. According to one sta­tis­tic pro­vid­ed by a local Hindu activist, 50 Hindu girls have been forcibly con­vert­ed to Islam in Sindh province alone since early 2019. One of the issues the activist high­light­ed is the absence of data on forced con­ver­sions. "This is the main issue. No [web]sites and people are work­ing on sta­tis­tics," the activist, who wished to remain anony­mous, said.
The Sikh com­mu­ni­ty has also raised the issue of forced con­ver­sions in Punjab. In August 2019, 19-year-old Jagjit Kaur was forcibly con­vert­ed to Islam. After the inter­ven­tion of the Punjab gov­ern­ment, the Sikh girl was returned home in September 2019.
In addi­tion, accu­sa­tions of blas­phe­my fol­lowed by an attack on places of wor­ship are becom­ing a reoc­cur­ring trend. A large mob stormed and van­dal­ized a Hindu temple in Sindh's city of Ghotki over an accu­sa­tion that a Hindu prin­ci­pal com­mit­ted blas­phe­my.
Conclusion
Prime Minister Imran Khan emerged as a pop­ulist leader who claimed to be better than other politi­cians. But when it comes to reli­gious free­dom, although there were some pos­i­tive devel­op­ments men­tioned above, the fig­ures indi­cate that the state of minori­ties hasn't changed much. The promis­es Khan made about a just state in which minori­ties will be pro­tect­ed have been ignored by him and his party. Based on the col­lect­ed pro­vi­sion­al data, since August 2018, at least 31 mem­bers of minori­ties have been killed and 58 injured in tar­get­ed attacks. There have also been 25 blas­phe­my relat­ed cases filed against minori­ties and at least seven attacks on their places of wor­ship.
The polit­i­cal econ­o­my of vio­lence against reli­gious minori­ties is a pecu­liar phe­nom­e­non that might not make sense with­out ana­lyz­ing the role of the mil­i­tary. The Pakistan mil­i­tary has a long his­to­ry of sup­port­ing extrem­ist groups, using them as prox­ies both exter­nal­ly and internally. More impor­tant­ly, Pakistan is a hybrid regime, some­times described as hybrid-martial law, where the mil­i­tary holds real power and runs the coun­try through the par­lia­ment by installing or select­ing a civil­ian lead­er­ship. Therefore, blam­ing or hold­ing a civil­ian gov­ern­ment account­able serves little pur­pose when they have very lim­it­ed powers.
But this unequal power dis­tri­b­u­tion does not mean civil­ians cannot be crit­i­cized for their role in per­pe­trat­ing the dis­crim­i­na­tion. The recent rein­state­ment of Fayyaz-ul-Hasan Chohan in Punjab's gov­ern­ment raises the ques­tion of the PTI's seri­ous­ness in deal­ing hate speech within its own party. Chohan made deroga­to­ry remarks against Hindus, call­ing them "urine drinker," for which he later apol­o­gised. After a few months of sus­pen­sion, he is back and has taken con­trol of the Information Ministry. Similarly, people like Swati, who openly curse Ahmadis, are con­sid­ered to be part of the PTI's core com­mit­tee. This leaves minori­ties to wonder: if Khan is unable or unwill­ing to dis­ci­pline his own party, how could he pro­tect minori­ties from other forces?
Jaffer A. Mirza is a researcher and colum­nist. He tweets at @jafferamirza.