Raytheon Wins Hypersonic Attack Cruise Missile Contract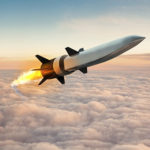 The Air Force has awarded Raytheon Missiles and Defense a $985.3 million cost-plus-fixed fee contract to develop and build the Hypersonic Attack Cruise Missile, or HACM, an air-breathing cruise missile intended to launched from fighter-sized aircraft. Raytheon bested teams led by Lockheed Martin and Boeing for the work.
The Air Force said it expects the program to yield an operational missile by 2027. Northrop Grumman developed the Raytheon missile's scramjet engine.
The contract carries Raytheon through weapon system design and development and the initial delivery of HACM test articles.
The HACM "is an air-launched, scramjet-powered hypersonic weapon designed to hold high-value targets at risk in contested environments from standoff distances," the Air Force said.
In 2020, the Air Force entered into a technology partnership with Australia known as SCIFiRE (Southern Cross Integrated Flight Research Experiment) to jointly research hypersonic missile prototypes, leveraging knowledge in the two countries. Boeing, Lockheed Martin, and Raytheon received 15-month SCIFiRE contracts in June 2021 to complete preliminary designs of a hypersonic cruise missile, which became HACM.
Raytheon and Lockheed Martin are also, separately, pursuing air-breathing hypersonic missile work under HAWC (Hypersonic Air-breathing Weapon Concept), a joint program between the Air Force and the Defense Advanced Research Projects Agency.
In the HACM program, an informed source said Raytheon's approach of working toward "an operational missile from the beginning" was a winning strategy.
Air Force Chief of Staff Gen. Charles Q. Brown Jr. said in the Air Force statement that the HACM is a "powerful example of developing and integrating combat capabilities alongside our partners from the beginning." The HACM will "provide our commanders with tactical flexibility to employ fighters to hold high-value, time-sensitive targets at risk while maintaining bombers for other strategic targets."
The contract will "operationalize the Raytheon SCIFiRE prototype design for fighter aircraft integration and deliver two leave-behind assets with operational utility," USAF said.
Andrew Hunter, Air Force acquisition executive, said the U.S. has "over a decade of cooperation" with Australia on hypersonic technology, "and now we will bring that shared knowledge to bear to address urgent national defense requirements."
Collaboration between the two countries will continue in HACM design and development, "including using Australian test infrastructure for the initial all-up round flight tests," the Air Force said.
The Royal Australian Air Force's Air Vice-Marshal Robert Denney, head of air force capability, said SCIFiRE "demonstrates our commitment with the U.S. to strengthen capability outcomes, deepen our alliance and strengthen our cooperation as we meet emerging challenges and support regional endeavors."
The HACM is one of two Air Force hypersonic missile programs. The AGM-183 Air-launched Rapid Response Weapon, or ARRW, is a tactical boost glide weapon—not air-breathing—that has had a spotty test record in recent years. It is intended to be carried on large platforms such as the B-52 bomber, whereas the HACM is expected to be launched from the F-15 as the initial platform. With an air-breathing motor, the HACM is also potentially a longer-ranged weapon than the ARRW. The performance of the two missiles is classified.
The Air Force said in July that it and DARPA expect to continue with the HAWC program, despite the selection of a HACM prime. The service said further research on HAWC may inform development of the HACM.
The Raytheon HAWC flew successfully in July, following a successful test in September 2021. The Lockheed Martin HAWC—with an engine developed by Aerojet—flew successfully in March.
The post Raytheon Wins Hypersonic Attack Cruise Missile Contract appeared first on Air & Space Forces Magazine.